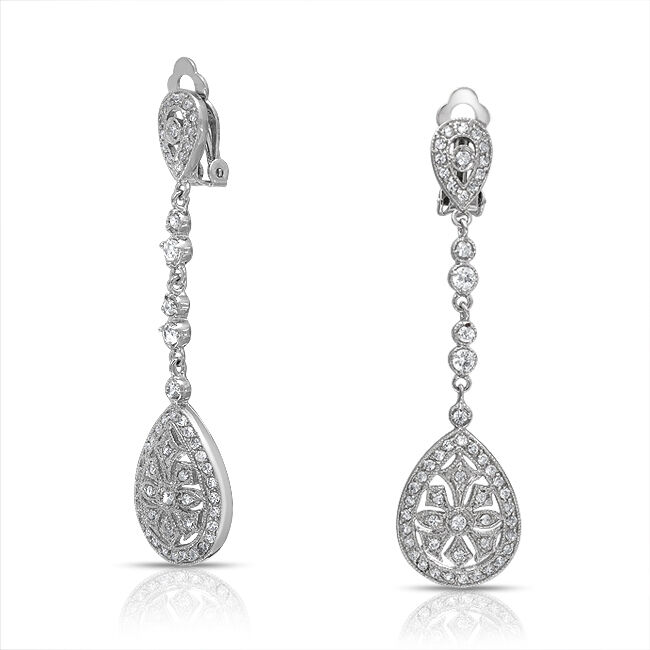 Several periods in jewellery fashion have come and gone over the years. Some lasted only a short moment while others continued to inspire designers for many years to come. Art Deco is one of those periods. The fun and colourful designs of Art Deco jewellery are a favourite amongst vintage collectors and people who simply want to add a bit of flair to their wardrobes. Vintage Art Deco earrings in particular are popular. Most dangle from the ears with abstract shapes and bold colours. Women who choose to wear these earrings show that they have a sense of style and adventure.
Shopping for vintage Art Deco earrings can be difficult for those who aren't sure what to look for. Learning the history of Art Deco, identifying the motifs used during this time, and knowing how to shop for vintage items makes it easier to find attractive earrings that represent the true style of this design movement. To find a large selection of vintage and vintage reproduction Art Deco earrings, shoppers should check out eBay.
Learn the History of Art Deco Jewellery
The Art Deco period is one of the most popular eras in the long history of vintage jewellery. The designs of these pieces are marked by bright, bold, and flamboyant colours and images. Originating in France, the Art Deco period for jewellery began around 1920 and remained popular until 1935 when the style began to lose some of its adoration. In the 1950s and 1960s, Art Deco jewellery regained its popularity, and was favoured perhaps more than in the earlier decades.
The designs and styles of the jewellery mimicked the Art Deco art movement which took place at the same time. Geometric and abstract shapes played a big role in the art movement, and in jewellery design from this era. The designs of Art Deco jewellery ranged from conservative to extremely playful. These fun and flamboyant designs continue to inspire contemporary jewellery designers.
Identify the Stones Used in Art Deco Jewellery
The main stones used in jewellery during the Art Deco period were black onyx and diamonds. The stones completely contrast each other in terms of colour, but both were defining jewels for the style. In particular, diamonds were accented with bright and colourful stones, like red rubies, green emeralds, and blue sapphires. Black onyx paired with contrasting white diamonds or quartz were equally as popular.
Other Materials Featured in Art Deco Styles
The above mentioned stones were used in fine jewellery, while Art Deco costume jewellery featured a wide range of other attractive materials. Faux stones and Bakelite were commonly used to craft jewellery in fun and colourful designs. Faux stones mimicked the designs of fine jewellery, while Bakelite was moulded into different shapes to achieve abstract designs.
Explore the Motifs Featured in Art Deco Jewellery
As stated previously, the motifs of Art Deco jewellery ranged from conservative to playful. While the bizarre and abstract designs of some of the costume jewellery pieces were popular at the time, these motifs didn't continue on throughout the decades like the more conservative motifs. Nevertheless, it is important for shoppers to explore both motifs featured in Art Deco jewellery to get a better grasp of the playful spirit present in this era.
Fine Jewellery Motifs
Conservative Art Deco motifs used diamonds, black onyx, and other precious stones characteristic of the movement. The designs focused on colour and simple geometric designs only. This means the designs were similar to other types of jewellery worn at the time, but the colours reflected the energy and playfulness of Art Deco. Because the motifs featured in fine jewellery were not as off-the-wall as those in costume jewellery, the styles and appearance continued to inspire jewellery makers for many years. Some jewellery from recent years continues to be influenced by these Art Deco styles.
Costume Jewellery Motifs
The costume jewellery motifs of Art Deco drew inspiration from everyday life. Images and objects, such as animals, flowers, fruit, food, and people, were depicted both realistically and abstractly in pendants, earrings, brooches, and other jewellery. While these motifs may have started as a joke, they remained popular throughout the 1920s and 1930s. In addition to the seemingly random images, Egyptian-inspired designs and elements were also apparent during 1920s because of the worldwide fascination surrounding the discovery of King Tut's tomb. Images of the sphinx and scarabs were incorporated into Art Deco earring designs.
Choose a Type of Art Deco Earrings
Dangling and chandelier earrings are available in varying lengths and weights. Clip-on earrings were introduced around the same time that Art Deco was increasing in favour, and became widely popular as well. Clip-on earrings were made with screw-on and stick-on backs in addition to the standard clip.
Though they were designed so that women didn't need to have their ears pierced, clip-on earrings were worn by women who had pierced ears too because it allowed them to wear heavy Art Deco earrings comfortably and without stretching or damaging the earlobes. Shoppers can choose whichever type of earrings they prefer. However, they should consider choosing clip-ons to reflect the fashion that was most popular at the time.
Consider Popular Art Deco Earring Designers
Many jewellery designers created earrings during the Art Deco period. Some of these designers were successful in the era, and others continued to be successful for many years. Popular jewellery designers from modern times created some of their finest work during the Art Deco period. Shoppers who wish to invest in a meaningful piece of jewellery history should consider the early Art Deco earrings of Van Cleef and Arpels, Tiffany, and Cartier. These rare and valuable earrings are likely more desirable to devoted vintage shoppers, since big names often carry higher price tags.
Compare Vintage and Vintage Reproduction Jewellery
Art Deco earrings and other jewellery have inspired several modern styles, but many people search for authentic vintage pieces that originated several decades ago. Because of the popularity of Art Deco jewellery in particular, some find that quality earrings from this era cost more than they are willing to spend. Vintage reproduction jewellery uses the same styles and designs, but the pieces have been manufactured recently. Depending on the materials used to craft the earrings, vintage reproductions are usually less expensive than authentic pieces. Though reproductions might not satisfy the avid vintage shopper, they provide a low cost alternative for people who want the vintage look rather than authenticity.
Condition
Along with the price, the condition of the earrings also needs to be considered. Vintage reproductions are usually new and have never been worn by another person. In contrast, authentic vintage earrings are several decades old and have likely been worn by someone else in the past. This does not mean that the earrings should show a considerable amount of wear and tear. Instead, shoppers should look for earrings that are still in good condition and have been cared for properly.
Shop for Vintage Art Deco Earrings on eBay
Once you have explored all of the elements of Art Deco jewellery and have decided to add a pair of earrings to your collection, then it is time to begin your search for just the right pair. eBay brings buyers and sellers of Art Deco and other types of vintage jewellery together. Rather than being limited to the vintage pieces for sale in the area around you, eBay connects you with sellers from all over the UK to expand your options. Knowing how to search effectively ensures that you find just the pair of earrings you're looking for.
Search for Vintage Art Deco Earrings Effectively
To get started, perform a basic search using keywords that describe the Art Deco earrings. You should try to be specific, but in general it is better to have a search that is too broad than too narrow. You can always refine the listings to reduce the number of results based on different options later in the search. Once you have narrowed the list of results down to a smaller amount, begin looking at the item descriptions and comparing prices to find the vintage Art Deco earrings that match your style and your budget.
Conclusion
The Art Deco movement was vastly different than other art and fashion eras that came before. Bright and contrasting colours as well as fun and interesting designs were characteristic of the jewellery created during this time. Vintage Art Deco earrings are sought by collectors and fashion trendsetters alike. These earrings can be worn to complete an entirely vintage outfit, or to add an interesting element to a contemporary ensemble.
Shoppers looking for vintage Art Deco earrings need to know a bit about the motifs as well as the defining characteristics of the jewellery from this time. This ensures that they are able to locate authentic earrings that are in good condition. Additionally, knowing what to look for helps shoppers find the lowest prices and best deals. To make the shopping process easier, shoppers can use eBay's easy to use search platform to search through the hundreds of listings for Art Deco earrings and other vintage jewellery on eBay.