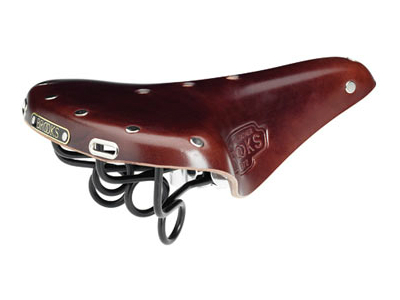 Vintage bicycles are a hobby for some and an obsession for others. Their historical relevance makes them 'must own' items for cycling enthusiasts, but buying parts can be a tough task even at the best of times. A vintage bicycle part often has a core value of its own, meaning that the bicycle element can actually be a hindrance. It has become common for those dedicated to the field to restore vintage bicycle parts, and list their work as a form of art.
It doesn't matter whether a shopper is collecting or restoring vintage parts, eBay has something to suit. The world's leading online marketplace makes finding and buying vintage bicycle parts a simple point and click process.
Types of Parts
Buying vintage bicycle parts is not a cut and dry process. There are a variety of types available, of which some will suit certain buyers but not others. Always take the time to review the following types of parts and pick one that is right for you. Remember that searching for vintage bicycle parts is a tough field to work through, so shoppers should take their time and never rush into a purchase.
Original Equipment Manufacturer (OEM) Parts
Someone other than the initial bicycle designer creates manufacturer issued pieces of equipment, they are classed as OEM parts.
Their price points are generally lower, as they do not have the same value as parts issued by the original designer.
OEM parts are generally heavier than their ODM equivalent.
They do not offer longevity in terms of use or much future resale value.
There have been questions raised as to whether or not creating OEM products are particularly honest towards to the original bike design.
Original Design Manufacturer (ODM) Parts
ODM parts are issued and designed by those who own the part patent rights.
They are sold directly by a manufacturer or an authorised dealer.
Due to being issued by the original manufacturer they have to reach a certain level of quality in order to reach sale.
The main issue with vintage ODM parts is that in some instances they spend a vast amount of time on shelves and in stock rooms without receiving the proper care.
If a fault is found with an ODM part, fixes and repairs require the original company build information in order to do so properly.
Looking for vintage parts from companies that are no longer in business isn't easy. It means buying ODM parts for certain vintage bicycles is simply impossible in some instances.
After Market Parts
Even though they can be older in form, it is hard to class them as vintage.
Shoppers get what they pay for, which is summed up by their lower price points.
Third-party parts are generally not serial numbered or barcoded.
It could be unmarked bankrupted stock in some cases.
Produced in smaller quantities.
A bit of a gamble to buy, as users could unearth a vintage part that has plenty of life left in it or one that has been poorly maintained.
Grey Import Parts
Unbranded import stock from abroad.
A cheap imitation in many regards.
They may come with a 'vintage' or 'retro' tag, but in many instances they will be a basic replica of an already constructed part.
Their legality is often questioned, so make sure that you're buying a legitimate vintage product and not a second-rate knock-off.
If you become aware that a seller or retailer is selling illegal grey import parts, be sure to report them to the appropriate authorities.
Conclusion
When looking to buy a bicycle there are variety of factors and styles to consider; however, it is impossible argue against the unique look that a vintage model offers. The prospect of owning a vintage bicycle will appeal to most, but nobody should enter into such ownership lightly. As most bicycles get older, there will come a time where replacement parts are required. This is where things can get tricky, as many shoppers can often be fooled into buying low quality or fake vintage parts. Don't let this be you, and always keep your wits about you during the shopping process.
This guide looks at what shoppers should be looking out for when purchasing vintage bicycle parts, and how not to become a victim of dodgy sellers and counterfeit parts.