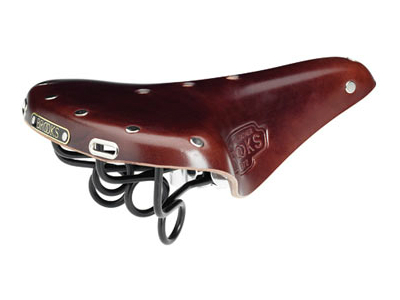 Vintage bicycles are a hobby for some and an obsession for others. Their historical relevance makes them 'must own' items for cycling enthusiasts, but buying parts can be a tough task even at the best of times. A vintage bicycle part often has a core value of its own, meaning that the bicycle element can actually be a hindrance. It has become common for those dedicated to the field to restore vintage bicycle parts, and list their work as a form of art.
It doesn't matter whether a shopper is collecting or restoring vintage parts, eBay has something to suit. The world's leading online marketplace makes finding and buying vintage bicycle parts a simple point and click process.
Types of Parts
Buying vintage bicycle parts is not a cut and dry process. There are a variety of types available, of which some will suit certain buyers but not others. Always take the time to review the following types of parts and pick one that is right for you. Remember that searching for vintage bicycle parts is a tough field to work through, so shoppers should take their time and never rush into a purchase.
Original Equipment Manufacturer (OEM) Parts
Someone other than the initial bicycle designer creates manufacturer issued pieces of equipment, they are classed as OEM parts.
Their price points are generally lower, as they do not have the same value as parts issued by the original designer.
OEM parts are generally heavier than their ODM equivalent.
They do not offer longevity in terms of use or much future resale value.
There have been questions raised as to whether or not creating OEM products are particularly honest towards to the original bike design.
Original Design Manufacturer (ODM) Parts
ODM parts are issued and designed by those who own the part patent rights.
They are sold directly by a manufacturer or an authorised dealer.
Due to being issued by the original manufacturer they have to reach a certain level of quality in order to reach sale.
The main issue with vintage ODM parts is that in some instances they spend a vast amount of time on shelves and in stock rooms without receiving the proper care.
If a fault is found with an ODM part, fixes and repairs require the original company build information in order to do so properly.
Looking for vintage parts from companies that are no longer in business isn't easy. It means buying ODM parts for certain vintage bicycles is simply impossible in some instances.
After Market Parts
Even though they can be older in form, it is hard to class them as vintage.
Shoppers get what they pay for, which is summed up by their lower price points.
Third-party parts are generally not serial numbered or barcoded.
It could be unmarked bankrupted stock in some cases.
Produced in smaller quantities.
A bit of a gamble to buy, as users could unearth a vintage part that has plenty of life left in it or one that has been poorly maintained.
Grey Import Parts
Unbranded import stock from abroad.
A cheap imitation in many regards.
They may come with a 'vintage' or 'retro' tag, but in many instances they will be a basic replica of an already constructed part.
Their legality is often questioned, so make sure that you're buying a legitimate vintage product and not a second-rate knock-off.
If you become aware that a seller or retailer is selling illegal grey import parts, be sure to report them to the appropriate authorities.
Buying Vintage Bicycle Parts on eBay
In most instances I doubt many will be able to find the vintage part they want brand new. This means that buying used could be the only option available. When this is the case, shoppers will need to be diligent in how they go about buying such a part. Don't enter into a purchase lightly and always act with caution.
The best way to get a grasp of the quality of a used vintage part is to speak to the seller and ask questions. The following are some questions that will help sellers become more knowledgeable of any and every vintage part:
Is the part barcoded?
Does the part feature its original serial number?
How old is the part?
Does the part come with the original manufacturer documentation?
What is the condition of the part?
Is the part damaged?
Has the part been subjected to any repairs?
Do you offer a returns policy or part warranty?
The biggest rule of buying used is to never buy an item that you don't feel completely comfortable with.
Hints and Tips
Be wary of the infamous 'made for' symbol; it is a big giveaway that a part is not original and could be a sign of a counterfeit product.
Look out for any part that places the word 'brand' before the actual brand name, as it could symbolise that the vintage part is a counterfeit reconstruction.
If a vintage item comes in at a far lower price than expected always question it. If it seems too good to be true then it usually is.
All genuine products should come with a legitimate brand stamp or seal of approval.
Counterfeit goods do a great job of selling themselves; however, by buying them you are only furthering the illegal goods market.
eBay is doing all in their power to stop these items reaching sale, but they aren't able to catch everything.
Don't limit yourself to products in the UK; utilise eBay's worldwide search options to see what else is out there.
If possible, insure a vintage bike part to help protect your investment.
How to Purchase Vintage Bicycle Parts on eBay
Many people simply look at a bicycle and its parts as a form of transport, but in reality they can be so much more. Vintage bicycles are a part of transportation history and it is truly a pleasure to own one. This means vintage bicycle parts take on just as much importance as the bicycle itself. They have actually taken on more than just their uses in a bicycle; bicycle parts that are vintage are true collector's items.
The issue is with buying vintage bicycle parts is that the market can be a bit of a minefield to navigate through. Thankfully, this guide and eBay's selection of trusted sellers is here to make sure that shoppers buy genuine vintage parts.
In order to see what vintage bicycle parts are available, log on to eBay's homepage and select sporting goods.
From there, click on cycling and lastly bicycle components and parts; this will allow shoppers to openly browse through what is on offer.
If shoppers require a specific vintage part they can use the keyword search bar found at the top of the homepage.
The advanced search tool can also play a part in locating vintage bicycle parts of a specific brand or era.
eBay Shops
Cycling is an incredibly popular activity amongst children and adults. However, many falsely believe that they are limited to using modern models. This couldn't be further from the truth, as vintage bicycles can be just as fun and enjoyable.
A key factor in owning a vintage bicycle is buying the right parts when repairs are required. Vintage part dealers often use the eBay shops format in order to sell their goods. In these mini-stores shoppers will be sure to find some fantastic offers. To check out what eBay shops are open for business, click the eBay shops link at the bottom of the page.
Completing a Transaction
Vintage bicycle parts are far from a dime a dozen and locating the right one can be difficult. After a finding what you're after it would be criminal to let it slip away.
The best way to stop this from happening is to do one of the following on an item listing:
Place a Bid
Make a Best Offer
Buy it Now
If a shopper comes out of an auction as the winner, they will need to pay for the item.
Remember to always bear what has been said in this guide in mind and don't enter the market half-heartedly. When looking for genuine products at the best price eBay should always be a cyclist's first destination.
Conclusion
When looking to buy a bicycle there are variety of factors and styles to consider; however, it is impossible argue against the unique look that a vintage model offers. The prospect of owning a vintage bicycle will appeal to most, but nobody should enter into such ownership lightly. As most bicycles get older, there will come a time where replacement parts are required. This is where things can get tricky, as many shoppers can often be fooled into buying low quality or fake vintage parts. Don't let this be you, and always keep your wits about you during the shopping process.
This guide looks at what shoppers should be looking out for when purchasing vintage bicycle parts, and how not to become a victim of dodgy sellers and counterfeit parts.