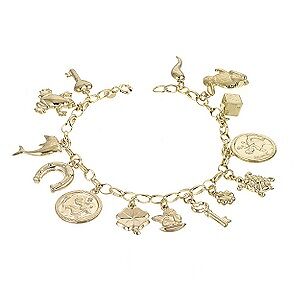 Vintage charms are small decorative pendants from the early 1900s to the 1970s. Collecting charms is a fun and relatively inexpensive hobby. Collectors spend many hours choosing the right charms to wear on their bracelet, necklace, or other piece of jewellery. Each bracelet may have a particular theme such as sports insignia, animals, or travel. Charms can be found in a wide array of shapes, colours, and designs. They can be worn as casual jewellery or for formal occasions, depending on their style.
Vintage charms often signify a special relationship or occasion. Charms may be split in half with each person wearing a part to signify their close relationship. While traditionally worn by both men and women, more modern charms are aimed at teenage girls and young women. In order to buy vintage charms, collectors should first familiarise themselves with their history, recognise how to distinguish vintage charms from the more modern variety, consider the various types, and learn how to design a vintage charm bracelet. Vintage charms can be brought from antiques dealers and online at retailers, such as eBay.
Brief History of Charm Bracelets
The history of charm bracelets dates back to ancient times when charms were worn to please the gods, to ward off evil spirits, or to gain entry into the afterlife. During the prehistoric period, charms were made from shells, animal bones, and clay. Later charms were made out of gems, rocks, and wood.
How to Recognise Vintage Charms
Vintage charms can be difficult to date. However, there are some clues that can give buyers an insight into the time period of the creation of the trinklets. Charms that are featured on a bracelet are often easier to date, as the style of clasp can indicate the time period of the charm. Hallmarks and manufacturer marks can also help to date charms. Engraving was popular on charms, and often the print used has an historic meaning and may date back to a specific time period. However, these factors alone are not enough to date a charm properly. For example, a new charm may be put on an old bracelet or vice versa.
British jewellery companies, such as Nuvo and CHIM, produced both gold and silver charms. Nuvo manufactured charms from the 1950s until it ceased production in the 1980s. So, any charms that contain the brand mark "Nuvo" are a good indication that the charm is in fact vintage. Although manufactured in Birmingham, UK, these charms quickly gained widespread popularity all over the world. Similarly, CHIM, a London based maker, also ceased trading early in the 1980s. Charms that have the word "CHIM" stamped on them in uppercase letters are authentic vintage charms.
Thomas L. Mott, another British charm maker, manufactured charms throughout the twentieth century up until the 1970s. Many of these charms are made in the 1920s and 1930s and their enamel travel shields are usually from the 1970s. Charms made by this manufacturer have "TLM" stamped on them.
Less detailed charms often indicate more modern reproductions. Silver charms stamped 925 or Gold charms stamped 375 are also likely to date to more modern eras and should not be classified as vintage. It should be noted that British silver charms weighing less than seven grams are usually not hallmarked. Instead, many are stamped with "Silver" or "Sil".
Types of Vintage Charms
Vintage charms have unique characteristics depending on the era in which they were made. As fashion trends continue to change and evolve over time, so do the style of charms. When searching for vintage charms, buyers should compare the charm with the trends of the time that they were made.
The Queen of Charm
In the late nineteenth century, Queen Victoria's bracelets ignited a wave of charm wearing. Whereas earlier charms were worn as practical tools and often represented family origin, political standing, or profession, charms during this period were worn mainly as decorative fashion jewellery. Small lockets, glass beads, and family crests often dangled from bracelets and necklaces.
The War Generation
At the end of the Second World War, charms gained popularity in the fashion industry. Soldiers from Europe brought home little handmade trinkets as gifts for their loved ones. These charms were often fashioned out of tiny pieces of metal and designed to mimic items common to the area in which they were made. As the trend caught on, the United States also began to manufacture charms for all occasions.
Slot Machine Charms
Slot machine charms were made of early plastic. These charms came straight out of machines in fairgrounds. They were collected by children and worn on bracelets, string necklaces, and beaded chains. Popular themes of the time period included animals and sports.
1950s Charms
Charms continued to be popular well into the 1950s. These trinkets were often given as gifts for birthdays, weddings, travel, and the birth of children. These milestones were recorded on the links of bracelets.
Designing a Vintage Charm Bracelet
Every charm bracelet is a true original, designed by the wearer or the person that gave it as a gift. When buying vintage charms, collectors should consider a theme. Charms are available to suit any style or preference. Buyers first need to select a bracelet type. Bracelets can be found in various styles including curb, double curb, classic, and even with heart shaped links. Collectors also need to select the material of the bracelet. Popular materials include sterling silver, white gold, and yellow gold. White gold and yellow gold, while beautiful, may become scratched easily. Sterling silver is a durable option, but needs to be polished on a frequent basis to avoid tarnishing. Buyers may need to resize the bracelet by removing links. to ensure that it fits properly around the wearer's wrist. If the wearer is a child, links may be added as the child grows.
Buyers are then able to start the vintage charm collecting process. Collectors may choose charms that represent their life and the people in it or charms based on a list of favourites items, places, or characters. Charms should be spaced evenly along the bracelet to maintain its balance. Charms may be added by wearers themselves, or taken to a jeweller. Collectors may consider having the charms attached permanently so that they do not get lost.
How to Buy Vintage Charms on eBay
There is a wide selection of vintage charms on eBay. Buyers can search for vintage charms from the eBay home page by using a phrase, such as "vintage charms", and then narrow down the results using the eBay filters. They may also choose to include the theme of the vintage charm, the brand, or the condition. Filters can save the collector who knows exactly what they want from searching through the large number of vintage charms that eBay has to offer. Alternatively, buyers can choose to search for vintage charms using eBay's advanced search feature. Searching this way allows buyers to limit their search by item location or to those sold by Top-rated sellers.
Buyers should inspect the condition of the vintage charms carefully before purchasing them by looking at the photograph and reading the item description. In the event that questions remain unanswered after reading the item description, buyers are encouraged to use the "Ask a question" link located on each listing page. This link allows buyers to communicate with sellers directly to gain further information about the vintage charms. Most sellers are happy to provide any additional information to promote a positive transaction.
Conclusion
Charm bracelets have gone in and out of fashion throughout the decades, with each era bringing with it a new style of charms. Originally worn to please the gods, to ward off evil spirits, and to gain entry into the afterlife, charms are now worn for fashion, and were popularised by figures, such as Queen Victoria. Vintage charms are characterised by their distinct qualities and specific time period. These small, decorative trinkets are often attached to chain link bracelets and can be found in a wide array of unique designs. Vintage charms can provide an insight into the wearer's hobbies, interests, and special events in their life. Buyers can choose to limit their collection of vintage charms to a specific theme or to collect a wide range of vintage charms.
When buying vintage charms, shoppers should understand how vintage charms are identified. The style of clasp, engravings, and hallmarks can all indicate a specific time period or manufacturer. Charms stamped Nuvo, CHIM, or TLM are indicators that the charms are authentically vintage. Buyers should also bear in mind the different types of charms with respect to each time period. The type of charm can help to date the item. Glass beads and family crests were popular charms in the early twentieth century, while character charms such as Mickey Mouse may be linked to the 1940s. With the wide selection available on eBay, buyers are sure to discover a vintage charm that fits both their style and budget.