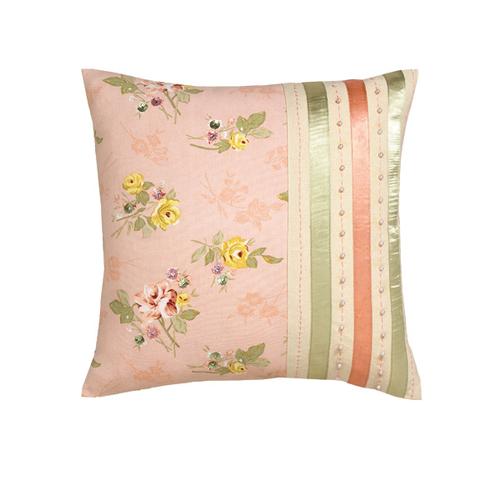 Vintage is generic term carrying nuances of old, though not in the same way as used or second hand might be understood. Cushion covers advertised as vintage can fall into an all-embracing description for cushion covers from another era. It does not specifically refer to a time period in history or a set of dates, though particular eras may provide cushion covers which would be regarded as vintage because of their age. If seeking a genuine period piece, be aware that specific fabrics must be labelled pure, genuine, authentic, or 100 per cent depending on the fabric, as modern technology has made the manufacturing of similar products using manmade fibres possible, and these processes didn't exist before certain dates. Pure silk is a different fabric to silk acetate or a cover with a silk finish, and it will require different laundry care. Faux means false, or imitation, and may not be easily distinguishable from the authentic fabric either to the touch or to the eye, but may be important if an authentic item is required as a collectible. Rayon and viscose [acetate] have been used in textiles since 1924, though not popular until the 1940s. Pre 1941 fabrics did not contain polyester, the most popular constituent in modern, manmade fabric mixes. Acrylic fabrics came into use in the 1950s. Common natural fabrics used before man-made fibre blends include cotton, linen, wool, and silk. Names such as Jacquard, Damask, Chenille, and velvet refer to the way the fabric is constructed in its weave, which gives it a distinctive pattern or finish. Hemp and jute products are also natural fabrics.
Factors Affecting Fabric Texture and Appearance
Woven Fabrics

Flat Weaves

satin, tweed and twill

Surface will feel nobbly like slub linen or shantung silk, because of the uneven size of yarns used.

Pile Weaves

corduroy, velour, velvet, plush, and terry towelling.

Fabrics where loops or erect fibres dominate the surface and can be brushed one way or another to catch the light.

Non-woven fabrics

Knitted

Looped yarns, interlocked, rather than having been woven.

Flocked

Electro-statically applied cut fibres to a surface to create a tactile velvet effect.

Tufted

Yarns locked on the surface via individual or grouped loops which can be cut or sculpted for a velvet-like surface.

Yarns

Boucle

Nub or slub appearance

unequal diameter for textured effect

Chenille

Barbed appearance

Soft and downlike
In London, both the Fashion and Textile Museum in Bermondsey, and the Textiles Exhibition in the Victoria and Albert Museum can provide inspiration and show how cushions might have been used in their period setting.
Types of Completed Fabric
| | |
| --- | --- |
| BASKET WEAVE: tweed, twill or satin Simple flat fabric | Has the appearance of a woven basket. |
| BROCATELLE : satin yarn Heavy flat fabric | Decoratively patterned, raised, woven-in design. |
| BROCADE Heavy flat fabric | Similar to brocatelle with a raised design. Not usually made with lustrous yarn. |
| CHINTZ Flat fabric | Polished appearance usually design printed |
| CORDUROY Pile fabric | Ridge cut pile; means 'cord of the king'. |
| CUT VELVET Pile fabric | Cut pile of different lengths to create a design. |
| DAMASK Flat fabric | Woven design (now made on the Jacquard loom). Originated in Damascus and used for Renaissance vestments. |
| JACQUARD Flat fabric | Elaborate woven pattern from a mechanical loom. |
| MATELASSE Flat Fabric | Tightly woven, patterned with a quilted puff effect. French Renaissance Royalty used the fabric for apparel. |
| PRINT Flat Fabric | Not a true type of fabric, rather a method for achieving a pattern. (Possible also to print on pile velvets.) |
| SATIN [and Taffeta] Flat Fabric | A tightly woven with high lustre appearance. |
| SHANTUNG Flat Fabric – textured | Similar to satin. Uneven yarn gives the nubby appearance. |
| TAPESTRY Flat Fabric | Ornamental usually with a picture design, traditionally illustrating a story. |
| TWEED | Similar to Basket Weave |
| TWILL | Similar to Basket Weave |
| VELVET Pile Fabric | Clipped nap pile prone to crush marks and shading. |
Retro
Retro designs reflecting popular culture might be as young as a decade and recall the fashion of the time in prints and designs that dominated the market. Retro (retrospection, or looking back) designs are often inspired by those of a previous era, though may not use the same fabric or techniques of the original.
Repro
Repro (reproduction, or copy) designs try to stay faithful to originals, though some techniques may no longer be applied because the manufacturing process has changed. This particularly affects fabric colour,, as the use of certain dyes is no longer regarded as safe.
Antique
Antique usually refers to items at least 100 years old. An antique cushion cover will be true to the designs and techniques of the period, but may in itself be a reproduction of a much earlier piece. Vintage tends to be between antique and retro and covers most of the 20th century. It could include any point in time from the turn of the century to the early new millennium's shabby chic. Buying vintage cushion covers to enhance home decor can be easy if search parameters are clear, and it is known what to look for. The search will be easier if shape, size, and style are clear. The advantage of buying covers only is that a pad or filler can be custom made should a standard insert not match the dimensions of the desired vintage cushion cover. Soft furnishings often follow the fashion trend of the period. If clothing has trended with gingham, Aztec prints, Paisley patterns, or monochrome designs, household decor will often follow with the same designs for curtains, cushions, bed linen, and throws.
Historical Fashion Periods Influencing Design
| | |
| --- | --- |
| Late Georgian/Regency Period 1830s Natural fibres only | Main features: dramatic, overpowering, large ornate pieces often using chinoiserie and rococco with rich red and gold colours and brocade. Arches and tracery dominant, trellises, lattices, family crests, leave, flowers, and fleur-de-lys popular. |
| Victorian Period 1837-1901 Natural fibres only | As Queen Victoria reigned so long, fashions and taste changed, so it is often split into early, mid, and late-Victorian periods. During the latter part of Victoria's reign, the Fin de Siecle and Belle Epoque influenced design with Art Nouveau [revisited by Liberty's designs in the 1960s] and from 1913 the oriental influence was prevalent. Arts and crafts movement influence strong. |
| First World War and the Great Depression 1915-1930s | At the turn of the century, the First World War and Great Depression affected manufacturing and production, Art Deco |
| Second World War 1940s | WWII similarly affected practicality and utility clothing using sparse lines meant little left over material for cushion covers. Once austerity measures ended and fashion reverted to flamboyant full skirts, frou frou layers and ornamentation, soft furnishings reflected this trend. |
| Post-War Period 1940s – 1950s | Dior's 'New Look' following the war years epitomised chic, clean lines, Hollywood glamour followed along with Rock 'n' Roll. |
| 1960s | By the 1960s, famous for mini-skirts, PVC boots and geometric, abstract designs used in Op Art and psychedelic prints. Flower power and jet travel seen in film footage of bands travelling abroad generated an interest in ethnic looks. |
| 1970s | During the 1970s eclectic and bohemian influences allowed a wide variety of styles to exist side by side, incorporating a mixture of design methods and fabric construction. Disco glamour and electric colours and sequins popular. |
| 1980s - 2000 | New Romantics and Yuppies took fashion looks through to Grunge, Deconstructionism, Minimalism, Purism, and BoHo Hippy. Street styles with their own sub cultures occasionally appeared as a fad, and some vintage items are listed for these types of items that experienced short-lived, but intense popularity. |
Finding Genuine Old Styles
Take the opportunity to browse through craft and home-making catalogues that might feature vintage patterns. Pictures of sewing techniques will show examples of older styles such as crewel work, cross stitching, and filet crochet. Traditional quilting, patchwork, and needlepoint used in Thai pyramid cushions, or kilims can also be found. Waffle work, novelty nursery cushions in animal shapes, Scandinavian designs, candlewicking effects, and block prints, batik, stencilling, or tapestry in William Morris or Charles Rennie Mackintosh designs can inspire ideas for subsequent searches.
Find Vintage Cushion Covers on eBay
Call up the eBay homepage and open the All Categories tab. Click on the link for Home Decor. On the left hand side. choose Cushions and click on the link to go to Cushions. When the page opens type in vintage cushions and on this page use the filter choice for type, colour and condition. Check the boxes that apply to the desired search. Another method to find vintage cushion covers is to type in, for example, shabby chic cushions into the search bar at the top of any eBay page and click Go.
Conclusion
Once style has been identified, a search can begin to find the ideal vintage cushion cover. Use fashion as a guide. Know the period, know the fabric, know the style and whether retro, repro, or genuine items are offered for sale. Consider shape and size and expect to pay more for older or more exclusive items.