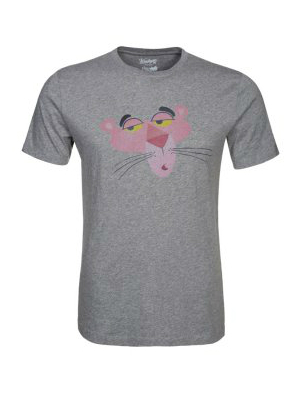 Vintage clothing is apparel that originated from an earlier era. It can be previously worn or still new with the tag. In general, any clothing made between the 1920s and 1960s is considered to be vintage. However, many people also consider clothing from the 70s and 80s to be vintage as well. Collecting vintage clothing has grown continuously popular since the 1990s. The cause is contributed to the celebrities who started finding and wearing vintage apparel. Society enjoys the unique look of vintage clothing because the styles have consistently changed so much since the 1920s. In addition to the aesthetic appeal of the clothing, the increased interest in environmentally friendly lifestyles has also caused people to "go green" by finding used clothing rather than new.
Vintage girls' T-shirts reflect the culture, art, and politics of their time. Each time period has something different to offer. The prices of vintage T-shirts are often times higher than brand new ones, but this is because of the increased demand for them. Luckily it is still possible to find the vintage T-shirts if people know how to shop for them. Knowing how to recognise and verify vintage T-shirts will help shoppers find vintage girls' T-shirts that are genuine, in good condition, and affordable.
History of T-Shirts
T-shirts originated as undergarments in the 19th century and were highly inappropriate to wear by themselves. As time past, blue collar workers such as miners began taking off their outer shirts in the hot weather to stay cool, and by the 1930s, it was common to do household chores in a T-shirt.
In the 1960s famous celebrities such as James Dean became the poster child for rebellion against society's norms and began wearing nothing but a white T-shirt in public. Children and teens quickly caught on and the fashion spread.
Know the T-shirt Sizes
The trouble with shopping for vintage T-shirts is that the sizing methods did not remain the same throughout history and since most vintage clothing has to be bought online, it cannot be tried on. It is very important to find out the exact measurements of the individual garment before ordering. For example, a UK size 18 in the 1950s was closer to the modern UK size 12. The general rule of thumb is that vintage clothing runs smaller than today's clothing.
Girls will need to measure their chest and their waist before shopping. Remember that the shirts will need at least five centimetres of leeway in order to fit comfortably. If a chest is 86 cm then the shirt should be around 91 cm. Also keep in mind that vintage fabric is higher quality and is less likely to stretch.
Clothing Time Periods
The best way to begin shopping for vintage clothing is to figure out which eras to look in. This will help narrow down the search criteria and eliminate the styles that are uninteresting. The majority of the vintage T-shirts are found from the 1960s to the 1980s.
| Time Period | Description |
| --- | --- |
| 1920 - 1938 | A time period that started out with more flamboyant styles than had ever seen in history; often characterised by party dresses and bright colours; the 30s styles were more reserved during the world-wide depression era |
| 1939 - 1946 | World War II brought about a new style with chiffon dresses, lace, and taffeta; hats were highly popular during this time |
| 1947 - 1964 | Styles became more "boxy" with two piece dresses and knee-length skirts; the shorter skirts led to the rockabilly and swing styles |
| 1965 - 1976 | Also known as the "hippie" era, bright colours and natural styles took over during this time; T-shirts became highly popular |
| 1977 - 1989 | A punk rock era with leather jackets, T-shirts, and jeans being the most popular look |
To find an era, choose the style that is most fascinating or select a point in history that is most appealing. For example, Elvis fans may be most interested in the 1965 - 1976 era.
Verify Apparel Authenticity
Unfortunately there are many people out there who sell replica T-shirts and claim that they are authentic. For the girls who want genuine vintage T-shirts, the best bet is always to do the research. Find out everything possible about the clothing item and its time period. One of the easiest ways to do that is to verify the claimed age. Some facts can be easily checked. For instance, if a seller says that a Motley Crue T-shirt is from the world tour of 1980, it is a fake. The band's world tour took place in 1983.
Next, look at the fading. Unless a T-shirt was bought brand new and then stored in a box its entire life, the colours are going to be slightly faded and there may even be some sweat stains under the armpits. T-shirts with vibrant, un-faded colours are almost always too good to be true. Also note that the screen printing technology from the earlier days was not as advanced as today. The majority of the T-shirts had to be lighter colours in order for the ink to show up and the definition of the printed colours were not as sharp as they are today.
Know the Condition of the Vintage T-shirt
Most of the value in vintage clothing is tied into its condition. When shopping online for them, there is a grading system that most sellers stick with.
| Condition | Description |
| --- | --- |
| Mint | A perfect garment with no signs of ever being worn; mint vintage clothing is very rare and usually too good to be true |
| Near Mint | The garment has very slight signs of wear |
| Excellent | The garment has signs of occasional use |
| Very Good | The garment can be worn but does have some noticeable flaws that may or may not be fixable; stains are an example of a flaw that can sometimes be repaired |
| Good | Can be worn but has flaw that cannot be repaired |
The older the clothing is, the harder it will be to find it in wearable condition. A shirt from the 1960s that is in good condition is still a great find.
Valuing a Vintage T-Shirt
Valuing any vintage clothing is difficult because its worth is based on its age, demand, brand, and condition. Combining all the information together and finding a value can be difficult, especially since the demand for certain items often changes. The best method for figuring out how much an item is worth is to do the research. See what all the other sellers are listing the item for if it can be found elsewhere. Often collector's forums can be helpful in giving advice as well.
Finding Girls' Vintage T-Shirts
Vintage clothing is difficult to find locally. Sometimes thrift shops will have a few in stock from time to time, but they typically sell quickly so they aren't there for long. Most people end up having to visit the second hand shops regularly trying to see if anything new came in. This process can take a long time and may never yield any results. The best bet is to look online at places like eBay because it is one central location where sellers from around the world can come to sell their items. eBay has entire sections dedicated to vintage clothing and what's listed changes all the time. This gives people an easy way to check in daily and see what's available.
How to Purchase Girls' Vintage T-shirts on eBay
To see what vintage clothing items are currently for sale, go to the eBay website and use the search bar on the homepage. Simply type in what you are looking for such as "Girls' Vintage T-shirts", "Elvis Presley T-shirts", or "Girls 1970s T-Shirts". eBay will then bring up all the items that match what you searched for. Now you have the option of narrowing down these listings by entering in your preferences. You can select your size, the main colour you want, enter in your price range, specify the brand, or choose the T-shirt material. To make sure that you are only seeing vintage items you can also select Used in the Condition section.
Now the listings shown will be more customized to what you want and you will be able to find something faster. If you like, you can even save this list of items. You can then go to your My eBay page later and quickly access this group of listings again.
Lastly, before ordering, read through everything on the listing page and make sure it all checks out. If there is anything out of place that leads you to believe that the shirt is a fake, ask the seller for clarification or just skip the product.
Conclusion
The demand for more unique clothing that represents another time in history is rising. People enjoy being able to recycle the looks of the past rather than blending in everyday with the same new clothes that everyone else is wearing. Shopping for vintage T-shirts is a fun challenge that can be rewarding if done right. All it takes is persistence and precaution in making sure that the shirt is indeed authentic. However, some people enjoy purchasing replicas just as much as true vintage clothing because the apparel is less expensive and is in brand new condition. Regardless, people can easily find girls' vintage T-shirts by keeping the above points in mind and then checking in with eBay for a few minutes every day to see what's available.