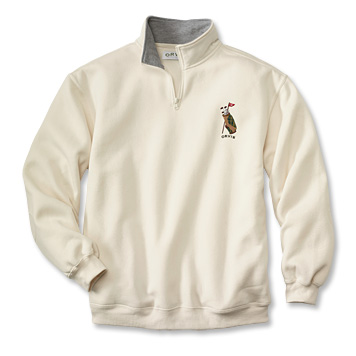 Vintage golf clothes have become very popular among those with a keen interest in the game. Collecting vintage balls, shafts, medals, bags and clothing has also become a hobby amongst enthusiastic golfers.
As with any vintage item, the following factors must be taken into consideration when buying:
Condition
It is important to check the condition of the item in order for it to match your expectations. If you want to wear the vintage garment the next time you play golf, then you must ensure it is in good enough condition to play in comfortably. Vintage items are commonly kept as collectable items only and are not used for their original purpose. It's your vintage clothing; you do with it as you wish.
Quality
As with any product quality is a crucial factor when purchasing. It is especially important to check quality if you are intending to use the product. Hats and clothing in particular are items which will need to be in a good condition in order to allow you to perform to the best of your ability.
Rarity/Demand
The rarity of and demand for items of vintage clothing determine price. Competitive bidding on a much desired item can increase the products value.
Many people confuse vintage products with antiques. Antique products are best described as items of value which exceed 100 years of age. Vintage garments are best described as collectable items which are less than 100 years of age.
History of Golf
Golf was first introduced in Holland back in the 1400s. It was then brought to Scotland where it became so popular that King James II issued a decree banning all golfing activity in 1457. The reason for this ban was that it was interfering with his soldiers' archery practice sessions. As with all things that are banned, they tend to grow in popularity. The game of golf has grown in popularity ever since.
Technology
As with so many sports products, the advance in modern technology allows players to benefit from the latest innovative improvements to kit. However, it is also what turns a product from a regular golfing product to a vintage item. As technology advances vintage items are left behind. The change can be dramatic especially in clubs , balls and accessories .
Golf clothing has evolved over time to include modern synthetic technology such as moisture-management systems. Materials have also advanced with the priority being to keep a player comfortable and dry during play.
Do some research into the type of vintage clothing you are thinking of buying. Many vintage items are mass produced or have had parts replaced, resulting in the value of the product declining.
Real or a modern take on a classic style?
You will find a lot of brand new clothing that is described as 'vintage'. This means that is a new product that has been heavily influenced by a classic product; what many people would call 'retro'. Take care to read item descriptions on eBay in detail.
Researching Vintage Golf Clothing
You will find vintage golf guides on eBay. Some of these are interesting if you are researching a look from a particular era. Such books will help you to learn more about what golfers wore in days gone by.
When researching vintage clothing vintage golf books will be a great help. Which era catches your eye is down to personal preference.
Material
Choose the right sort of vintage clothing if you are planning to wear them on the golf course.
Do they fit just right? Do they complement my figure? Are they suitable for the occasion?
These are all good questions to ask when buying vintage golfing attire. These three elements may play a significant role in your performance on the day. As with modern golf clothing, having freedom of movement in the clothing you choose will allow you to drive, swing, putt and walk with ease.
Lightweight and durable materials are key elements to giving you the protection, comfort and flexibility you need to perform to the best of your ability. Many people will find the weight of vintage woollen or tweed materials too constricting.
Dress Code
Many private members golf courses have a strict dress code in place. Vintage clothing must also fit the dress code. By adhering to the dress code you show respect for both the club and your fellow golfers. If you are going to a course that you have not played previously, check with the clubhouse before the game in order to get the dress code exactly right.
You would expect a typical dress code to be as follows:
General
Do not wear jeans, tracksuits, trainers, T-shirts, athletic shorts or similar items of clothing
Men can wear tailored/golf shorts, not below knee-length, with knee-length socks which are visible above theirshoes
Men must wear shirts with a collar
Ladies can wear golf skirts, skorts, tailored shorts of a reasonable length and cropped trousers
Ladies can wear sleeveless shirts with a collar, or sleeved shirts with a round neck or collar
On the Course
Golf shoes must be worn
Do not tuck long trousers into socks
Wear headwear the correct way round
Men must to tuck their shirts into their trousers or shorts
Ladies must to tuck their shirts in unless they are specifically designed to be worn otherwise
There is usually a further dress code and other rules to observe within the clubhouse.
In the Clubhouse
Headwear, rain suits, muddy or wet clothing can only be worn in the locker rooms
Ladies may wear tailored jeans other than blue denim
Some golf courses strictly prohibit the following items of clothing:
tracksuits
leggings
trainers
sun tops
brief shorts
denim jeans.
How to Buy Vintage Golf Clothes on eBay
Vintage golf attire of all kinds is readily available on eBay. With access to a huge range of sellers, tracking down the right golf attire for you is simple and convenient. Many vendors offer free shipping and competitive prices. Once you have a clear idea of the sort of golf clothing you need, just navigate to www.ebay.co.uk, click on
While you shop, don't forget , clothing, balls , shafts , medals and bags . To start shopping, go to the Sports and Leisure category. Click the Sporting Goods portal and click Golf .
Categories
The Categories list on the left side of each page will help you narrow down your listings by item type. You'll find links for Accessories , Apparel, Bags, Balls, Books, Videos, Golf Club Components,Footwear, Golf Carts, Cars, Schools, Lessons, Experiences, Tee Times, Green Fees,Training Aids, Vintage, and Other Items. As you refine your search you'll be able to narrow down your choice by subcategory.
Product Finder
Use the Golf Clothing Finder to quickly narrow down item listings by type of trousers, brand, model, condition (new or used), and product material.
Keyword search
Search eBay listing titles for specific words. For example, if you want to find vintage trousers for women, type the keywords "golf trousers vintage women" (without quotation marks) into the Search box. Click "Search title and description" to expand your results. Visit eBay's Search Tips page for more tips on searching with keywords.
If you can't find exactly what you want, try browsing eBay Stores or tell the eBay Community what you're looking for by creating a post on Want It Now, or save a search on My eBay and eBay will email you when a matching item becomes available.
Buy Vintage Golf Clothing with Confidence
Make sure that you know exactly what you're buying and understand how eBay and PayPal protect you.
Know your item
Read the details in the item listing carefully.
Remember to add delivery costs to your final price. If you're buying a high value item, check that the seller will insure it until it is delivered to you.
If you want more information, click the "Ask seller a question" button on the seller's profile or the "Ask a question" link at the bottom of the item listing page.
Always complete your transaction on eBay (with a bid, Buy it Now or Best Offer) otherwise you will not be covered by eBay Buyer Protection.
Never pay for your eBay item using an instant cash wire transfer service like Western Union or MoneyGram. These are not safe ways of paying someone you do not know.
Know your seller
Research your seller so that you feel safe and positive about every transaction.
What is the seller's Feedback rating?
How many transactions have they completed?
How many positive responses do they have?
What do buyers say in their Feedback?
Are they positive about the seller?
Most top eBay sellers operate like retail shops and have a returns policy.
Do they offer a money-back guarantee?
What are their terms and conditions?
Buyer protection
In the very unlikely event that you do not receive your item or it is not as described, eBay Buyer Protection your purchase price plus original delivery cost.
Conclusion
Settle on the kind of vintage clothing that you are looking for. Remember that all golf clothing should first be practical. In order to prevent the clothing you buy from affecting your performance, consider the material you choose, style and fit of the garment.
Checking the course dress code will ensure that you are keep to the rules, even in vintage style. Which vintage clothing you choose to wear will depend upon weather conditions and your own character and style.