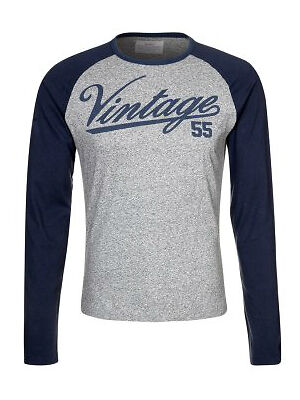 The definition of vintage tends to differ according to various commentators. Clothing produced before the 1920s is considered antique, while clothing dating between the 1920s and 1960s is typically categorised as vintage. Since the early 1990s, the wearing of vintage garments has soared, creating a greater acceptance of secondhand clothing, and this is still a popular trend in the consumer market today. This popularity stemmed from both an increased public awareness of the benefits of recycling, reusing, and repairing as opposed to throwing items away and the use of secondhand designer clothing by celebrities.
Vintage men's casual tops range in style depending on their decade. The quantity of vintage wear from the earliest periods is often limited, so very old men's casual tops may be difficult to obtain, especially at affordable prices. Their collectability and unique style make them much sought after items. Vintage men's casual tops are available at vintage and charity shops. When purchasing vintage men's casual tops at retailers such as eBay, buyers should consider the various styles with respect to each decade, learn how to distinguish vintage wear by their features, and understand how to care for the garments properly.
Styles of Men's Casual Tops
There are various styles of vintage men's casual tops that differ according to their design and decade. Deciding which top best fits a man's outfit depends on his personal taste and the era that he is interested in.
1920s
The 1920s was recognised as the flapper era, as money flowed and jazz music rose in popularity. Women rebelled against social norms and tight fitting garments. Men followed this trend, and conservative shirts were replaced by comfortable casual tops. These tops were less constricting than those from the previous era and modelled after the style of popular jazz musicians. Men's casual tops during the 1920s were typically neutral colours, such as putty, peach, cedar, grey, and blue. These tops were often worn under a fitted suit jacket. Men's tweed and knit jumpers were also considered fashionable during this era, and can be found in brighter colours.
1930s
The popularity of men's casual wear continued throughout the 1930s. The first half of the decade saw financial hardship for many. Men wore casual blazers with open necked shirts. Tank tops also gained popularity and featured argyle and tartan patterns. They were often sported over button down shirts.
1940s
The workforce in the clothing industry decreased during the 1940s as a result of World War II. There was a shortage in fabric, directly affecting men's garments. The war also shifted the view of the clothing that was deemed acceptable for social gatherings, and casual clothing replaced more traditional formal suits. Men's casual tops included polo neck sweaters and cotton shirts with soft collars. This clothing was bulkier in appearance, giving men a more masculine body frame.
1950s
The Teddy Boy look became popular during the 1950s and was considered an alternative look to the uniformity during this time period. The classic Ted had a long jacket that featured a velvet collar, an important part of the look. Jackets were typically plain and often found in blues and greys. Men often complemented this top with drainpipe trousers and narrow ties in a horizontal stripe pattern. Alternatively, some men choose to wear an American style bootlace tie. Brothel creepers, which are thick crepe-soled suede shoes, completed the Teddy Boy look.
For men interested in Americana, cowboy shirts in plaids and block colours were worn as casual weekend wear, popularised by western television programs such as "Gunsmoke". Plaid became all the rage; the colour pink was worn by men in this decade. Pink and blue plaid shirts were commonly seen as were multi coloured shirts featuring black and yellow. Casual tops were worn untucked with the tail out. Tops were often made of synthetic fibres. Cardigans became fashionable and could be found in both long sleeve and short sleeve, or tank top versions, in various colours.
1960s
Men's casual tops from the 1960s are recognised for their specific cut and style. Shirts from this time often feature the bell sleeve, round collar, and mock polo neck. They are popularly made of cotton and nylon.
Vintage Men's Casual Tops Features
Vintage men's casual tops contain a number of features that set them apart from more modern reproductions. When searching for and purchasing vintage men's casual tops, buyers should consider factors such as seam work and labelling.
Seam Work
Seams were generally not serged before the 1960s. Instead, they may have been pinked, or cut using a non-straight cutting blade. This was a popular technique in the 1950s as it prevented the edge of a man's top from becoming susceptible to unravelling.
Labelling
When purchasing vintage men's casual tops, buyers should inquire about the garment's measurements. Many vintage clothing items do not contain label tags and the few that do are often not sized in a similar way as those today. In the UK, care labelling is considered optional, whereas in the 1970s, care labels became required for all garments made in the United States. UK clothing trademarked to Ginetex symbolises that the top was produced after the year 1963, so clothing with this symbol cannot be considered vintage. If vintage clothing does contain a country of origin label, it will most likely have been manufactured in Italy, France, or Hong Kong. Buyers should take labelling at face value, as care labels are not always a reliable means of dating.
Properly Caring for Vintage Men's Casual Tops
Even if a vintage men's casual top appears to be in pristine condition, buyers should never machine wash the garment. Vintage clothing pre-dating the 1960s was not intended to be laundered in a washing machine. Instead, it should be dry cleaned or hand washed, if the fabric is indeed washable. Certain materials such as silk, rayon, wool, velvet, satin, and chiffon should not be hand washed. Vintage seams are fragile, so machine washing them can cause the fabric or stitching to stretch.
Laundering a Vintage Men's Casual Top
Men should wash their vintage men's casual top as soon as possible after wear to prevent stains from settling into the garment. Stains may be caused by perspiration or deodorant. Buyers should use liquid detergent rather than soap powder and cool or warm water. This helps to prevent fading and running of fabric dyes. To preserve the fabric, lay the top flat to dry. Buyers should always use a steamer to free the garment of wrinkles. An iron may compromise the top's fabric, making it more susceptible to burns.
Storing a Vintage Men's Casual Top
When storing vintage men's casual tops, individuals should never place the garment on a wire hanger. Doing so can ruin the fabric in the shoulder area and cause the top to stretch. This can lead to rips in the garment over time. Vintage men's casual tops should be folded instead of hung. If hanging is the only option, men should opt to use a padded or wooden hanger. All vintage men's casual tops should be kept in a cool, dry area in order to prevent discolouration and fading.
Where to Find Vintage Men's Casual tops
Vintage men's casual tops can be found at charity shops, car boot sales, and vintage shops. Buyers may also choose to search online retailers for an even wider selection. Buyers can find vintage men's casual tops through eBay's online auction listings.
Buying Vintage Men's Casual Tops on eBay
From the eBay homepage, buyers can type in any key terms such as "men's vintage casual tops" into the search bar. This is likely to render a large number of results. For a more limited search, buyers should consider using more specific key terms. Buyers can further filter their search by the subheadings such as condition, price, or buying format.
Buyers should always examine all vintage men's casual tops for signs of wear or damage before making a purchase. The pictures of the casual tops for sale can provide helpful information to the buyer and let them know exactly what they are buying. If additional information regarding the vintage wear is desired, buyers should use eBay's "Ask a question" link to contact the seller directly. Sellers are generally more than willing to provide the buyer with additional information or pictures and promote a positive sale.
Conclusion
Although it may seem difficult to differentiate between vintage men's casual tops and reproductions, being familiar with the unique features of vintage wear can help buyers to make an informed decision. Both seams and labelling of clothing has changed over the years. Buyers should conduct background research on the features of vintage wear and how it differs for each decade in order to know how to identify it properly. The absence of a sizing label and pinked seams may both indicate that the top is in fact vintage. To preserve the vintage casual top so that it continues to be available for future generations involves proper care. Understanding when to hand wash or dry clean an item is crucial to maintaining the garment. Careful storage is necessary to avoid hanger marks on the item and to prevent stretching that could lead to tears. eBay offers buyers the pick of the most rare and unique vintage men's casual tops.