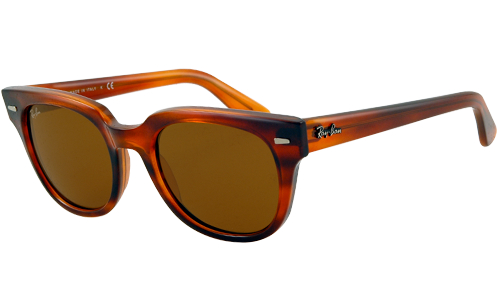 Sunglasses are pragmatic accessories that can also endow a man with a sense of style. Popular for decades, sunglasses have a place in a man's life and collection of accessories. With the range of styles available in the market, men's vintage sunglasses provide one of the more compelling choices. These classic glasses provide a unique look, protection from the sun, and a distinct way for a man to express his own sense of style in a way that sidesteps contemporary conventions.
Of course, with the vast array of choices out there, finding and purchasing a great pair of vintage sunglasses can be a tall order of business. This guide walks men through the process of buying vintage sunglasses, looking into the some of the more popular styles available in detail. The guide also walks readers through the process of finding and purchasing vintage sunglasses on eBay, providing tips on how to search listings, review sellers, and find an ideal pair.
Shopping for Vintage Men's Sunglasses on eBay
There are several ways to initiate a search for vintage sunglasses on eBay. One may do this by running a basic search using the search bar that can be found on any page on the website. For example, you can run a search using the term "vintage men's sunglasses" to get an overall idea of the types of sunglasses available. If you have an exact type in mind, you can use a more specific search term. eBay also offers related search suggestions that can help refine the purchasing process.
Of course, having a concise understanding of the type of sunglasses available on the vintage market can be a great help in one's search. The following section shows how men's sunglasses have evolved over the decades and lists some of the more popular options available in vintage men's sunglasses with details on the look and style of each.
An Overview of Vintage Men's Sunglasses
Men as far back as prehistoric time developed protective eyewear for blocking the rays of the sun. Early iterations such as the snow goggles developed by the Inuits used bone material with thin slits cut in them to shield a wearer's eyes from sun and glare. Crystal and coloured lenses have been cited as far back as ancient Roman and ancient Chinese times. These types of glasses were primarily used to create effects and were not necessarily for sun protection. During the mid-1700s, specialists began experimenting with the therapeutic and medical effects of coloured lenses to treat a variety of conditions.
The look of men's sunglasses has changed over the recent decades, offering many varieties for vintage men's sunglasses. Popular options include items from the 1950s with a classic style to more recent sunglasses from the 1980s with bolder and more dynamic styles. The movie stars of Hollywood were one of the first subsets of society to popularise sunglasses. Since then, sunglasses have gone on to become one of the most common and necessary fashion staples in accessories designed for men. The evolution of this product category has provided a plethora of choices in men's sunglasses, many of which are available for purchase on eBay.
Vintage Aviator Sunglasses
One of the most popular varieties of men's sunglasses are aviator glasses. These classic pieces have been considered a solid style choice for decades. Aviators generally feature tear-drop shaped lenses, with thin wire frames. Originally designed for military pilots in the 1930s, aviator sunglasses have since become a fashion staple worn by both men and women. However, this type of sunglasses epitomises male style. These comfortable frames often feature a mirrored lens and can have gold-tinted or silver-tinted wiring. The ear wraps on a pair of aviator glasses can have a wrap design that fits securely behind the ears or a traditional arm that rests on top of the ears.
Vintage Flip-up Steampunk Sunglasses
Another popular variety from the world of vintage sunglasses are flip-up vintage steampunk sunglasses.. This type of sunglasses typically includes a rounded frame with a shaded glass that flips up and down over the main lenses. The main lenses feature clear glass and can be fitted with prescription lenses under certain circumstances. The frame of flip-up glasses can have a tortoiseshell design or a solid-coloured design, usually in black or dark brown.
Clubmaster-Style Vintage Men's Sunglasses
Clubmaster-style sunglasses have a rounded lens bottom and a heavy frame element at the top of the lens, usually in a tortoiseshell, black, or brown plastic. A thin metallic piece joins the lenses above the nose bridge. The ear stems are typically made of the same plastic or acrylic material that makes up the design element on the top of the lenses. These frames were made popular in the 1950s and 1960s and still define a classic style today.
Horn-rimmed Vintage Men's Sunglasses
Horn-rimmed vintage men's sunglasses follow a similar design theme to that of clubmaster-style sunglasses in terms of lens shape and overall aesthetic. The plastic or acrylic frame, however, extends across the nose bridge to form a solid piece, while a plastic or acrylic element can also be featured at the bottom of the lenses. Some versions of horn-rimmed sunglasses do not have a frame element at the bottom of the lenses. Although these sunglasses can be found in tortoiseshell, black, or brown frames by and large, forays into other, bolder colours such as blue are common as well.
Vintage Men's Teashades
Perhaps made famous by musician John Lennon, teashades are sunglasses with small circular lenses that are held in a thin, wire frame. Some frames and ear stems on teashades can be plastic, but the classic teashade look involves wire frames. The lenses in these sunglasses can often be found in a wide range of colours, with choices as unique as red, blue, and purple. Mirrored lenses are another popular option offered within the vintage men's teashades category.
80s-Style Vintage Men's Sunglasses
Vintage sunglasses from the 1980s for men tend to be much bolder and bigger than a lot of their brethren, consisting of wider lenses, brighter colours, and larger swathes of plastic detailing. There is a good deal of variety within the 1980s genre of vintage sunglasses; everything from zebra print and neon colours are almost as common as the more traditional black or brown options. Many very unique sunglasses come from the 1980s, including shutter shades which leverage a row of shutters over each lens to deliver protection from the sun.
70s-Style Vintage Men's Sunglasses
Most 70s-style vintage sunglasses for men feature an aviator-like design, but on a bigger scale than a traditional pair of aviator sunglasses. Instead of featuring a wire frame, a pair of vintage sunglasses from the 1970s may have a plastic frame which can come in any one of several colours, with white being particularly symbolic of the era. The lenses themselves often have a gradient tint or a colour tint, adding a second level of visual detailing to these sunglasses.
The Buying Process for Vintage Men's Sunglasses on eBay
Once you have settled on a style of sunglasses you want to purchase, you can begin your search through the extensive listings of vintage men's sunglasses on eBay. You may choose to do a basic search by typing a search term such as "men's vintage sunglasses", or use the website's advanced search function that allows you to search specifically by price range and other variables of your choice. When you see a listing that looks appealing, click on it to access a detailed page for the listing. On this page, you can find essential facts on the sunglasses as well as data such as delivery time.
You can also access information on the seller of the item, an important step towards purchasing with confidence on eBay. By visiting a seller's page, you can access the history of the seller, including information related to the seller's track record in customer service as well as the seller's past auctions. You can also view feedback the seller has received from other customers, giving you further insight into the way the seller works.
Conclusion
Wearing a pair of vintage sunglasses is a definitive way for a man to express his own sense of style. These stylish accessories can add flair and distinction to a man's everyday look. Vintage sunglasses come in a wide range of styles that can complement any man. Finding and purchasing vintage sunglasses becomes an easy process when buyers utilise the extensive vintage listings on eBay. This auction website enables men to find vintage sunglasses ranging from classic aviators to trendier options from the 1980s in a wide range of colours and patterns. By using the tips provided in this guide, a prospective buyer can quickly zero in on an option, access myriad listings, and use the detailed information on both the listing pages and the seller pages on eBay to find an ideal pair of vintage sunglasses in no time. Buying the right pair of vintage sunglasses becomes easy, thanks to eBay's many user-friendly features.