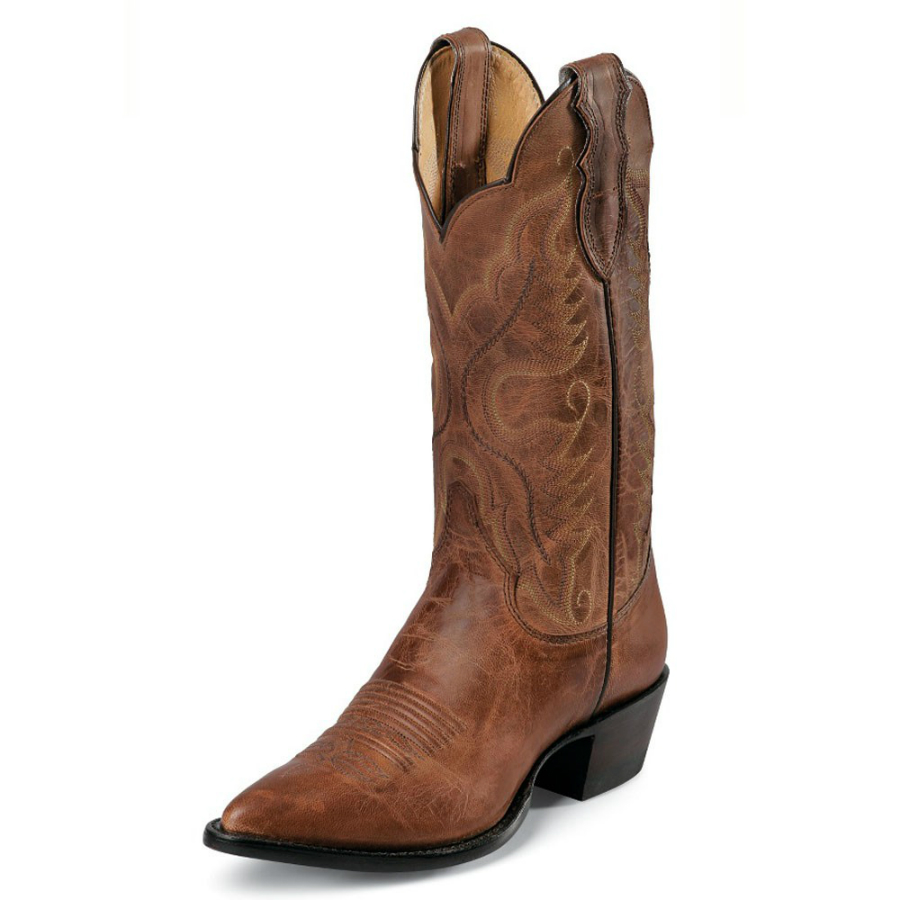 Buying vintage riding boots can be an economical, as well as aesthetic, choice for horse riders. Since the styles of riding boots change over the decades, purchasing a vintage pair of riding boots can be the only option for riders if they are dedicated to a certain look that has fallen out of fashion. To increase their chances of finding the perfect pair of vintage riding boots, buyers can visit eBay, which features a large selection of riding boots and related products. Finding certain types of vintage riding boots on eBay relies on effective search methods, so buyers should follow a number of best practices when conducting their eBay searches. This approach helps buyers find vintage riding boots in various styles that are appropriate for certain occasions. Before purchasing vintage riding boots, buyers should know which types of riding boots are available and how to look for condition issues in the heel, sole, and upper of a vintage riding boot.
Types of Vintage Riding Boots
Because people ride horses in a variety of situations, riding boot makers manufacture different types of riding boots. In cases such as horse shows, the type of riding boot that is permitted is highly regulated and limited to specific styles. Because of this, eBay buyers should thoroughly research the type of vintage riding boots they require based on their future plans before browsing eBay's selection. This ensures that buyers experience long-term satisfaction with their purchases and avoid any potentially embarrassing situations.
Long Riding Boots
For buyers who plan to compete in competitions, which include horse riding, owning a pair of long riding boots is essential. Long boots can be broken down into separate categories, however, depending on the nature of a competition.
| Type of Long Riding Boot | Description |
| --- | --- |
| | Used primarily in jumping competitions; notable for including laces at the ankle that provide give during jumps |
| Dress boot | Preferred in dressage competitions; do not have laces and generally extend higher on the outside of the knee, creating a top of the boot that angles inward toward the inside of the knee |
| Hunt boot | Appropriate for hunting competitions; identifiable by the turn-over cuff that is included at the top of the boot; this cuff is traditionally coloured brown or tan, in contrast to the rest of the boot which is coloured black |
When searching on eBay, being able to determine a long riding boot's purpose by its appearance comes in handy. This is because some product descriptions on eBay omit the reference to a boot's purpose in the product listing's title. Additionally, buyers should be aware that all types of riding boots can either be pull-on boots or zip boots, which feature a full-length zip on the back of the boot. To ensure buyers know exactly what they are purchasing, they should carefully read a long riding boot's product description to determine if a boot is a pull-on or zip-style boot before initialising a sale.
Jodhpur Boots
Jodhpur boots are ankle-length boots suitable for everyday riding and yard work. Often designed with a low heel and rounded toe, Jodhpur boots frequently sport front and back tabs that extend above the boot's ankle line.
Vintage Riding Boot Conditions
When searching on eBay for vintage riding boots, buyers should pay close attention to the structural conditions of the boots to ensure that the boots can withstand the stresses of future wear. Some signs of wear are perfectly acceptable, such as superficial scratches on a boot's leather, and do not compromise the integrity of a boot. Serious damage to a riding boot's heel, sole, or upper can drastically reduce the likelihood of wearing the boot safely, however, and should be avoided. Repairing a damaged boot is always an option, but buyers should note the high costs associated with the professional repair work that is necessary for extensive repairs.
Heel
A heel is attached to the bottom of a riding boot's insole and provides height for the wearer as well as traction when a boot is inserted into a stirrup. Because heels bear weight and experience stress within a stirrup, it is critical that heels provide stability. When browsing on eBay, buyers should check to see if the heel of a potential riding boot purchase shows any signs of looseness. If there are signs of instability, the boots should be repaired before they are worn.
Bottom of a Heel
To provide the correct balance for walking, the bottom of a heel should be level. Previous wear can often cause a heel to angle inward or outward, which, in turn, can lead to ankle and knee joint problems when the boots are worn by a second person.
Soles
The soles of a pair of vintage riding boots generally have evidence of wear. The extent of the wear can vary, however, so buyers should thoroughly assess the seriousness of any wear before purchasing a pair of boots on eBay. Slight smoothing on a sole's surface is acceptable, but holes or cracks within the sole are a serious issue, which requires repair by a professional. Typically, the process of repairing a hole or crack in a sole necessitates the replacement of the boot's entire sole and heel, a costly endeavour.
To minimise the likelihood of repairs, buyers should look carefully at photos of the vintage riding boots available on eBay before making a final purchasing decision. If an eBay product listing does not feature a detailed photo of the soles of a pair of riding boots, buyers can request a photo and more information from a seller. To do this easily, buyers can use the "Ask a question" option located within every eBay product listing. Establishing direct communication with a seller when in doubt of a product's condition is the smartest way to avoid any troublesome purchasing transactions.
Uppers
The upper of a riding boot refers to the part of the boot that attaches to the soles and stretches over the foot, extending upward towards the knee. Frequently made from leather, the upper is the section of a riding boot that generally distinguishes it from other types of boots. Before purchasing a pair of vintage riding boots on eBay, it is important to check the upper extensively. The most severe damage for an upper often occurs in the area where it attaches to the sole of a boot. To identify any damage in this area, buyers should look for signs of soft spots along the seam connecting the upper and the sole of a boot. Additionally, large stains on the upper can create an unseemly appearance and need to be removed if a buyer is purchasing vintage riding boots for formal competitions.
Finding Vintage Riding Boots on eBay
To locate vintage riding boots on eBay quickly, use the search field that is located on every eBay page. Adding relevant keywords to the search field produces focused search results of appropriate items related to the keywords. This approach narrows results, but still allows buyers to browse through a limited selection of items. For example, typing in the words "Toggi riding boots" creates a selection of search results that lists all of the products on eBay that match the keyword description. Buyers can then opt to check the box for "used" under eBay's condition sorter to find vintage pairs of Toggi riding boots.
Buying Vintage Riding Boots on eBay
Once buyers locate the perfect pair of vintage riding boots on eBay, they should register to create an eBay account. Registration provides buyers with access to eBay's products, in addition to a range of helpful tools eBay developed to make managing activity easier. After registration is established, buyers can purchase eBay products, but should remember to carefully read the information provided in the eBay product listing before committing to a sale. In addition to product-specific details, eBay listings include essential seller-specific information that buyers need to know to guarantee a smooth purchasing transaction. This seller-specific information includes details about a seller's shipping practices, return policies, and preferred payment methods. Another user-friendly resource that eBay provides within product listings is a seller's feedback rating score. This score informs buyers of the level of customer satisfaction that sellers have achieved in the past, based on buyer feedback. For excellent customer service, buyers should seek out sellers who have achieved eBay's Top-Rated Seller designation.
Conclusion
Purchasing vintage riding boots is a savvy footwear choice for buyers who want to sport classic-style riding boots. They are also an economical choice for buyers on a limited budget. Accessing a wide range of vintage riding boot options is made easy by visiting eBay, which features a variety of riding boot styles from well-known manufacturers. To make sure a vintage riding boot purchase is successful, however, buyers should prepare for their eBay shopping experience by learning as much as possible about vintage riding boots. This includes the ability to differentiate between the various types of riding boots available and when each style of riding boot is the most appropriate for wear. Condition issues greatly impact the feasibility and safety of wearing vintage riding boots, so buyers should examine potential boot purchases for any signs of damage. This process is made simple by the detailed product descriptions and photos that accompany eBay product listings. If a buyer has any concerns about a pair of vintage riding boots, eBay provides convenient access to sellers who can answer any questions that a buyer poses. These resources, in addition to eBay's practical search capacities, provide a purchasing platform that allows buyers to find the perfect pair of vintage riding boots safely and quickly.