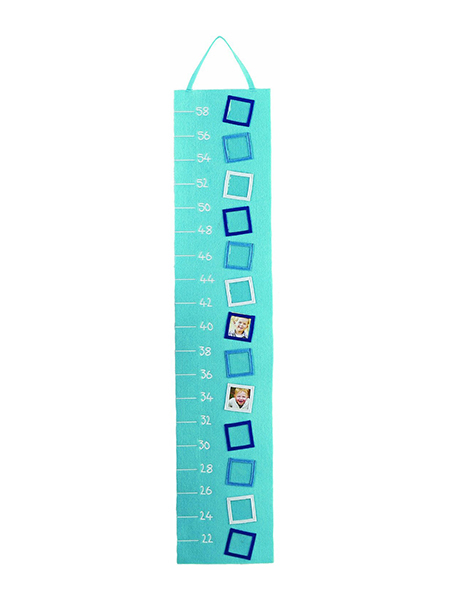 Wall hangings are a popular addition to many households to enhance and complement existing home decor, but in kids' playrooms especially they serve a dual purpose; decoration and education. Wall hangings specifically designed for kids' playrooms come in a variety of styles, themes, colours, and materials which not only suit all individual tastes but also provide the most suitable type of wall hangings for different playrooms, whether they be a calm and quiet play space or a loud and messy madhouse.
Advantages of Wall Hangings for Kids' Playrooms
Wall hangings for kids' playrooms are either designed for decorative or educational purposes, or sometimes for both. Decorative wall hangings add character to any playroom, ranging from general lighthearted fun, to more specific designs to fit in with princess-themed or car-themed playrooms for example. These types of wall hangings add personalisation and individuality.
Wall hangings can create a space children want to spend time in. Educational wall hangings are beneficial in developing and stimulating the mind. For older children, wall hangings with animal facts, fruit and vegetable ideas, pictures of different transportation methods or even numbers or the alphabet can really generate questions and encourage further thinking. For younger children, bright colours are believed to be beneficial for cognitive development, while the sharp contrast of black and white can aid development in small babies.
Choosing Wall Hangings for Kids' Playrooms
With so many different varieties of wall hangings that are all suitable for and specifically designed for kids' playrooms, it can be difficult to know what to choose. Taking some design features into account can really help narrow down the vast choice.
Types of Wall Hangings
The type of wall hangings chosen should be based upon the purpose that the hangings are required to serve in the playroom. The different types of wall hangings can be browsed either online or in traditional home decor or DIY shops prior to purchasing.
| | |
| --- | --- |
| Decorative | Wall hangings purely for decorative purposes may come in pastel colours or traditional boy and girl colours. They may be made from more expensive materials that are high quality, attractive, and textured. |
| Fun | Wall hangings designed to bring a fun appeal to a playroom may come in bright and vivid colours, perhaps adorned with pictures of TV or book characters. They may be made from lesser quality materials that can be wiped clean. |
| Educational | Educational wall hangings may present fun facts about a specific theme, such as the size of the world's largest animal. They may also display numbers or the letters of the alphabet in easy to digest snippets. |
| Height Charts | Children's height charts often appear as wall hangings and can be used to track growth. They may have a fun aspect to them, such as comparing the child's height to that of a tall animal such as a giraffe. |
Wall Hanging Themes
No matter what the latest fad is amongst children, there is a wall hanging to suit any theme. Traditional boys and girls themes are widely available, as are TV and book characters, natural themes, and educational systems.
| | |
| --- | --- |
| Animal | Animal themes may display fun and educational animal facts, teach children about different animals, or could even simply come in a decorative animal print to add specific character to a playroom or fit in with an existing theme. |
| Contemporary | Contemporary themes fit in with the more modern playroom. They may come in bright and vibrant colours or even with art deco shapes. They can be both decorative and educational depending on how the theme is utilised. |
| Nautical | Nautical themes can be decorative or educational and may come mainly in blue or green hues. Boats, ships, sea life, and the ocean are common specifics of these wall hangings. |
| Novelty | Novelty wall hangings may come adorned with the latest TV character to cause a stir, or favourite book characters. British cartoons, American kids' sitcoms and Japanese characters are all very popular wall hanging themes. |
| Traditional | Traditional wall hangings may be more decorative than fun or educational, and they fit in with well with playrooms for designed for newborns or smaller children. Traditional pinks and blues are popular. |
Wall Hanging Colours
Walls hangings come in a huge spectrum of colours to fit in with existing home design, new parents' decorative desires and, of course, the interests of children, whether that be traditional pink and blue, contemporary yellows and greens, bright and vivid shades or monochromic black or white.
| | |
| --- | --- |
| Pinks | Pastel or baby pinks are traditionally used for girls' rooms, but can be a warming addition to any playroom. Pink wall hangings could especially fit in with a princess themed playroom. |
| Blues | While blue decorations are traditionally for boys' playrooms, wall hangings with a nautical theme or animal theme may come with blue backgrounds, either in pastel or vibrant shades. |
| Greens | Green wall hangings are a popular choice for modern and contemporary playrooms and are particularly suitable for both boys and girls. Animal or other nature themed wall hangings may appear with green as the primary colour. |
| Yellows | Yellow wall hangings can fit in well to a modern or contemporary playroom and can bring a warming, bright, and lively atmosphere. This colour is particularly suited to naturally dark rooms that require a touch of light. |
| Mixed Colours | Mixed colours can either be mixed pastels for decorative purposes or vibrant colours designed for both fun and education.Vibrant colours are especially popular for older children as it encourages cognitive development. |
| Blacks and Whites | Black and white wall hanging are decorative, but also particularly fit into younger children's' playrooms well. Babies may not be able to tell colours apart very early on, but can see the stark contrast between two opposing shades. |
Wall Hanging Materials
Depending on the type and frequency of use individual playrooms get, wall hangings can be purchased in a variety of materials to suit. Decorative and unreachable hangings may be made from an attractive material, whereas those designed to be within a child's reach may be made from a plastic or plastic coated material that easily wipes clean.
| | |
| --- | --- |
| Cotton | Cotton wall hangings are often very decorative, and provide a light and flexible type of hanging that can include pictures or text but cannot be used for interactive fun. |
| Wool | Woollen wall hangings are again decorative, although may be slightly more expensive than cotton. In a playroom, these may want to be kept out of reach to avoid damage to the material. |
| Nylon | The fragile nature of nylon makes it ideal for pretty wall hangings and is often used to create animal and insect hangings such as butterflies and ladybirds. Again, these are primarily decorative. |
| Polyester | Polyester is much more robust than nylon and is commonly used for novelty and character wall hangings due to the soft nature of the material. Fun and educational wall hangings are often made from polyester. |
| Plastic | Plastic wall hangings may not look as attractive as those made from other materials but they are likely to be inexpensive, long lasting, and able to withstand rough and tumble. They can be marked for height, or wiped clean. |
Considerations When Buying Wall Hangings Online
Many wall hangings for kids' playrooms can be bought in either brand new or used condition. Decorative hangings especially lend themselves to being bought in used condition as fads change regularly and so themed wall hangings in particular may not have a lot of use before being sold on. These are typically offered at a much reduced price than the same items in new condition. However, it's important to note the condition of 'play' wall hangings, such as those that encourage child input or markings like height charts. With these added markings being unique to different children, a new wall hanging may be a more sensible option.
Conclusion
Wall hangings specifically designed for use in kids' playrooms are widely available both online and in store and come in a huge variety of styles, themes, colours, purposes, and materials to fit in with existing home decor and with the individual tastes of both the parent and child. Wall hangings can add life to any playroom and can also act as educational items for children of all ages. Wall hangings in used condition can be bought from online shops such as eBay for a fraction of the original retail cost.