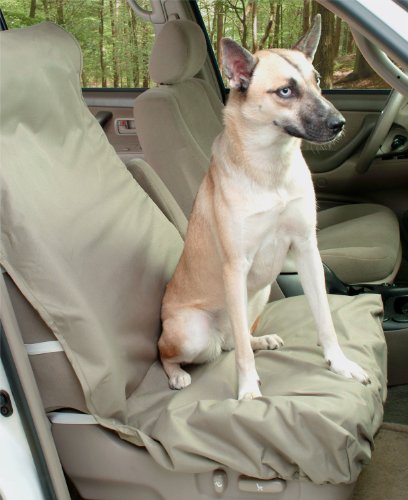 Car owners can spend thousands of dollars trying to keep the outside of their car looking its best, but it is the interior that sees the most wear and tear. Between pets, children, and coffee cups, chances are even the most responsible car owner has more than a few stains inside of their car. Once the stains set in, they can be almost impossible to get out, potentially devaluing the car's overall resale price, as well as making it look somewhat shabby.
Buying a set of waterproof seat covers from an auto store, or through an online website like eBay,, is one way car owners can protect their car seats from damage. Of course, buying seat covers is easier than it seems at first glance, even with all of the many options out there. Buyers who want new waterproof seat covers should examine models based on their durability, water resistance, and how the covers fit into one's budget.
Understanding Waterproofing
Waterproofing is an industry term that often gets thrown around when one talks about seat covers. The truth is that some seat covers that claim to be waterproof are actually only water-resistant. The difference is more than a technical one. Water-resistant seat covers, such as those made out of leather, do not absorb spills easily. However, they do absorb water when exposed to a spill over a long period of time, such as an open cup left in the backseat during a long road trip. Waterproof covers, on the other hand, actually repel water. These covers never actually absorb any liquids.
Choosing Waterproof Covers
There are several options when it comes to waterproof seat covers. Some are truly waterproof while, others are merely water resistant. Depending on the needs of the buyer, some owners can get away with only purchasing water resistant seats. In fact, many owners prefer the look of water resistant covers to waterproof covers.
Neoprene
When buyers require a car cover that is completely waterproof, neoprene is typically the first choice. It is made out of the same material used for scuba suits. This means it can be exposed to tonnes of water without a problem. Those who expose their car to extreme conditions inside and out, such as drivers that enjoy going off-roading, can get the most use out of their neoprene seats. The downside to neoprene is that it is a very expensive fabric that looks almost out of place inside a car. Some passengers and drivers claim neoprene feels just as uncomfortable as it looks.
Ballistic Nylon
Owners who want to protect their car seats from water, as well as UV damage, need to look no further than ballistic nylon. This heavy duty fabric, which was once used for flak jackets during World War II, does the lion's share of keeping the original fabric of the car looking new. It is waterproof, and also repels UV rays so that the seat colours do not start to fade. The main issue with ballistic nylon is that it is even more uncomfortable than neoprene. Again, some buyers also dislike the rock-star look of ballistic nylon seats.
Leather
Leather seats are a hallmark of luxury. Many of the most expensive cars in the world come equipped with leather seats. Purchasing leather seat covers allows owners to deck their car out to the nines, and make it look like a classic piece of machinery. Besides merely looking expensive, leather is naturally water resistant. The downside, however, is that leather is not truly waterproof, and stains that are left untouched soak into the fabric. Leather can also get sticky on hot summer days, and it does not warm up as easily on cold winter mornings.
Suede
Suede is a less expensive alternative to leather, and some owners prefer its rustic look as a nice fashion choice. It also tends to be slightly softer than leather. For buyers who are interested in preventing stains, always purchase suede covers that were treated with water resistant chemicals. Like leather, this does not make the seats totally waterproof, but it does help prevent stains from settling in, as long as the seats are cleaned when needed.
Poor Waterproofing Choices
Some of the most popular options for car covers make poor choices when it comes to resisting water. Fabrics like velour may feel incredibly soft, but does little to protect the original car seat from water stains. Tweed is another durable fabric that helps prevent tears, but it does not prevent water damage. Saddle blanket covers are also durable enough to withstand against everyday wear and tear, but they do not do much in the way of protecting against stains. A good rule of thumb is if the fabric feels significantly soft to the touch, then it is probably not waterproof or water resistant.
Fitting Waterproof Seats
Searching for waterproof car seats does not stop at finding the perfect fabric. Buyers also need to decide on what type of fit they want for their seats. The fit of the car cover can be even more valuable than the material when it comes to style. Some buyers are fine with less expensive slip-on covers, while for others the custom fitted seat covers are the only option.
Slip-on Seat Covers
As their name suggests, slip-on seat covers, or universal seat covers are designed to slide over the car seat. Most of them are zipped up in the back of the seat. Slip-on covers typically come in one size fits all, but a customer can choose between a single seat cover or a bench seat cover as well. As one might expect, this leads to seat covers that look baggy on small cars and does not often fit correctly on larger seats. However, as the least expensive option, many car owners prefer slip-on covers over not having any seat covers at all.
Semi-Custom Seat Covers
Holding the middle ground when it comes to seat covers, semi-custom covers may have a better fit than slip-on covers, the lack of form-fitting abilities of custom covers gives customers a reason to be weary. What they do offer is better waterproofing protection than slip-on covers, since they typically fit the seats a bit more snugly. They are also usually more affordable than custom covers. Semi-custom covers are ideal for drivers who want to thoroughly protect their cars interior without having to sacrifice their entire budget to do so. Buyers can find these models in several different sizes designed to fit car brands.
Custom Seat Covers
Precisely designed to cover every nook, cranny, and obscure point on a car seat, custom covers are the heavyweights of the car cover world. As the most expensive option, custom covers also offer the best protection among many options. They leave no part of the original seat uncovered, and it is almost impossible for passengers to become aware of the fact that the seats are even covered.
Custom covers are sold according to the make, model, and year of the car. This is what allows them to obtain such precise measurements. They are also the most expensive option and usually need to be installed by a professional. Buyers must be careful to buy the correct custom cover for their car. Even getting the year wrong means that the covers cannot properly fit the seats.
Finding Waterproof Car Seat Covers on eBay
Auto enthusiasts already know that eBay is the best place to go to buy their auto accessories. If you have never bought car covers before, then eBay is a fantastic place to start shopping. First, the selection on eBay is utterly unmatched, and you can find car covers in the thousands. Secondly, many sellers offer cutthroat prices in order to gain an edge over the competition, passing the savings onto the buyer. Discover how mastering eBay's search engine can maximise your savings.
Searching for Waterproof Car Seat Covers on eBay
eBay's search engine is designed to respond to whatever text you type into the search box located on any eBay web page. Therefore, even a simple search for 'car seat covers&' can return thousands of results. This original list is likely too large to browse through entirely, so it is best to narrow down your search even further by looking for 'waterproof car seat covers'. From here, you can select further limiters such as 'neoprene car covers', to get the fabric results you want. You can also search for the fit by typing in 'custom car seat cover&'. In fact, the search engine is so versatile that you can even shop by colour, such as 'black custom car seat covers&'.
Conclusion
Waterproof car seat covers allow owners to extend the lifetime of their original car seats by protecting them from damage. While the main focus of waterproof covers is to repel water and other liquids, many types of seat covers such as ballistic nylon, work to guard against UV damage. When choosing a seat cover from a large website like eBay, it is best to start by finding the perfect fabric for the car.
Some types like neoprene and ballistic nylon are fully waterproof, while others like leather and suede are only water resistant. Once the right fabric is selected, buyers then must focus on the fit of the cover. Slip-on covers are typically the most affordable option, semi-custom covers provide additional protection, and custom covers are mostly top of the line. Customers have to find the perfect balance between price, style, and durability in order to get the car seat covers that are right for their particular vehicle.