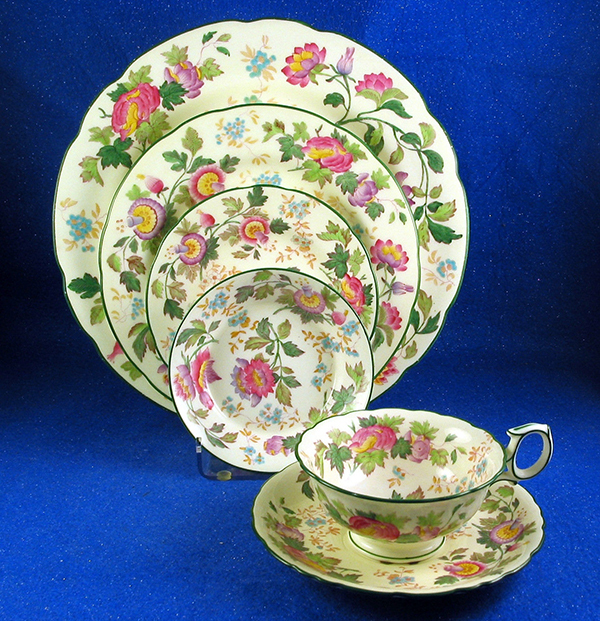 Wedgwood dinner services have been adding value, beauty, and character to dinner tables since the 18th century. These fine dining pieces display a rich heritage of craftsmanship that has made the Wedgwood name one of the most renowned in the world. For those who want to purchase their first fine dining dinnerware sets or who are looking to add new sets to their collections, understanding how to find and buy the best Wedgwood items can be important. There is a large variety of Wedgwood dinner services available today, along with replicas of original Wedgwood designs.
Learning to discern between the various types of Wedgwood china and identify genuine pieces is essential to finding a quality dinner service. With this information in hand, consumers can then focus on shopping for the Wedgwood dinner services they want. Most of the time, the largest catalogue of options can be found online by visiting the online aggregator eBay.
About Wedgwood China and Dinnerware
Josiah Wedgwood founded the Wedgwood pottery firm in the late 1700's in England. The firm quickly became known for its excellent craftsmanship and high quality. At the time, Wedgwood manufactured domestic service pottery, including dinner services and serving trays and containers. The modern firm continues this tradition and has also incorporated crystal items along with artistic pottery, such as figurines.
Wedgwood vs. Wedgewood
The original pottery firm founded by Josiah Wedgwood is spelled without the second 'e'. Replicas of the Wedgwood look are sometimes marketed as 'Wedgewood'. A misspelling like this could be one of the first indications that a set is not genuine Wedgwood, although it could also just be a simple accidental misspelling. For consumers looking for more affordable sets, however, a Wedgewood knockoff can be a perfectly good choice that closely resembles the look of genuine Wedgwood in some respects.
Types of Wedgwood Pottery Styles
Wedgwood produces a good number of styles in a wide range of patterns. There are, however, some main categories that define the signature look and patterns of many Wedgwood dinner services and pieces.
Jasperware
Jasperware is perhaps the best known of the Wedgwood designs. Its style is defined by a unique, powder blue tone with a matte finish. This blue base contrasts with white detail that is used to create decorative scenes and patterns on the piece. Most Jasperware made by Wedgwood falls into the decorative category and is not used for dinner services.
Queensware
Queensware is one of the most popular styles used by Wedgwood in dinnerware. It was created by Josiah Wedgwood originally for his patroness, Queen Charlotte. This pattern in its most classic iteration features a cream-coloured garland border of ivy leaf. Today, Queensware can be found in a variety of colours. Some pieces may have a blue base and a white garland, while others are white on white or with a white base and a blue garland.
Verifying the Provenance of Wedgwood Dinner Services
For consumers who want to purchase genuine Wedgwood dinner services, there are a few ways in which they can verify the provenance of a set. These methods help ensure that consumers only purchase dinner services made by the original Wedgwood company. The vast majority of genuine Wedgwood pieces are marked with the Wedgwood name and seal. This label can be found on the underside of a dish or service piece and is typically either painted on or embossed. The pattern name of a set is also sometimes embossed on a piece, as well. The Wedgwood seal has gone through a number of changes over the years. In general, it usually reads either Wedgwood England or Wedgwood of Etruria & Barlaston. The logo of Wedgwood is a capital 'W' with the silhouette of an urn figured into the centre of the letter.
Dating Wedgwood Pieces
There is a three-letter code system used on many pieces of Wedgwood to indicate the age of the pieces. This data code is valid for pieces created after 1860. The first letter in the data code indicates the month in which the piece was created. The second signifies the potter who made the item of Wedgwood. The third indicates the year. From 1907 onward, the first letter was replaced with the number '3' and from 1924, it was replaced with the number '4'. Looking for these telltale signs can let a consumer know whether or not a piece of dinnerware is genuine Wedgwood.
Exceptions to the Rule
In some cases, very old pieces of Wedgwood may no longer bear the company's imprint simply because it has worn away over time. For consumers who want to purchase a rare and old set, they should communicate with a seller and ask for additional verification as to the provenance of a dinner service.
Alternatives to the Wedgwood Brand
There is an alternative to Wedgwood made by a company called Enoch Wedgwood of Tunstall. This company creates dinner services that are similar in some ways to real Wedgwood but are not as valuable. These pieces are often sold as 'Wedgewood' with the 'e'. They are not usually purchased as collectables, but rather as pragmatic, daily use sets. The logo of the company is a unicorn, and pieces are often marked with 'Wedgewood & Co.' Again, these do not have the collector's value that a true Wedgwood piece has, but they can be quite lovely and useful.
What to Look for in a Wedgwood Dinner Service
A dinner service can come in several different combinations, from one with a good number of accessory pieces to a simpler service set that covers the basics. The following table depicts some of the pieces that are commonly found in a Wedgwood dinner service.
Dinner Service Component

Description

Side Plates or Salad Plates

Vary in size from 10 to 21 cm.

Vary in size from 24 to 30 cm.

Decorative plate that sits under a food plate.

Oversized, oblong plates used to serve food.

Saucers

Small dishes with indentations for holding tea cups.

Terrines

Serving boats for sauces.

Sometimes has a lid.

A large serving pot for tea and coffee.

Tea Cups

Small cups with a handle for serving hot beverages.

Cream Pots

Small, lidded pot with handle for serving milk or cream.

Sugar Pots

Small pot for serving sugar.

Sometimes has handles.

Bread Plates

Serving plate for bread and other dry foods.

Typically rectangular or oblong.

Soup Bowls

Shallow, wide bowls.
These are the most common items to find in a dinner service. Consumers are likely to see a good deal of variety in the accessories that come in a dinner service, but most services typically have dinner plates, side plates, and at least one platter. The size of a dinner service can vary based on how many individuals it is designed to serve.
Buying Wedgwood Dinner Services on eBay
The online retailer eBay brings together a good number of private and commercial retailers to create a very wide array of choices when it comes to Wedgwood dinner services. To begin searching for a set, you may want to start by leveraging the search interface you can find on any page on the site. Enter a generic term such as 'Wedgwood dinner service' to get an idea of all the options that are available on the site. You can also run a search with a more detailed term if you are looking for a particular colour or pattern.
Getting to Know the Sellers on eBay
A great advantage on eBay is that the site provides you with a variety of ways in which you can get to know the sellers with whom you are interested in doing business. Especially when purchasing collectables, a vetting process can help you guarantee that you find the best products for your needs. To access feedback on a seller or to view past listings, visit the seller's page by clicking on the vendor's highlighted name on the listing. You can also message a seller to communicate with him or her directly to confirm the details of the item in which you are interested.
Conclusion
Buying a Wedgwood dinner service can be a great way to bring beauty to the dining experience. These eternal classics have been defining fine dining for centuries by providing quality craftsmanship and unique looks to dinner services. Whether an avid collector or someone looking to experience a first Wedgwood set, buyers can easily find dinner services. By learning how to discern between legitimate Wedgwood sets and replicas and also familiarising themselves with the different types of Wedgwood services available, consumers can prepare themselves to make informed decisions in the marketplace.
Anything from a small dinner service for four to a large-scale service with 60 pieces can be found in the world of retail. One of the best options for finding a Wedgwood dinner service is the online retail site eBay. By running a search and then vetting sellers, any consumer can use this aggregator site to find an ideal Wedgwood service for home use or to add to a collection.