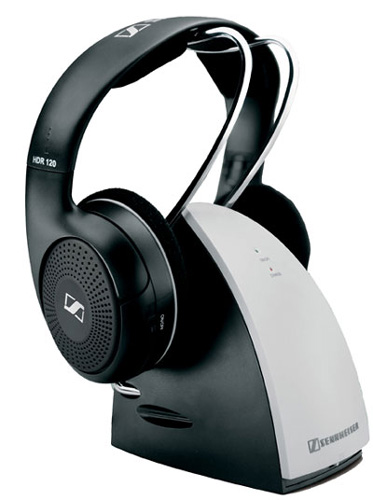 Wireless headphones are a convenient alternative to traditional corded headphones, giving listeners the flexibility to move around without having to worry about cables. They can be used out and about, or even at home for those who do not want to sit fixed in one place. They can be used with all sorts of devices, from MP3 players and mobile phones, to televisions, gaming systems, and computers. Shoppers may find that wireless headphones can vary significantly in terms of performance, price, and style. When buying wireless headphones several factors should be considered, including the wireless technology. The type of technology helps to define the ideal use for a pair of headphones, as well as influencing the overall sound quality. Buyers should also decide whether they want additional features such as a microphone, built-in controls, and support for surround sound. Wireless headphones can be bought at electronics retailers and department stores, as well as online at auction sites, such eBay, which has a large selection that allows a buyer to find just the right set.
Price Range for Wireless Headphones
Before purchasing wireless headphones, buyers need to determine how much they are willing to spend. Headphones can vary widely in their quality, as well as their price. Higher priced models typically perform better than their lower priced counterparts, but buyers can obtain reasonably priced headsets with good sound quality. So, it is important to research the product to learn about its features and capabilities as well as what previous buyers have said about it. In addition, buyers should remember to factor in how long they plan to use the headphones. Opting for a slightly more expensive set with better quality and durability is often better than choosing an inexpensive set that may not last as long.
Styles of Wireless Headphones
Wireless headphones come in a variety of sizes and shapes, but can be divided into a few basic styles. Earbuds, also known as in-ear headphones, are small and fit into the ear. By contrast, on-ear headphones sit on the ear, and full size headphones cover the ear. Smaller headsets typically cannot offer the same amount of power as larger ones, so the sound quality is often not as good. However, larger headsets can be bulky, especially the wireless versions. Corded headphones draw power from the devices that they are plugged into, whereas wireless headsets have their own power sources, typically rechargeable batteries.
Wireless Technology for Headphones
Wireless headphones typically incorporate one of three types of wireless technology: radio frequency (RF), infrared (IR), and Bluetooth: each has its own benefits and drawbacks. In addition, the type of technology used influences the function of the headphones, so buyers should determine their requirements before making a purchase.
Radio Frequency for Wireless Headphones
Radio frequency (RF) headphones offer the greatest range for wireless sets. In fact, they can even receive signals through doors, walls, and floors, often up to 100 metres. These kinds of wireless headphones also offer good sound quality compared to many corded headphones. Some RF headphones have technology designed to actively improve audio quality and to compress sound information without any loss in quality. However, RF headphones can be prone to interference from other electronic devices that operate on the same frequencies, which include the 900 MHz and 2.4 GHz frequencies. The headphones are usually heavier and bulkier than other varieties because of the technology used and the batteries that power them.
Infrared for Wireless Headphones
Infrared (IR) headphones are designed for use around the home rather than on the move. However, they are also a good alternative for mobile devices that do not have built-in wireless support, such as a portable DVD player. Headphones with IR technology are usually less expensive than Bluetooth or even RF sets, partly because they do not always have advanced features.
IR technology relies on light-emitting diodes (LEDs) that send a continuous signal from the base transmitter to the headphones. So, IR wireless headphones need a clear route to the transmitter in order to function, which means that they have a limited range and cannot work through doors, walls, or floors. However, they are resistant to interference from other electronic devices.
Bluetooth for Wireless Headphones
Bluetooth technology is a popular option for wireless devices in general. It establishes a wireless connection between two compatible Bluetooth devices, including headphones, mobile phones, laptops, gaming systems, and even satellite navigation devices, allowing one to transmit information to the other over short distances. Bluetooth headphones are best suited to people who want to listen to music on the move or simply without the hassle of corded headphones. Bluetooth uses signal compression that reduces the quality of the audio heard. Older Bluetooth models in particular are limited by slow data transfer rates and poor sound quality. Newer Bluetooth headphones may have newer technology that improves the sound significantly.
Two additional factors to consider with Bluetooth wireless headphones are the battery life and range. When compared with IR and RF models, Bluetooth headphones typically have a smaller range and a shorter battery life. However, the limited range is in many cases less important because the headphones are usually paired with a mobile device such as a smartphone, rather than a stationary one.
Microphones for Wireless Headphones
Some headphones may also incorporate a microphone. These are known as headsets and are ideal for use with any device that allows two-way communication, such as a smartphone, tablet, or gaming system. When choosing a headset, make sure that it is compatible with whatever device you plan to use it with, whether that is a mobile phone or a laptop. Computers, mobile phones, and game consoles, have different plugs, for example, but newer and high-end models may also have built-in Bluetooth support. Many electronics manufacturers offer dedicated gaming headsets that allow communication with other players online, as well as good quality sound. They can use either RF or Bluetooth technology, but their key identifiers are the features designed to enhance gaming. A Bluetooth headset for a mobile phone or tablet may have fewer extra features.
Built-in Controls for Wireless Headphones
Whether buyers are looking for standard headphones or a headset with a microphone, they can find models that have controls built into the earpiece. The controls offer a convenient way to adjust the volume, change tracks, or even send or receive calls. These on-board controls are especially suited to mobile phones and gaming consoles, because they eliminate the need to touch the connected source device.
Stereo and Surround Sound for Wireless Headphones
Headphones can vary widely in terms of quality. Beyond the technology and internal components, it is also important to look at the type of audio that the headphones produce. Many standard headphones offer stereo sound, while gaming and other entertainment centred headphones offer surround sound.
Stereo sound uses two channels of audio, so for wireless stereo headphones the right and left earpieces play different audio tracks to create the complete sound. Surround sound, by contrast, uses multiple channels. In a home cinema system, the speakers would be set around the room to surround the listener on all sides. In surround sound headphones, the earpieces help to create the directional effect. True surround sound is typically considered to start at 5.1 channels, meaning there are five discrete audio tracks plus the bass, which is denoted by the 0.1. However, some headsets use 7.1 channels, rather than just 5.1. Also, wireless headphones can be divided into those that offer actual or virtual surround sound. Actual surround sound headphones use individual speakers placed inside the earpiece, whereas virtual surround sound uses an algorithm to separate the information and make it seem as if the sound comes from multiple channels.
Buying Wireless Headphones on eBay
When you are ready to buy headphones, visit the eBay site. To find wireless headphones you can enter keywords, such as "wireless gaming headset" or "wired DJ headphones" in the search box on the homepage or any other page on the site. The results can be filtered by a variety of features, including the price range. Read the item description carefully and look at the photos before buying the product.
Using My eBay
Signing up for an eBay account before you browse has numerous advantages, including speeding up the checkout process. Logging into the My eBay service can allow you to save searches easily that you can come back to later. In addition, you can monitor items that you are interested in and create and edit wish lists. My eBay is a convenient way to monitor your payment methods and communicate with sellers and other eBay members. The seller can be contacted by using the "Ask a question" feature.
Conclusion
When buying wireless headphones, buyers need to take into account a variety of factors. Firstly, they should determine their budget, as headphones can vary significantly in price. Secondly, buyers should determine what style and wireless technology they would like the headphones to have. In-ear headphones are smaller than on-ear or full size headphones, but often they do not compare in terms of sound quality. Wireless headphones typically use one of three kinds of technology: radio frequency (RF), infrared (IR), or Bluetooth. RF has a greater range and can work through walls and floors, whereas IR technology is less susceptible to interference from obstacles and other electronics. RF and IR headphones are ideal for use at home, whereas Bluetooth are often best suited to use with mobile devices and have a limited range.
Buyers have other features to consider when purchasing wireless headphones, such as whether they have a built-in microphone and on-board controls that allow the buyer to receive calls and adjust the volume without having to touch the connected device. Finally, buyers need to consider whether they want stereo or surround sound. If buyers opt for surround sound wireless headphones, they should factor in whether they want true or virtual surround sound. eBay has a range of wireless headphones for people on the move.