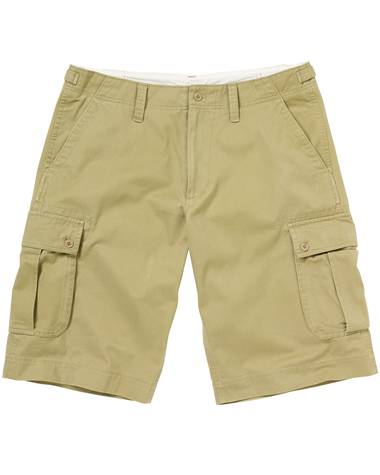 Cargo shorts have been around for quite some time and are popular as casual wear not only among men, but also among women. These shorts have a military-inspired design which exudes toughness but can also look very fashionable and feminine if paired with the right tops and accessories. Although more commonly thought of as being a men's garment, cargo shorts have recently gained popularity among women as a comfortable casual everyday wear as well as a garment fit for touring and backpacking.
Women's cargo shorts often have six pockets, which is more than what regular shorts have, but also straps and sometimes embellishments. Women's cargo shorts come in a wide range of styles, including different designs, lengths, and colours. When choosing a pair of cargo shorts, it is important to know how to select the right pair from among different styles and, to make a wise buy, how to purchase them on eBay.
Getting to Know Cargo Shorts
Cargo shorts originated from the long cargo trousers, which were mainly worn for storing many things by the British military in the 1930s. Later, in the 1940s, the United States army adopted this garment as part of their uniform. The initial design of cargo trousers included one pocket on the front hip and one on the thigh. These pockets were large and square-shaped and have retained their design over years. Cargo trousers were especially useful as military uniform as they allowed soldiers to carry more equipment and supplies such as radios and some first aid items. The location of the pockets made these items quickly accessible in times of emergency or on the battlefield.
In the mid 1990s, full-length cargo trousers entered mainstream fashion. They were first worn by break-dancers and hip-hop fans, and later became popular among other people. They were in almost everybody's wardrobe because they were stylish and had so many pockets.
Cargo trousers later became cargo shorts. Cargo shorts are probably more popular than their full-length predecessor because they are not as bulky and can be worn very comfortably at any time of day and for almost any occasion. Although cargo trousers and shorts are popular as casual wear, cargo pockets are still widely available on uniforms of various professions.
Women's Cargo Shorts in Fashion
Women's cargo shorts are available in almost every clothes shop as their comfortable and stylish look makes them a very sought-after garment among women. Cargo shorts have loose pockets, which make the garment look laid back. It is also not uncommon for some women to not carry a handbag and store their items in their cargo pockets instead. These shorts are made for women who lead an active life, and like wearing comfortable, yet practical and fashionable garments. Cargo shorts are a good choice to wear on a trip as they are comfortable to wear and allow many items to be stored in their pockets.
Style Variations
Women's cargo shorts are generally recognisable by their side cargo pockets and their fabric, usually tough cotton twill. However, more elegant versions can also be made of more delicate materials, such as silk. Cargo trousers were born to be comfortable and functional, and cargo shorts have remained faithful to that design purpose. They have wide waistbands which firmly cling to the hips or waist and can fit all kinds of belts. The original range of colours for cargo shorts is limited to grey, black, khaki, or camouflage. However, women's cargo shorts can also be found in bright colours such as yellow, pink, or blue.
Women's cargo shorts come in different lengths and cuts to complement different body types. Buyers can choose from mini cargo shorts which come down to well above the knee, medium-length cargo shorts which are a little longer than the mini version, and knee-length cargo shorts which are similar to capris. They also come in different cuts, from the slimmer-figure-hugging cut to the wider, loose cut. With so many styles of cargo shorts to choose from, anyone can find a suitable pair that looks good on her body type.
How to Choose and Wear Women's Cargo Shorts
When choosing a pair of cargo shorts, it is important to take note of one's figure. Despite the common belief that fuller-figured and skinny women cannot wear shorts, there are various styles of cargo shorts to complement any body type.
Choosing the Right Cut
Not everybody has the height and figure of a supermodel, so cargo shorts are designed and produced in various cuts and sizes to suit any body type. By choosing the right kind of cargo shorts, a woman can highlight the positive aspects of her body and hide what are usually considered problem areas. Some women like short cargos because they are comfortable with showing off their legs or because shorts make the legs appear longer than they are. The mini cargo shorts are generally suitable for all women, but longer cargo shorts may not flatter everybody. For example, petite women do not look good in medium-length or knee-length cargo shorts because they make them appear shorter than they are.
Women with small shoulders and wide hips look good in cargo shorts of almost any cut, but they should avoid shorts which are wide at the bottom so their hips do not look too large. Instead, they should choose cargo shorts with a straight cut. Women with wide shoulders and a large bust can choose straight or wide-cut cargo shorts, as these styles can balance their upper body, or they can opt for cargos with larger pockets. Women with a balanced body proportion can choose any style they want, but they should try on the shorts before buying them to make sure they look flattering.
How to Wear Cargo Shorts
Cargo shorts, being a military style, look best when paired with tops and accessories of similar styles. Therefore, it is usually better to wear them with mild or dark-coloured garments. Cargo shorts can be paired with a fitting tank top, a T-shirt, or any other top which complements the colour of the shorts. It is also important to choose a top which balances the volume of the shorts. Skinny cargo shorts go well with slim-fitting tops while baggy shorts can be paired with tops which have more volume.
Wearing cargo shorts with a belt is almost always a good idea. Although plain belts go well with most cargo shorts, embellished belts can be a good match to a plain-coloured outfit. In case of footwear, one should keep it casual by wearing slippers or sandals. High-heeled sandals or trainers also go well with some cargo shorts, but one should remember to choose items of complementary or contrasting colours.
Buying Women's Cargo Shorts on eBay
eBay is a good place for anybody searching for a pair of cargo shorts as the website has a wide selection of cargo shorts in various styles, colours, and sizes to choose from. Plus, purchasing a pair of cargo shorts on eBay is a simple process. All you need to do is to type in what you want into the search bar on the eBay home page. By looking up "women's cargo shorts", a list of all available cargo shorts for women will appear. You can browse this list or you can refine it according to your preferences by typing in a more specific search such as "women's cotton cargo shorts". Just browse through the list to find the pair that you like. It is very easy to go through this list as important details of the product such as its image, price, size, and shipping fee are often displayed.
Look out for cargo shorts on auction as they are usually sold at a very low starting price, and if you are lucky to have no competitors bidding on the ones you like, you can get them at a very low price. After you select the cargo shorts that you like, make sure you read all the information available about the item. If you need to ask the seller anything about the garment, you can email them. Once you are satisfied with the shorts you choose, you can purchase them or place your bid.
Conclusion
Women's cargo shorts are popular because they are comfortable to wear and look good on any body type. Women can wear them on a summer evening with friends, on a walk in the park, or even on a backpacking trip around the world. Cargo shorts have many pockets which makes them useful for women who do not like to carry a purse all the time.
To select the right cargo shorts, a woman must know her body type and choose accordingly. Taller women generally look good in medium or knee-long cargo shorts, while petite women should avoid cargos which are too long. Cargo shorts look great with almost anything but, since they are often made in duller colours, they should be paired with tops and accessories which complement them. A good place to start the search for the perfect pair of cargo shorts is eBay as it has a rich selection of shorts for every woman and every budget.