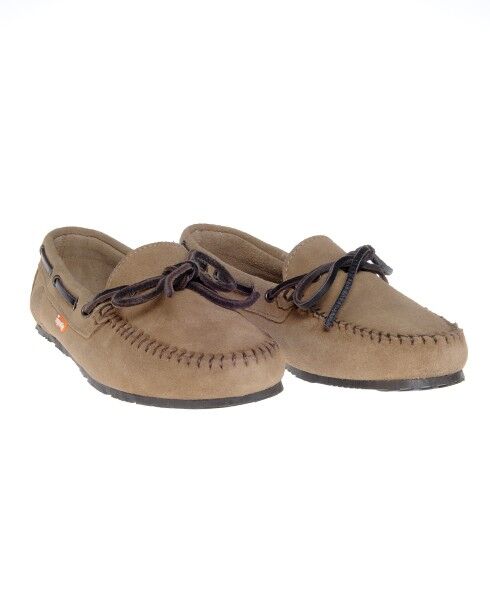 Moccasins are a style of shoe that is almost like a loafer. These flat-soled shoes come in a wide variety of materials and colours, and they are a practical alternative to flats. Moccasins can look great with a pair of jeans, or add interest to a skirt or trousers. Moccasins for women vary from casual suede slipper style moccasins to leather moccasins that may look a little dressier and be more versatile.
Some moccasins have tassels on the front of the shoe that are tied into a bow, and some may have other embellishments such as a bow, fringe, embroidery, or other embellishments. Moccasins come in a lot of different colours and even though the basic shape of the shoe is the same, there are different types of moccasins. Moccasins can even look like a penny loafer. Moccasins are also known as deck shoes or boat shoes in some cases, and they can look sporty with a pair of shorts in the warmer months. Moccasins are essentially comfortable and casual for women, and there are many types depending on what type of shoe is desired.
Popular Styles of Moccasin Shoes
When it comes to moccasins for women, there are a variety of styles to choose from. There are moccasins that are perfect for wearing while lounging around the house, and those type of moccasins that may look perfect out on a boat during a warm day. In addition there is always the style of moccasins that will add some visual interest to trousers or a preppy skirt.
Although moccasins all basically have the same shape, the styles can vary greatly from casual slippers that can be worn around the house or to run errands, to more elegant loafer style moccasins that can be worn with trousers or skirts, virtually anywhere. Moccasins come in a range of brands, colours, and types so it's really up to personal preference and the individual user's preferences as far as what types of moccasins are purchased.
Slipper Moccasins
Slipper moccasins can be worn as house shoes or for very casual wear, such as stepping out for an errand during the day. The soles are generally flexible but hard, and the outer part of the moccasin is usually made of suede. Slipper moccasins have an inner lining that is usually wool or a type of synthetic fur. This makes the moccasins very warm and cosy during the colder months, and they are perfect for winter weather wear.
Slipper moccasins usually have a bow on the front of the shoe and some lacing around the top. They are often made of a combination of suede and sheepskin, and can vary in price depending on the brand and quality of the shoe.
Loafer Moccasins
Another style of moccasins that may be a little more upscale than slipper moccasins are loafer style moccasins. Loafer style moccasins may look more like a loafer shoe and be made of either leather, suede, patent leather, or velvet. Loafer style moccasins can be plain on top or embellished with laces, fringe, studs, buckles, or bows. Some loafer style moccasins may be cotton or flannel lined as opposed to the fur lined slipper moccasins.
Loafer moccasins can come in a variety of brands, such as Marks & Spencer, Eddie Bauer, and Odeon. They can be comfortable for women that are on their feet all day and they can be worn with just about any type of clothing. Moccasins are a good alternative to regular flats and can offer just as many styles and colours as flats do for women.
Deck Shoe Moccasins
Some moccasins are style to look almost like a deck shoe, or boat shoes for women. These moccasins are bit more preppy and trendy, and can look great with a pair of shorts or pants in a casual setting. Deck shoe moccasins are generally always made of leather, and have lacing that goes around the entire shoe and ends on top of the shoe in a tied bow.
Deck shoes have a thicker sole than standard moccasins, and they are often made of sturdier materials. They may be a good shoe for outdoor wear. The shoes can be made of a combination of leather and suede, or only one of those materials. These types of moccasins can come in lots of different colours, and a variety of styles. Brands like Seafarer, Spot On, and Rocket Dog make deck shoe style moccasins for women.
Moccasin Boots
There are two main types of moccasin boots, the ankle boots that are short boots, and the taller boots that are styled to look like a moccasin. Both types of boots can look fabulous over tight jeans or leggings with a chunky sweater or loose tunic when it's cold outside.
Ankle Boots
Moccasins also come in boot varieties. The moccasin boots are generally ankle boots, or short boots. They are styled like a typical moccasin and some of them have a Native American flair to them. Moccasin boots may have fringe, multicoloured parts, or fur, and they typically lace up.
Moccasin boots come in slipper styles that are fur lined and meant to wear for lounge purposes, and they are made for outdoor wear, too. Outdoor moccasin boots may not be as heavily lined, and they may be made of suede or leather and have a low heel or be completely flat-soled. Ankle moccasins are very sporty and can look great with leggings and a sweater when it's cold outside.
High Boots
Some moccasin boots go above the ankle, and some go up all the way to the knee or higher. These moccasin boots may be made of suede and lace up, and can also be adorned with fringe, fur, or embroidery. Some women's moccasin boots also have Native American style beading. These taller boots still retain the essential look and feel of a typical moccasin, but they are created to look like a boot as well.
High moccasin boots may be a perfect addition to a boot lover's wardrobe during the cooler months, as some of the fur boots might keep feet quite warm and cosy. Boots can come in fun colours like pink or purple, or neutral shades like brown or black.
Moccasin Heels
Moccasins aren't just the flat suede shoes most buyers are accustomed to seeing. They can also come in a more fashionable variety: heeled moccasin shoes. Heeled moccasins range from loafer style moccasins that have a chunky heel to high heels that are made to look like moccasins. Boots with heels such as cowboy style moccasin boots are another option, and some moccasins may have loafer styling with a wedge type heel, so they are known as moccasin wedges.
For a woman that likes the way a moccasin looks but would rather wear a heel than a flat-soled shoe, moccasin heels may be the perfect solution. Moccasin heels look a bit dressier than flat moccasins, so they can be worn with a larger variety of clothing, whether it's a pair of nice trousers for work or a cute skirt.
Women's Moccasins Size Chart
When shopping online there are many different factors to take into account, and one of those most important of all factors is that of shoe size. Without trying the shoe on in person, it's all just a guessing game. This is where a size chart comes in handy. Take a look at the size chart below and compare it to the proper measurements to find the correct size.
| Foot Length | UK | Europe |
| --- | --- | --- |
| 22.8 | 2.5 | 35 |
| 23.1 | 3 | 35.5 |
| 23.5 | 3.5 | 36 |
| 23.81 | 4 | 37 |
| 24.13 | 4.5 | 37.5 |
| 24.45 | 5 | 38 |
| 24.77 | 5.5 | 38.5 |
| 25.08 | 6 | 39 |
| 25.4 | 6.5 | 40 |
| 25.72 | 7 | 41 |
| 26.04 | 7.5 | 42 |
| 26.34 | 8 | 43 |
| 27.3 | 9.5 | 44 |
| 27.9 | 10.5 | 45 |
| 28.6 | 11.5 | 46.5 |
| 29.2 | 13 | 48.5 |
Once the correct size is determined, the shopper can move forward to making the decision on which style of moccasins to choose. Knowing one's shoe size is important, as that allows the consumer to find the right fit in their chosen pair of moccasins.
How to Buy Women's Moccasins on eBay
First, you'll need to narrow down what type of moccasins you want to buy, because there are several common and popular styles. Do you need some comfortable house slippers this winter, or do you love the look of moccasin loafers? A pair of ankle boot moccasins will look great with sweaters, but a high boot is cute with leggings or skinny jeans. Think about your wardrobe and which moccasins will complement it best, then select a price range you are comfortable with. Now, search moccasins to bring up all of the different styles, and narrow the search by selecting slippers, flats, boots, or heels, depending on which style you want to look at.
Purchase a pair of fabulous moccasins on eBay from a Top-Rated seller, and perhaps if you find more than one pair you love from the same seller, you can get a reduced shipping rate. Alternately, select a local seller to see if you can pick up your moccasins in person to alleviate the costs of shipping altogether.
Conclusion
Moccasins are a type of shoe that never goes out of style. Year after year, moccasins may change shape and type, but the basic moccasin shoe is a timeless classic. Put a spin on the moccasin by purchasing knee high moccasin boots, a great pair of patent black leather moccasin loafers, or some pink suede moccasin boots with lots of fun fringe. Moccasins don't just come in one style, and they can be worn with a variety of clothing styles, too. Fleece lined or fur lined moccasins can keep toes warm in winter, and moccasin slippers can be a dream to slip into after a long day spent walking or running around town.
Purchasing moccasins on eBay is a lot more convenient than searching store after store to find that one pair of moccasins that's desired. All of the different styles and types of moccasins are easy to access, and being able to search by brand such as MINNETONKA, size, style, colour, or price of moccasins makes the entire shopping experience easier, more convenient, and a lot less time consuming for every busy consumer. Shopping online is a great way to get what's needed in less the time it takes to shop retail, as well as for a better price.