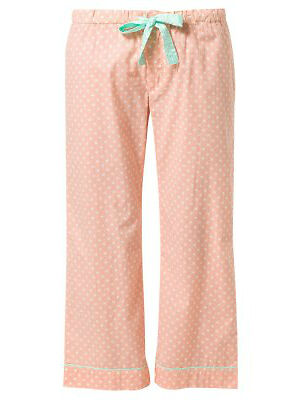 Women who get an average night's sleep spend about one third of their day sleeping. This means that they need comfortable attire to ensure they wake up well-rested and ready to take on the day. Since t-shirts and tank tops make for comfortable pyjama tops, women should focus their shopping on finding comfortable pyjama bottoms. While they can get away with wearing an old pair of tracksuit pants, there are many styles, fabrics, and colours to choose from when it comes to pyjama bottoms. Additionally, the various styles are able to provide the most comfort for certain weather and environmental conditions. Putting some time and effort into the shopping process ensures that women find the best pyjama bottoms to meet their needs. If price is an issue, then shopping for used pyjama bottoms is a great way to find the best garments at affordable prices. No matter which style a woman is shopping for, she'll find pyjama bottoms in all conditions and price ranges on eBay.
Choose a Style
The first step in the buying process for women's pyjama bottoms is choosing the style. Pyjama bottoms range from cool and fashionable shorts to warm and goofy footed pyjamas. When selecting a style, shoppers have to keep the environmental conditions in mind as well as the appearance. When sleeping alone, women might opt for the pyjama bottoms that offer the most comfort. If they have a sleeping partner, then women will likely decide to keep the baggy pants in the drawer and opt for a more attractive pair of shorts. Each style has its own benefits, but ultimately the best choice depends on the shopper's personal preference.
Pyjama Pants
Pyjama pants are the logical choice to wear for cold winter nights. These long pants are made from all sorts of fabrics and completely cover the legs for added warmth. Shoppers will find pants specially designed to wear as pyjama bottoms or they might throw on a pair of comfortable old tracksuit pants to sleep in. Lightweight pyjama pants are available to wear in warm weather for women who are more comfortable wearing long pants no matter what time of year it is.
Pyjama Capris
Pyjama capris are a cooler alternative to pants, but not as revealing as shorts. Capris can fall from mid-calf to the knee. Just like pants, pyjama capris can be thick to keep warm in cold weather or made from a lightweight fabric to keep cool in warm weather. These versatile pyjama bottoms can be worn all year round and are comfortable even with changing weather and temperatures.
Pyjama Shorts
Pyjama shorts can fall just above the knee or be cut very short. Likewise they can fit loosely over the body or be made from a stretchy form-fitting material. This style provides minimal coverage of the legs, but can be much cooler than a pair of pants or capris for hot summer nights. Pyjama shorts are considered to be more comfortable by some women because they use less fabric. Women who toss and turn in their sleep might get tangled up in a pair of baggy pyjama pants, but won't have this problem if they are wearing a pair of shorts.
Footed Pyjamas
Footed pyjamas are perhaps the least attractive type of pyjamas, but they are the warmest. Rather than having to wear thick socks with pyjamas, these have a foot enclosure at the bottom of the pants. These keep the feet and ankles warm on cold nights. While they are most commonly seen in styles for children, larger sizes for women are available to keep cold-natured women warm at night.
Choose a Fabric
Selecting the fabric for a pair of women's pyjama bottoms controls what warmth and comfort the garment can provide. When shopping for pyjama bottoms, women have to decide if they need something suited for warm weather, cold weather, or for general purposes. In order to get a good night's sleep, it is important for women to choose the fabric that provides ample warmth and comfort.
Fleece
Fleece is the ultimate fabric for pyjama bottoms in terms of keeping the wearer warm. Fleece is best known for its softness, so women who wear these pyjama bottoms are sure to have a comfortable night's sleep. Fleece is also a breathable fabric, so women can wear fleece pyjama bottoms to stay warm without sweating or overheating. Fleece is available in a variety of thicknesses, so women can choose the one that best suits their needs, with thicker fabrics for colder weather and thinner fabrics for warmer weather.
Cotton
Cotton pyjama bottoms are popular because they are comfortable and cool. The fabric is not a very good insulator, like fleece, so they are not ideal for wear in extremely cold temperatures. Cotton fabric tends to be cheaper than other fabrics, so finding lightweight cotton pyjama bottoms at a reasonable price is typically very easy. Additionally, textures, thicknesses, and styles vary greatly with this versatile fabric.
Flannel
Flannel is a thin fabric that has the ability to keep the wearer warm. It is made from a soft wool that is blended with cotton or other synthetic fibres. Traditionally, flannel has a tartan design, but it can be found in solid colours and prints of all types. Flannelette is a type of fabric that resembles flannel, but is actually made entirely of cotton. These fabrics aren't quite as warm as flannel because cotton does not insulate as well as wool does.
Silk
Silk is a luxurious fabric that keeps the wearer cool on warm nights. This thin and lightweight fabric is breathable and keeps the body from overheating. It is one of the most popular fabrics for pyjama bottoms because of its smooth, soft, and overall comfortable feel. Since silk is hypoallergenic, women who are sensitive to wool or certain synthetic fabrics will find silk to be extremely comfortable. Silk is considered to be a delicate fabric, which means that they will need special care compared to the other fabrics.
Satin
Satin is a fabric that is used to make pyjama bottoms and mimics the appearance and feel of silk. Silk carries a higher price tag because it is made from the cocoons of silkworms. Satin is an artificial fabric, but still has the smooth, lightweight, and comfortable feel of silk. Because of its feel, satin is an ideal choice for fabrics that touch the skin, like pyjama bottoms. Satin is less durable than silk, and may require special care when washing and drying to ensure the pyjama bottoms last a long time.
Choose a Design or Colour
Once the style and the fabric have been chosen, women can begin looking at different pyjama bottom selections to find the design and colour that best matches their personal tastes. No matter which style women choose, there are hundreds of designs to choose from. Women who prefer a conservative look might go for solid colour pyjamas. Women who wish to show off their inner child might look for pyjamas with their favourite cartoon characters on them. In the end, the comfort of the pyjamas is more important than the appearance. If the pyjamas are uncomfortable, then a woman won't get a good night's sleep, no matter what they look like.
Buying Used Pyjama Bottoms
Shoppers are able to save money on pyjama bottoms by purchasing previously worn garments. Whether shopping in a charity shop, from a private seller, or online, thousands of used pyjama bottoms are available for a great price. It is a bit trickier to shop for used garments than new ones, since the conditions and prices vary greatly. When shopping for used pyjama bottoms, women should examine each garment's condition for tears and stains as well as compare the prices for similar new and used garments to ensure the garment is priced fairly.
Examine Condition
Just because pyjama bottoms are classified as used does not mean that they are barely held together by a thread. Some used pyjama bottoms have only been worn a couple of times and still have a lot of life left in them. The seller of used pyjamas often classifies the condition of the garment using a standard set of descriptors ranging from 'new with tags' to 'poor'. Shoppers can read these descriptors to get a general idea of the condition of the pyjama bottoms. The table below defines what each of these descriptors refers to.
| Descriptor | Definition |
| --- | --- |
| New With/Without Tags | Never worn, never washed, may or may not have original tags attached |
| Like New | Appears to be brand new; shows no signs of wear or flaws; no signs of being washed |
| Excellent | Worn previously, but shows no signs of wear and has no flaws; might show slight signs of being laundered |
| Very Good | No major flaws or signs of wear; might have slight fading from being laundered |
| Good | Previously worn and shows average signs of wear; no tear or stains |
| Fair | Significant visible flaws and signs of wear; colours are likely faded due to laundering |
| Poor | Major damage, stains, or flaws; garment might not be wearable |
When purchasing used pyjama bottoms, it is always important for shoppers to consider the condition. Garments that are in poor condition are likely not wearable and should be avoided despite the low price tag. Typically pyjama bottoms that are in good to like new conditions have the most life left in them.
Compare Prices
Knowing the retail prices for pyjama bottom helps shoppers compare prices and find the best deals. The retail price is used as a starting point, and then the price can be adjusted down according to the condition of the pyjama bottoms. When shopping online, shoppers need to take the cost of postage and packaging into consideration when comparing prices. In the end, shoppers should be paying less for the use pyjama bottoms, including postage and packaging, than they would buying the garments brand new.
How to Buy Women's Pyjama Bottoms on eBay
eBay is an online marketplace that offers a wide selection of pyjama for women. You can find all of these selections within the women's clothing section in the lingerie and nightwear subsection. You can sort the listings by size, condition, brand, or style to find the ones that best match what you're looking for. There are usually thousands of options to choose from with new listings being added all the time. If you're not finding what you're looking for by sorting through the listings, then you can try using a direct search.
Searching for Pyjama Bottoms on eBay
The search bar that is found on each page can be used to quickly search the entire site for items that match the keywords that you enter. A search for 'pyjama bottoms size medium' returns results that contain those keywords within the listing. This makes it easier to find what you're looking for because everything else is excluded. You can add or remove keywords from the search as needed to either return more or fewer listings. If you are looking for very specific pyjama bottoms, then the Advanced Search feature has the ability to perform a very refined search.
Conclusion
With so many different styles, fabrics, and colours to choose from, women don't have to settle for wearing old trackies to bed. Because many women spend eight hours of their day asleep, it is not a bad idea to invest in comfortable pyjama bottoms to ensure that those eight hours are restful. Women can find pyjama bottoms to keep them warm on cold nights, cool on hot nights, or comfortable no matter what the weather conditions are like. Designs for pyjama bottoms range from conservative to fun, and women are sure to find the styles that best match their personal taste. Women who don't want to spend a lot of money investing in pyjama bottoms might consider shopping for used clothing. Many still have a lot of wear left in them and have prices that are well below retail. Whatever a woman's pyjama bottom preferences are, she'll find everything she's looking for to get a comfortable night's sleep on eBay.