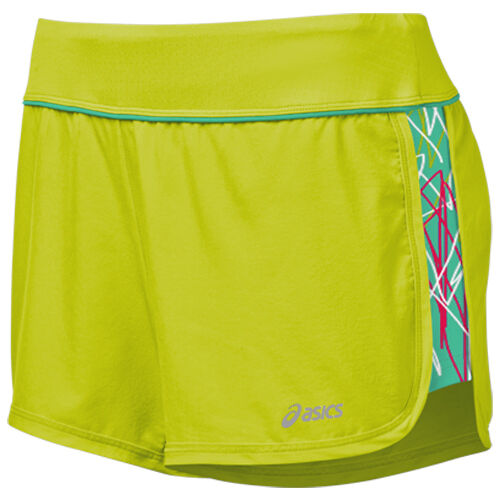 Women's sporty shorts include any type of sport or exercise-style shorts that can be used for a workout. In some cases, sporty shorts can also be worn as casual wear at home or at the beach. Shorts, sometimes called short trousers, circle the waist and extend down to the thighs to cover the pelvic area. Shorts can vary in length from the very top of the thigh to below the knee, in which case they are often called capris or three-quarter trousers.
Sporty shorts are usually made of materials with good elasticity and breathability in order to allow women to have a full range of motions while exercising. Materials include Lycra, cotton, polyester, rayon, and a variety of fabric blends that usually depend on the purpose of the shorts including the type of exercise they are intended for. Before buying a pair of shorts for exercising, women should be aware of the various types of sporty shorts available on the market and sizing information in order to select the right type for the sport they are practising.
Different Types of Sporty Shorts
Sporty shorts, like regular shorts, come in a variety of patterns and styles. In general, sporty shorts are designed for either general physical activity, as in the case of gym shorts, or for a specific activity, as in the case of cycling shorts. Multi-purpose sporty shorts can be used for a range of activities, but some shorts are made for specific activities only. Women looking for sporty shorts should decide what sport they intend to practise and whether they want to wear the shorts as everyday clothing or not.
Women's Cycling Shorts
Cycling shorts are also known as bike shorts and bike knickers. Cycling shorts are usually between mid-thigh and knee length and fit very tight to the body in order to reduce wind resistance. Most cycling shorts are made of Lycra with chamois lining to reduce friction against the bicycle seat, allow full body movement, and draw sweat away from the body.
Men's and women's cycling shorts are cut and designed very differently in order to provide maximum comfort. More expensive varieties of cycling shorts feature multiple panels of fabric, which makes the shorts more comfortable. Some budget options of cycling shorts are simply made of stretchable fabric with no lining, which, while not offering much protection while cycling, are excellent to be worn under skirts as casual wear.
A variation of cycling shorts is the bibshort which is a pair of cycling shorts with straps that extend up and around the shoulders in a similar fashion to attaching braces or suspenders to a pair of shorts. Other variations include baggy cycling shorts which have an outer baggy layer over the inner cycling short to make them look like regular shorts. Usually these are more modest and more appropriate for public wear when not cycling. Many women chose to wear cycling shorts under gym shorts for more warmth and for modesty while wearing a skirt.
Women's Gym Shorts
Gym shorts are the most versatile of the sporty shorts because they are suitable for a wide range of activities. Popular since the early 1970s, gym shorts offer women a variety of styles that can range from skin tight to loose. Women's gym shorts usually feature a drawstring tie with an elastic waistband, legs that extend to the upper or mid-thigh, and several cuts of fabric sewn together to produce an optimum fit.
Common materials include polyester and Lycra blends. More expensive versions of gym shorts feature a cotton inlay designed to wick away moisture. Gym shorts are usually required for indoor sporting activities or even running and walking, but can also be worn for wrestling, aerobics, and dance. They are not, however, recommended for any exercise that requires excess flexing as the shorts can ride up, especially in moves common to sports such as yoga. Gym shorts are sometimes worn as part of casual fashion, and can be paired with sweaters, T-shirts, leggings, and hooded sweaters.
Women's Racing Briefs
Racing briefs are the very short version of running shorts. Usually about the same length as women's shorts, the racing briefs provide little coverage and often hardly extend past the buttocks. Women who choose to wear racing briefs usually do so for sports that require speed and a wide range of movements. The briefs are constructed of very flexible materials, usually polyester and Lycra blends and, because of their short cut, do not interfere with most movements. Because they are so short, racing briefs are not appropriate for activities that require excessive stretching such as yoga, pole vaulting, or gymnastics.
Women's Running Shorts
Running shorts are often similar to gym shorts in style and design but are created specifically to allow a wide range of movements while running. Common features include an elastic drawstring waistband, a cotton mesh netting to absorb moisture, and a lightweight polyester material. Running shorts can extend from the top of the thigh to just above the knee but are most commonly found in shorter varieties.
Women's Swim Shorts
Swim shorts can include baggies, tight Lycra shorts known as swim trunks, and wetsuit bottoms. Swim shorts are usually made of lightweight materials that do not absorb water including polyester and Lycra. Wetsuit versions usually contain a neoprene layer for waterproofing, thermal insulation, and protection from friction and water pressure. Swim shorts are commonly available in baggy and tight variations, but are less popular for women than swimsuits and bikinis.
Women's Baggies
Baggies are one of the most popular styles of sporty shorts for women because they are elastic and provide sufficient coverage for modesty purposes. Baggies are about the same length as short trousers and extend from the waist to just above the knee. These are worn by both men and women and can be purchased in unisex styles.
Baggies are commonly used for football, rugby, running, and some other sports. They are also one of the best types of sporty shorts for casual wear because they are comfortable, provide optimum coverage, and are not overly tight or revealing. Baggies were very popular as sporty shorts up until the late '60s, falling out of fashion between the '70s and the '90s, and have been in fashion as sports and casual wear since the mid to late '90s. Because of their ambiguous name, baggies can usually be found under the term 'football shorts' or 'rugby shorts'.
Styling Sport Shorts
Sporty shorts are often worn for exercise as well as casual wear. In most cases, women should style sporty shorts with other sport clothing including tank tops, T-shirts, hooded sweaters, sweaters, and shirts. Styling sporty shorts for casual wear is usually different than styling them for athletic wear but, because the shorts will still look sporty, they should mostly be worn with sporty-style clothing. Some women choose to wear sporty shorts in fashion, mostly because they are loose, comfortable, and not quite as revealing or as sexy as many other types of shorts. In fact, because of this trend, some sporty shorts are available in materials that are usually considered fashion only such as faux leather or fabrics with sequins.
Sizing Guide for Sporty Shorts
Women's sport shorts usually come in sizes XS through XXL. Traditional sizing follows through with the normal indication that sport shorts have an elastic waistband and plenty of stretch, so are suitable for a variety of body shapes. Women can often choose one size up or down due to the stretch if they prefer a looser or a tighter fit. This is especially true when the sporty shorts come with a drawstring waist that can be tightened. Popular brands including Adidas, Puma, and Nike usually have the following sizing chart.
| Size | UK Size | Waist (cm) | Hip (cm) |
| --- | --- | --- | --- |
| XS | 4-6 | 60-67 | 84-91 |
| S | 8-10 | 67-74 | 91-98 |
| M | 12-14 | 74-81 | 98-105 |
| L | 16-18 | 81-88 | 105-112 |
| XL | 20-22 | 88-98 | 112-120 |
| XXL | 24-26 | 98-108 | 120-128 |
Sometimes the sizes can vary, so it is better to check the manufacturer's sizing information before buying a pair of sporty shorts and, if possible, try them on. When purchasing the shorts online, if in doubt between two sizes, it is always wise to choose the bigger one, as most sporty shorts can be worn loose, but if they are too tight they may be too uncomfortable to wear.
Buying Women's Sporty Shorts on eBay
If you are looking for sporty shorts then you can consider shopping on eBay for its wide selection of styles, fabrics, and colours. eBay offers a worldwide market of various sporty shorts, including designer and budget options, for any type of exercise. Considerations include the style, the fabric, the size, the exercise they will be used for, and the price.
You can purchase both new and used sporty shorts on eBay, so you can choose either a brand name or used clothing to save money. Simply search for a specific brand such as Adidas or Nike. It's also possible to find a very large range of brand new items, with and without tags, so whatever you're looking for, you can find it on eBay.
After visiting the home page of eBay, you can type what you are looking for into the search box. For example, if you are looking for 'women's running shorts', 'Puma gym shorts', or 'budget swimming shorts', you can simply type in the specifications and click 'search'. When you find what you are looking for, check the price against what you are willing to pay for the item, and make sure that the seller ships to your area before you make the purchase. Most sellers will be willing to answer any questions you have about the shorts before you make the purchase.
Conclusion
There are many styles of sporty shorts, depending on what they are intended to be worn for. Women can choose from long, short, tight, or loose sporty shorts depending on their style preferences and the sport they want to practise. Women can also choose sporty shorts for casual fashion. Some shorts, such as gym shorts and running shorts are suitable for a wide range of activities including yoga, walking, and running. Other styles such as wetsuit shorts or cycling shorts are only appropriate for their intended activity.
Sporty shorts usually come in blends of polyester and Lycra because these fabrics are lightweight, sweat-resistant, and stretchable, allowing a wider range of movement than would be possible with a non-elastic fabric. Women can purchase sporty shorts for a variety of purposes, at different prices, and from several locations. A very few fashion stores will stock sporty shorts, while sport stores, online shops, and eBay have wide ranges of styles of sporty shorts.