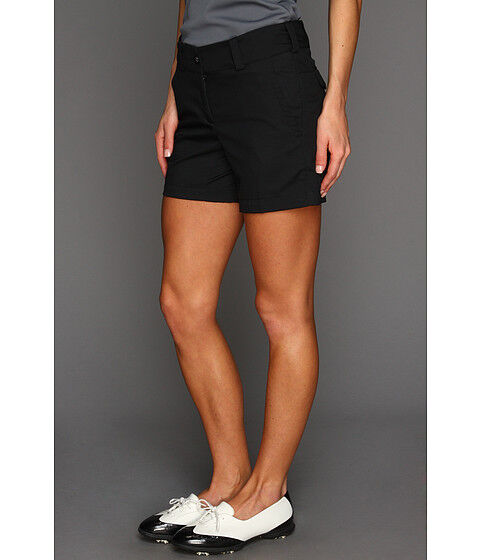 In recent years, tailored shorts have become a popular fashion item for women, mostly because of this garment's relaxed look and versatility. Tailored shorts come in many styles, colours, and fabrics, and are available from various designers but their common characteristic is that they are always cut well above the knee. The inseams may vary greatly from one style to another, ranging from as little as 2.5 cm to just over the knee. Many tailored shorts come with accessories and details such as drawstrings, pockets, and exposed zippers.
Women can wear tailored shorts paired with T-shirts and sandals on warm summer days or with tights or leggings, blazers, and boots in winter. Tailored shorts can be both laid-back and elegant and they are suitable for a wide range of occasions, from casual everyday wear to elegant evening wear. In order to make an informed choice when buying a pair of tailored shorts, women should learn more about different styles and how to wear them as well as how to buy them from eBay.
How to Wear Women's Tailored Shorts
Tailored shorts can complement any body type and it does not matter whether a woman is slender or fuller-figured in order to pull off such shorts. Women can pair tailored shorts with a wide range of tops, depending on their preferences and body type. The versatility of shorts cannot be overlooked, as they can be paired successfully with almost any kind of top, from T-shirts and jumpers to shirts and cardigans. Tailored shorts are perfect for both day and evening wear and, as they come in a wide variety of fabrics and patterns, there is a suitable pair for any occasion.
For a laid-back, yet smart look, women can choose to wear a pair of tailored shorts with a graphic T-shirt or a relaxed jumper on colder days. Buyers looking for a more glamorous, sophisticated look may opt for silky, flowing tops or delicate chiffon tops. As for shoes, tailored shorts work well with any kind of footwear, from high-heeled sandals and ankle boots to flats and fashion trainers. Choosing the right shoes to wear with tailored shorts depends on the occasion and season.
Women's tailored shorts can be accessorised with thin or thick belts, either in complementary or contrasting colours. For cold autumn or winter days, women can opt for cable-knit tights or some leggings with boots when wearing tailored shorts.
Women's Tailored Shorts Fabrics
Tailored shorts for women come in a rather wide range of fabrics and women can choose them according to their personal preferences, season, and the kind of look they are trying to obtain. For summer, women could choose lightweight fabrics such as cotton or linen, while leather and denim are more appropriate options for colder days.
Fabrics for Warm Weather
One of the most popular fabrics for tailored shorts, cotton is the ideal choice for women who are looking for a summery outfit for their holidays. Cotton tailored shorts are great for casual wear and they are comfortable as well, as they are soft and allow the skin to breathe. The only downside of wearing tailored shorts made from cotton is that this fabric is prone to shrinking quickly. Polyester tailored shorts are perfect for a wide range of occasions, depending on their style. Whether choosing tailored shorts made from pure polyester or polyester blends, women can feel comfortable in this lightweight fabric that also has the advantage of not shrinking easily.
A pair of linen tailored shorts is ideal for summer holidays or casual everyday wear. Linen is a lightweight fabric and shorts made from it can be paired well with sheer tops or cotton T-shirts and flip-flops or leather sandals. Silk tailored shorts are suitable for special occasions and they can be paired with sheer tops in contrasting colours and high heels. They can be worn with high platform sandals in the summer, but can also be paired with tights and ankle boots for colder days.
Fabrics for Cold Weather
A versatile fabric, denim is a good choice for tailored shorts, especially for women who are looking for a fashionable, yet comfortable outfit. As in the case of other garments made from denim, tailored shorts come in a wide range of shades and styles, so women can opt for a classic or rock-glam look, depending on the occasion. Denim tailored shorts can be paired with T-shirts, a laid-back blazer, or a leather jacket. Leather tailored shorts are perfect for a night out with friends or for a more elegant occasion when paired with high-heels and a blazer. Tailored shorts made from leather are a good choice for chilly days and they can be worn either with or without tights.
How to Choose Women's Tailored Shorts in the Right Size
Tailored shorts are fashionable and comfortable clothing and for this reason they are popular with women of different ages. Tailored shorts for women come in different lengths, and choosing the proper length depends on both one's preferences and stature. In order to accentuate the shape of the legs, above-the-knee shorts are ideal for most women. Comfort is very important, so women should consider this as well when buying a new pair of tailored shorts. Pleated shorts tend to add to one's curves, while dark-coloured shorts in a close-fitting fabric may give a slimmer appearance to the person who is wearing them.
In order to look good, tailored shorts should not be too tight, but not too loose either. Many styles look great when fitted perfectly on the bottom. Women should also pay attention to sizing when it comes to the waist because a pair of tailored shorts with a loose skin but sitting tight on the hips may look awkward. The table below offers some sizing guidelines that can be helpful when buying women's tailored shorts online.
| | | | | | | | |
| --- | --- | --- | --- | --- | --- | --- | --- |
| UK Size | 6 | 8 | 10 | 12 | 14 | 16 | 18 |
| Waist (cm) | 60.5 | 63 | 68 | 73 | 78 | 83 | 90.5 |
| Hips (cm) | 86 | 88.5 | 93.5 | 98.5 | 103.5 | 108.5 | 116 |
As in the case of regular trousers and jeans, buyers may notice that sizing for tailored shorts differs significantly from one brand to another, so the best thing to do in order to make sure the size is right is taking accurate measurements of the waist and hips and comparing them with the sizing information provided by the seller. This is especially important for those who want to buy tailored shorts online, because it may spare them the hassle of returns and exchanges.
How to Find Women's Tailored Shorts on eBay
Women's tailored shorts are available in such a wide selection that the choice may sometimes seem like a daunting task. Shopping for tailored shorts on eBay allows you to browse through hundreds of styles before deciding upon the ideal pair for a certain occasion.
Finding tailored shorts on eBay is a simple process and you can actually find a perfect pair for your next summer holiday or party in a matter of minutes. Simply type 'women's tailored shorts' in the search bar on top of any page on eBay and hundreds of options are just one click away from you. All shorts come with detailed product descriptions and you should be careful when it comes to the sizing information provided by sellers, in order to avoid having to pay shipping fees for returns. If you want to find your perfect pair of tailored shorts even more quickly, refine your search results by size, colour, fabric, style, and more.
Women who choose to buy their tailored shorts online on eBay can save money by choosing a pair that stays within their budget. In addition to that, you can choose to buy from a seller in your region, because buying locally can save you some money when it comes to postage. If you do not want to go over a set budget, make sure you enter a maximum price in the price range field before browsing for women's tailored shorts.
Conclusion
Every woman loves to own clothes that are comfortable, versatile, and stylish at the same time. Tailored shorts are one of the clothing items that fulfil all these criteria. Being available in a wide array of styles, lengths, fabrics, and colours, tailored shorts are a great option for numerous occasions. It is actually difficult to choose a single pair of tailored shorts and this is the reason for which many women choose to have them in multiple styles.
Tailored shorts can be bought in most high-street stores, but the best way to have easy access to an incredibly large selection is going online on websites such as eBay. This is the ideal place for fashionistas to choose a pair of shorts for their next event, holiday, or simply for a night out with their friends. Not only is eBay the place where one can find thousands of tailored shorts styles, but the user-friendly search system makes the shopping experience a truly enjoyable one.