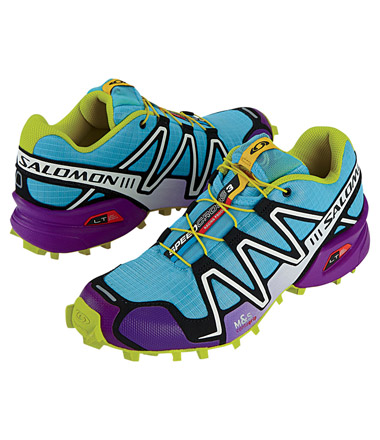 As their name suggests, trail shoes are designed for running on trails and rough terrain. Women's trail shoes often feature sturdier uppers and thicker soles than regular running shoes, as well as ankle support in some cases. In addition to that, trail shoes are built with more traction on the soles than running shoes, in order to be suitable for a wide range of running surfaces, including rock, mud, and gravel.
When shopping for women's trail shoes, there are several things that need to be taken into account. Some of the most important include traction, breathability, durability, and support. In order to fit comfortably, trail shoes need to offer proper arch support. Other things to consider are the sole, which needs to be sturdy, and weight, because light trail shoes are more comfortable. Being informed about the essential features of trail shoes can help buyers make a wise investment when shopping for a new pair.
What to Look for in Women's Trail Shoes
Many women choose to go for a run on dirt trails because the absence of urban landscapes can transform running into an exhilarating experience. Those who choose to do this need to be aware that running shoes are not suitable for dirt trails, simply because they are designed for smooth surfaces. Trail paths are often unpredictable and, for this reason, runners are advised to wear appropriate trail shoes in order to protect their ankles and feet from injury.
When running on dirt trails, runners need to overcome plenty of obstacles, including wet leaves, sticks, rocks, puddles of water, and dirt mounds. Regular running shoes cannot offer runners the same level of protection as trail shoes and this is why one needs to look for certain features when shopping for running shoes. Soles, uppers, and waterproof material are the most important of them.
Soles
Unlike regular running shoes, trail shoes feature special grooves in different patterns on the sole. The role of these grooves is to keep the runner balanced by gripping the ground during running. The soles of trail shoes are very thick in order to offer protection against shocks and inevitable obstacles on the trail. Well-built trail shoes allow the runner to experience minimum discomfort when running on rocks, even though one may still feel them underneath. Another feature of trail shoes is a rubber bottom extending up to the front toe area, in order to protect the toes against injuries caused by sharp objects.
Uppers
The upper portion of trail shoes is often covered by a waterproof mesh material that allows the feet to breathe while protecting them from humidity. When choosing a new pair of trail shoes, buyers should make sure the material is flexible for increased comfort. Functionality is the main thing that one should look for in trail shoes, so it doesn't really matter if the shoes are not too fashionable. The design of the upper portion of women's shoes differs from one manufacturer to another and it is possible to find nice-looking trail shoes for anyone's preferences.
Waterproof Features
Trail runners may need to exercise on rainy days and having wet shoes can cause not only discomfort, but a range of health problems. For instance, blisters are more likely to appear and develop when feet get wet. This is why runners should always go for waterproof trail shoes, as they keep the foot comfortable and dry, while eliminating perspiration at the same time. Buyers should make sure the upper portion of the shoe is made from a waterproof, yet breathable material.
Trail Shoes vs. Hiking Shoes
Trail shoes are often mistaken for hiking shoes, and the confusion is mostly because both types of shoes are sturdy and used for walks or runs in nature. In fact, trail shoes differ from hiking shoes in that they are designed for running on unpaved trails and are more lightweight than hiking shoes. On the other hand, hiking shoes are designed for trekking and hillwalking and are not suitable for running. Another difference between trail and hiking shoes is that the majority of hiking shoes are insulated, whereas trail shoes are not. Moreover, hiking shoes are heavier and overall sturdier, which makes them a good choice for treks or hikes, but not for running. Trail shoes can, however, be worn for short treks or hikes in the countryside, but are not appropriate for long hikes or hill walking because they do not offer appropriate support to the ankles.
How to Buy Women's Trail Shoes That Fit
Finding women's trail shoes that fit perfectly is not always easy. In order to buy shoes are comfortable, buyers need to make sure the shoes fit properly from heel to toe. When wearing trail shoes, the heel should not fit too tight and the feet should slide out easily when the shoes are laced up (not tied). It is not good to feel any tightness or pressure when wearing trail shoes because this can later translate in discomfort or blisters.
Assuming one's sizing is always a mistake, because sizes differ from one brand to another and even from one style to another, mostly because of the way the shoe is stitched together as well as the different shape of the upper. Having the feet measured for every purchase and comparing the results with the sizing information provided by the manufacturer is the best way to buy trail shoes that fit well.
| UK Size | US Size | European Size |
| --- | --- | --- |
| 2 | 4 | 35 |
| 2.5 | 4.5 | 35.5 |
| 3 | 5 | 36 |
| 3.5 | 5.5 | 36.5 |
| 4 | 6 | 37 |
| 4.5 | 6.5 | 37.5 |
| 5 | 7 | 38 |
| 5.5 | 7.5 | 38.5 |
| 6 | 8 | 39 |
| 6.5 | 8.5 | 39.5 |
| 7 | 9 | 40 |
| 7.5 | 9.5 | 40.5 |
| 8 | 10 | 41 |
| 8.5 | 10.5 | 41.5 |
| 9 | 11 | 42 |
| 9.5 | 11.5 | 42.5 |
| - | 12 | 43 |
| - | 12.5 | 43.5 |
When choosing a new pair of trail shoes, women should not only pay attention to the sizes, but also to the shape of their foot arch. This can be found out easily, as it is essentially based on the shape of the footprint left on wet surfaces. The arch shape affects the way the feet move when running, so buyers should buy trail shoes that have a suitable arch support for their feet.
How to Find Women's Trail Shoes on eBay
It is not always easy to find women's trail shoes quickly because there are so many styles to choose from. You need to pay attention to many criteria and being able to browse through hundreds of styles is a good way to find a pair that suits your requirements and your budget. eBay offers the opportunity of shopping for women's trail shoes in a way that allows you to refine your search according to your preferences.
You can start shopping on eBay starts by typing 'women's trail shoes' in the search bar located on the home page. You can then sort the results by price, location, size, style, and more. This way, you can find the ideal pair of trail shoes in a few minutes. You should always make sure you check the sizing information carefully, in order to avoid the disappointment that always comes with having to return the shoes. If you are not sure about sizing, do not hesitate to contact the seller and ask for clarification.
When buying trail shoes on eBay, you can save money by choosing to make your purchase from a local seller because this way you will pay less for posting fees. This is also important in the event you have to return the shoes, as you will avoid paying hefty postal fees in order to send them back. You can easily select sellers in your area by sorting the search results by nearest location.
Conclusion
Trail shoes for women are the best running footwear for those who enjoy an exhilarating off-the-beat trail instead of running in the park or on a treading mill. As trail shoes need to fulfil several conditions in order to be comfortable and protect one's feet from injuries, it is important to take some time to browse through as many styles as possible before actually buying a pair. Women's trail shoes need to be comfortable, waterproof, and have a high-grip sole and a flexible upper part.
eBay offers a massive selection of women's trail shoes and it should not be too difficult to find the ideal pair at an affordable price. The user-friendly search system of the website as well as the multitude of sellers from all around the world are two things that make the shopping experience on eBay a pleasant one. When buying women's trail shoes on eBay, buyers need to make sure they pay attention to the product description, especially when it comes to sizing, in order to be able to purchase a pair that fits perfectly and keeps the feet comfortable when running.