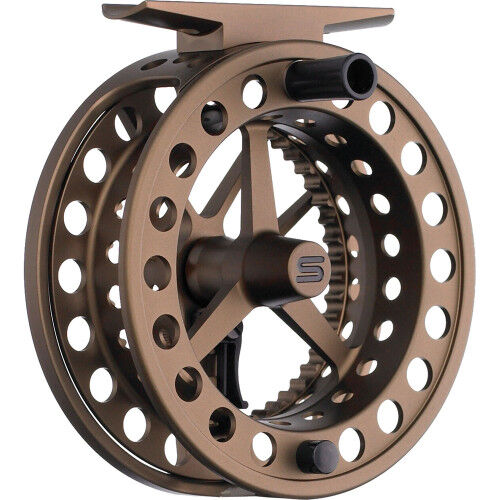 Wooden Fishing Reels are the earliest reels ever made, with most wooden reels dating between 1800 and 1920. They were very simple reels and the design stayed basically the same for the entire period of manufacture.
While they are rare, they have the least value of all fishing reel collectables. That said any avid fisherman can appreciate the history of their craft. These reels represent a large part of common fishing history. The polished wood designs can be simple elegant and a great conversation piece or keepsake for any fisherman.
There are many affordable reels available for collection. Learn the difference between an Allcock and a Nottingham reel before making a purchase. Become educated before buying Wooden Fishing Reels in a shop or online.
Design
The first wooden reel was designed in the late 1790s in Nottingham, England. This became known as the Nottingham Reel. By the early 1800's the simple effective wooden reel design was being copied all over England and across the Atlantic in America. The name Nottingham stuck. The Nottingham Reel had:
Simple wood spool design. Much like a spool for thread. Polished and often shellacked for weather resistance.
5 to 10 inches in diameter.
A wood or brass handle. The handle was attached with a single screw. Some handles turned for easier use. The cheaper one did not.
Wide arbour. The arbour of the reel is the center between the edges where the spool of fishing line sits. The wider the arbour the more flat the line lays on the spool. This makes it much harder to tangle and strip the line. A godsend to fishermen.
Reels inward only. The wooden Nottingham reel did not cast out. It spun without locking. This meant that a fisherman could only drop the line down with a weight attached.
Use
The simple design meant that the wooden reel had a simple use. Bottom fishing.
Cod fishing. Cod were found on the bottom of the ocean. Since the reel could only drop down this was the best use for the reel.
Small/poor commercial fishermen. Most commercial fishermen used nets or more expensive metal spinning reels. Small or poor fishermen could only afford the cheep wooden reels.
Small/poor private fishermen. Wealthy private fishermen used metal spinning reels handmade by watch makers. Poor fishermen could only afford the simple wood reels.
Manufacturers
Few companies took the time and energy to make wooden reels. Because the reels were so cheap and the market was mostly poor commercial or private fishermen not many companies took the time or effort to make such a low profit reel. The companies that did well were the companies that could turn out a larger quantity rather than quality. There were basically two popular manufacturers. Allcock & Co. in England and A.F Meisselbach in Newark, New Jersey in the US.
Formed in Redditch, England in 1800. They began by making commercial fishing hooks. They moved into making wooden reels in 1874. Began with reels for fishing the rivers. Quickly moved into reels for deep sea cod fishing.
A.F. Meisselbach
Formed in Newark, New Jersey in the US in the early 1800s. Meisslebech manufactured all types of high end fishing equipment. Their biggest selling and only wooden reels were called Good Luck Reels.
Good Luck Reels
The most common American wood reel.
Nottingham design. Similar design to the original old Nottingham spool reel. With a few small brass parts added.
Wood with brass knobs.
Branded with a horseshoe and fish. Meisselbach did not put their name on it. They did not want to be associated with the cheap wood reel, but wanted the profit of the cheap reel in a vast American market.
Called "Cod Reels"
They stopped by the early 1920s. The design was so simple and had been "borrowed" so many times it was impossible to completely patent. Plus metal materials and assembly line labor were much cheaper. All Allcock and Good Luck reels can be found on eBay.
Grading Reels
What makes a good quality collectible reel? Reels are graded by both ORCA and NFLCC on two different conditions: Appearance and Mechanical. The table below will show you how to best gauge a reel for collecting and purchase.
Appearance
| Grade | Appearance |
| --- | --- |
| Mint | Original factory condition, accompanied by evidence the reel was never used. |
| A10 | Unflawed. Looks mint, but no guarantees it as to whether it was ever used or not. |
| A9 | Excellent used condition. Hard metal still polished, edges sharp, markings sharp, machining marks crisp, plating intact, no corrosion, pitting chips or scratches. Clean, though may have patina. |
| A8 | Very good used condition. Occasional light scratch, minor, normal plating wear, edges may not be sharp, minor foot imperfections, clean, crank knobs tight. |
| A7 | Very good but with minor flaws. Small chips, some plating wear, screw slots used, light cleaning required. If recently polished some surface defects. |
| A6 | Good used condition. Chips, small dents, scratches from normal use, light corrosion, foot filed heavily or bent severely, some screw heads threaded. |
| A5 | Good, but with more serious flaws. Larger chips and scratches, heavier corrosion, light pitting, slight bends in pillar and crank, knob pins bent or loose, may need small parts such as a screw, nut or bearing cap. Easily restorable. |
| A4 | Fair. Has significant problem. Heavy corrosion, threaded screws, cracked plate, small broken parts, major missing parts such as pillar, line guide, foot seriously damaged. |
| A3 | More serious problems. Broken foot or other frame part, bent or badly dented plate. Major restoration needed. |
| A2 | Poor. May be useful for parts. |
| A1 | No aesthetic value. |
Mechanical Condition
| Grade | Appearance |
| --- | --- |
| Mint | Original factory condition, accompanied by evidence the reel was never used. |
| M10 | Excellent. All functions work perfectly. No wear. |
| M9 | All functions work well, though some wear apparent. Spool fully adjustable, strong break, smooth level wind, and worthy of use. |
| M8 | Very good. All functions work well, though complete adjustment may not be possible. Slight spool wobble. Brake pressure might not be maximal. |
| M7 | Normal use and wear. Spool "sloppy". Level wind wobbles slightly. |
| M6 | Good. All functions work, but some may be fairly worn. Some gear noise, brake pressure weak, level wind, needs new parts. |
| M5 | Functions work, but with some difficulty. Level wind jams, broken gear tooth or worn gears. Restorable with minimal effort. |
| M4 | Fair. Functional problems requiring manufacture of minor parts if not replaceable from "parts" reels. |
| M3 | Major functional problems due to missing or broken parts that are not easily replaced. |
| M2 | Poor. Major problems. Major restoration. |
| M1 | No mechanical value. |
All grades of wooden fishing reels can be found on eBay.
Value
Antique wood fishing reels, compared to their metal counterparts, have little value. A good condition wood reel from the late 1890s has roughly 1% of the value of an antique metal reel from the same time period.
Other than personal enjoyment wooden reels have little collectible value.
How to Buy Wooden Fishing Reels on eBay
eBay offers many different Wood Fishing Reels of varying styles and value. eBay sellers are known for their competitive pricing and their unbeatable reliability. The advantage of buying on eBay is the wide selection and flexible payment options. You can buy wood reels at specialty fishing or collector shops in your area. However:
Most collectors will put their wood reel up for sale on eBay.
Going to eBay saves the time and cost of driving to shops all over. Instead eBay brings collectables from al over the world right to your home. Often for the exact same price as the brick and mortar shop.To search for Wood Fishing Reels go to the Sporting Goods > Fishing > Vintage portal. From there you can choose to search for wood reels. You can also type in specific words searches, such as "Nottingham wood fishing reel" or you can use the advanced search on the left column of the site. This lists reels by maker and style.
When searching through listings, carefully review all the data. Make sure the item matches what you had in mind. Look over the photographs a couple times. Feel free toAsk the Seller a question if you want additional details. Visit the Buying Tips page for more information.Once you're ready to buy, either place a Bid, Buy it Now, or put down your Best Offer. Buying with PayPalwill ensure the transaction will go smoothly. eBay users are protected by the Buyer Protection Program.
Conclusion
While wooden reels may have little value they can have a great sentimental value to any avid fisherman. Although they are a simple reel, with little collector interest at this time, they are one of the earliest reels every made, and are a true classic.
Therefore a wood fishing reel makes a wonderful addition to any collection. It is a great piece of history and a great conversation starter for any avid fisherman or collector. There are many vintage wood fishing reels on the market today. Finding the right wood reel for you is simple and easy on eBay.