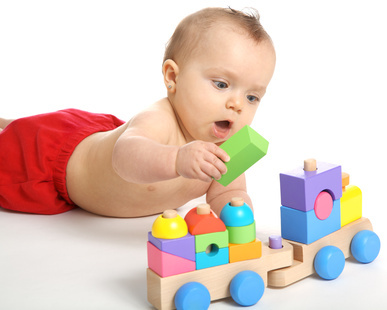 It could be a:
pull-along duck
small ride on bike
jigsaw puzzle
dolls house
kitchen set
simply good old building blocks
Finding the right wooden toy for your little one is as easy as ABC with eBay. With so many kinds of wooden toys available, finding the perfect item for your child could seem a little overwhelming at first. This guide intends to help by offering some simple things to consider in your search for the perfect wooden toy for your baby.
Wood is the New Wood
With their wholesome and retro feel, wooden toys, unlike numerous electronic pets and cartoon character toys, have never gone out of fashion. Wood toys have remained a staunch favourite of parents and infants alike and, in an age of increasing technological complexity, now offer a refreshing alternative to the hyper active, stimulation saturating electronic toys which whir across the pages of many a toy catalogue.
Indeed, by being less prescriptive in dictating how they should be played with, wooden toys can be of more use for motivating the imaginations of young children.
Wooden Toys for your Baby's Development
As babies grow, their abilities develop rapidly and in ways we might not immediately predict. Babies under three months for instance see the colours black red and white most clearly. A huge part of playing for a child is testing and relearning the boundaries of their developing abilities. We learn to:
crawl faster
walk
then run
babble
teethe
and eventually speak
Infants do all this within a very short space of time. Linking the right toys to different times in an infant's development can help keep them entertained during this hugely energetic period of life. It's worth researching the specific ways in which your infants' abilities are in flux at different ages and thinking creatively to match wooden toys to those developments.
Toys like teething rings are fairly age-specific
Toys such as pull-alongs or building blocks could have a range of different roles to play over an infant's growth.
The less prescriptive and the more open-ended the toy is the, more abilities for creative play open up. There's the added advantage for such toys that a child can reinterpret the toy and find new possibilities for play and enjoyment over time.
Green Fingers
For those concerned with environmental issues, choosing to buy wooden toys can make even more sense.
Unlike plastic, wooden toys can be made without hydrocarbons derived from fossil fuels
It's also possible for toys to be made from recycled or reclaimed wood.
Of course, as with any environmental claims, the devil is in the detail. Certain safety standards exist to smooth this process over, with marks such as the Rainforest Alliance Certification showing that the wood used in the toy came from sustainable sources and responsibly managed forests.
Do it Yourselves
Part of the joy of wood is its familiarity to us; we see wooden objects around us all the time and are familiar with the basic designs of most carpentry. Some wooden toys are designed to develop this idea of craftsmanship by involving a hands-on element that needs completion. This idea can be extended to plain and simply varnished toys which can be livened up with a little painting. Getting children involved with the production of the toy can help foster a sense of attachment to it as well as providing a fun bonding activity for you and your child.
It adds to their eco-friendly credentials that wooden toys can be easily repaired.
The Woods from the Trees
There are many types of wood. They're typically broken down into two classifications:
These two families of wood have different properties. It's common that a variety of woods suiting different purposes make up a wooden toy.
Hardwoods care from deciduous trees. Usually these trees take a long time to grow, making the wood they produce dense and hard. Because of the amount of time it takes to produce the wood, hardwoods can fetch high prices. Due to the hardness of hardwoods, wooden toys made from it can last a long time; hardwoods can be a great choice if choosing toys for a baby with the intent to them hand down to another generation.
Softwoods come from evergreen trees which grow quickly year round. By virtue of this they are cheaper and usually softer than their hardwood cousins, making them easy to work with and affordable to make toys from. Pine is one of the most popular softwoods due to its availability and beautiful grain.
There's also a third type of wood - though not one exclusive to either family of trees. MDF is an engineered wood product made from either hardwood or softwood parts that is combined with resin and formed under high pressures into a composite board. It's popular with manufacturers of toys due to both its comparatively low cost and wood working properties. As it's a blend of wood fibres, it doesn't contain the rings and knots which can create headaches for carpenters.
It's not required that softwoods or hardwoods need to be treated with stains or paints in order to last a long time, but such treatments can help the wood to last longer. Untreated, a lot of wood types are susceptible to swelling if exposed to moisture - not ideal for toys made from small fitted parts. Some woods like white oak have a natural resilience to moisture and can therefore be used to make toys suited to being left out of doors without issue.
Surface Treatments for Wooden Toys
As most toys are designed to be played with most come with some sort of surface treatment on the wood. This could be:
staining
varnishing
oiling
painting
Each has different advantages.
Varnishing and oiling are typically done with clear substances that preserve or enhance the colour of the wood they're applied to and keep the natural grain on show.
Staining with bright colours can preserve details of the grain of the wood but mask the colour of it.
Painting typically masks the wood entirely and is used when the natural grain isn't attractive, or doesn't exist. MDF, with its uniform cardboard brown, is commonly painted over rather than exposed with varnishes.
Keeping it Safe
The most important consideration when buying anything for your baby should always be safety. It's critical to make sure that any toys you're buying for your baby are safe for them to play with, even when you're not there to watch over them. With wooden toys the key things to look out for are:
finishing
small parts
toxicity
As far as finishing is concerned, make sure that there's an "ask a question" link at the bottom of the item listing page.
Always complete your transaction on eBay (with a bid, Buy it Now or Best Offer) otherwise you will not be covered by eBay Buyer Protection.
Never pay for your eBay item using an instant cash wire transfer service like Western Union or MoneyGram. These are not safe ways of paying someone you do not know.
Know Your Seller
Research your seller so that you feel safe and positive about every transaction.
What is the seller's Feedback rating?
How many transactions have they completed?
How many positive responses do they have?
What do buyers say in their Feedback?
Are they positive about the seller?
Most top eBay sellers operate like retail shops and have a returns policy.
Do they offer a money-back guarantee?
What are their terms and conditions?
Buyer Protection
In the very unlikely event that you do not receive your item or it is not as described, eBay Buyer Protection covers your purchase price plus original delivery cost.