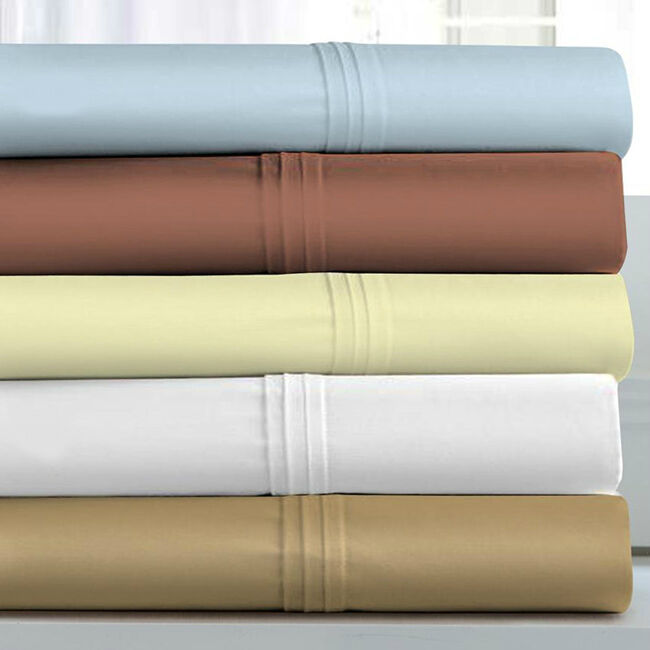 Sheets are an important part of bedding because they are close to skin. Therefore they should be comfortable and pleasant to touch. Fitted sheets are also functional because they protect the mattress and ensure that it lasts for many years: high quality mattresses should last up to 20 years. Besides the obvious functionality and feeling on the skin, a good quality sheet does not wrinkle too much and retains its shape easily even when sleepers toss and turn a lot during the night. Some fabric blends are designed to wrinkle less, while others can be totally wrinkle-free.
Sheets should be laundered frequently in order to keep dust mites away. During the washing and drying process some sheets wrinkle easily, but some simple tricks can help to remove the wrinkles. Wrinkle-resistant sheets can be found in many colours and styles from high street homeware shops, department stores, and large supermarkets, as well as online auction sites, such as eBay.
Fabrics for Wrinkle-Resistant Sheets
The fabric of the sheet plays a significant role in whether the sheet has a tendency to wrinkle. In general, fabric blends are more wrinkle-resistant than pure fibres, such as natural cotton. The weave of the sheets also influences whether they wrinkle.
Using certain fabrics and weave methods is one way to keep sheets wrinkle-resistant, but some are also treated with chemicals. Silicone, formaldehyde, and chlorine keep the sheets from shrinking, wrinkling, and losing their shape, and this finish lasts for many washes. However, chemically treated sheets are not suitable for allergy sufferers.
Wrinkle-Resistant Cotton Blends
Although pure cotton is soft and keeps stains away, sheets made of it tend to shrink and wrinkle a lot. Cotton blended with polyester is much more wrinkle-resistant, but it loses some of its breathability and moisture-absorption properties. Polyester can be blended with cotton, to create microfibre or satin sheets. Wrinkle-resistant cotton sheets that have some synthetic fibres in them are labelled "easy-care", because they do not require a lot of ironing.
Another way to keep wrinkles away from cotton sheets, is by using special weaves, such as percale. Percale is made from combed cotton where the shorter and rougher fibres are removed and longer fibres remain. Twill is also wrinkle-resistant. It has a subtle texture and consists of diagonal lines that retain their shape. The luxurious sateen also stays smooth. Typically, softer sheets wrinkle less than very rough ones.
Non-Wrinkle-Resistant Fabrics
When considering buying wrinkle-resistant sheets, it is useful to know which sheets to avoid. Linen and silk are a luxurious option, but they have a tendency to wrinkle.
Linen
Linen is made from one of the strongest natural fibres, which comes from the flax plant. Linen is known for its breathability, and remains cool in summer and warm in winter. Linen wrinkles easily because of its loose weave.
Silk
Silk has many benefits, as it allows the skin to breathe, is chemical-free, hypoallergenic, and feels soft. However, silk does wrinkle a lot, but its other advantages make it a luxurious bed sheet fabric. It is possible to make silk more wrinkle-resistant when special finishes are applied to it during the production process.
Reducing Wrinkles in Sheets
Sheets should be laundered frequently to reduce dust mites and other allergens, and it is in the washing and drying process that wrinkles are introduced. Many sheet fabrics wrinkle, but proper care can reduce or minimise the wrinkles, resulting in smooth sheets. Following the instructions on the care label should help to minimise wrinkles. It can help to remove the sheets from the dryer before they are completely dry and hang them so that the wrinkles can fall out. Before putting the sheets away, ensure that they are fully dry and fold them neatly. The sheets should be stored in a clean, dust-free place, away from direct sunlight, such as divan drawers, a linen cupboard, lined drawers, or an ottoman.
When there are multiple beds in the household and they have different dimensions, it is wise to store the linen for each room and bed together so that the sheets do not need to be moved and unfolded unnecessarily. Neatly folded bed sheets can also be stored on hangers to keep them flat. It may be necessary to iron sheets, if the buyer wants them to be completely wrinkle free. A wide ironing board can make ironing large sheets convenient and comfortable. A good steam iron also helps with smoothing the wrinkles.
Caring of Cotton Sheets
Pure cotton and polycotton can be washed at 40 degrees, but the specific instructions are found on the care label. Cotton sateen sheets can become quite wrinkled if they are not removed from the dryer when they are still damp. When folding the sheets, smooth out the wrinkles by hand. If the sheets were excessively dried and wrinkled, then they should be put back to the dryer with a damp cloth for a few minutes.
Caring of Linen Sheets
Linen sheets do wrinkle, but the extent can be minimised with careful washing and drying. The sheets should be washed at a slower spin speed and removed from the machine immediately after it stops. Linen sheets that are left in a heap wrinkle easily, and therefore they should be hung on a washing line, which should allow the wrinkles to fall out. The complete drying process takes about eight hours. Before taking the linen sheet off the line, it should be completely dry because any moisture will cause wrinkles. When dry, the linen sheet should be folded and put directly onto the bed or into a storage place.
Caring of Silk Sheets
When they are first laundered, silk sheets should be washed by hand in order to retain the sheen and to soften the fabric. Use lukewarm water and a gentle detergent, preferably one that is formulated for silk. The fabric should not be rubbed too vigorously and it should not soak for too long. The sheets can be wrung gently while wrapped in a large towel. After a few rounds of hand washing, the silk sheets can be washed in the machine on a delicate cycle. It is best not to wash them with other fabrics, as other materials tend to require more vigorous cycles. One spin cycle is enough for silk sheets in order to protect their integrity and to reduce the likelihood of excessive wrinkles.
Often ironing is not necessary if the sheets are dried on a washing line as they restore their shape quickly. However, if necessary, silk sheets can be ironed on the reverse, which is the less shiny side, using a cool iron when they are a little bit damp.
Buying Wrinkle-Resistant Sheets on eBay
Searching eBay directly for "wrinkle-resistant sheets" may not yield many results because sellers rarely use that terminology to promote their products. It is better to consider the fabrics that do not wrinkle very much, such as poly cotton, and search for the appropriate sheets, for example, "polycotton sheets". Read the item listing to find out more information about the features of the wrinkle-resistant sheets, including their dimensions. If the seller has not described the fabric, then feel free to contact him or her to ask about it. The item listing should also contain information about the accepted payment methods, postage and packaging costs, refunds, and exchanges. If the details are not included, or if there are any other queries then use the "Ask a question" feature to contact the seller.
It may be possible to find a local seller and if you both feel comfortable then you may be able to arrange a collection to reduce the delivery costs. It may even be possible to arrange to view the wrinkle-resistant sheets before committing to the purchase.
Conclusion
Sheets are functional and stylish bed linen that protect the mattress and keep the sleeper covered. As people toss and turn during the night, the sheets wrinkle. The sheets also wrinkle when they are washed and dried in the washing machine. For a smooth, attractive bed, wrinkle-resistant sheets are the ideal choice.
The fabric of the sheet plays a significant role in whether it wrinkles. In generally, cotton blends that have polyester in them wrinkle less and also last longer, even though pure natural fibres are more breathable. Both silk and linen wrinkle considerably, but proper care can be taken to minimise this and provide smoother sheets. As with all fabrics, the care instructions on the label should be followed. After washing, the sheets should be removed from the machine or dryer quickly and spread out to dry. Some of the wrinkles can be smoothed out by hand, and others will fall out if the sheets are hung on a washing line. If completely smooth sheets are desired, then they will need to be ironed.
Buying wrinkle-resistant sheets starts with selecting a fabric that wrinkles less than other sheet materials and after that it is mainly about proper care. Wrinkle-resistant sheets can be found in many styles and colours on eBay.