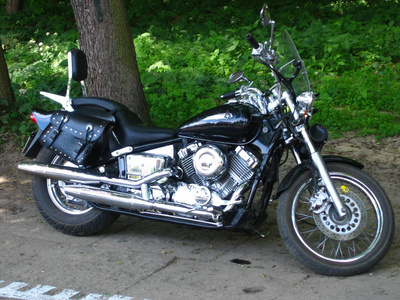 Whether one is an off-road racer or a casual weekend rider, the need for replacement parts for a Yamaha motorbike eventually surfaces. The motivation for finding parts can stem from need if a part has suffered damage, for example, or simply from an ambition to improve a motorbike and one's riding experience.
When searching for parts to purchase, it can be important to approach the process with as much information as possible. This involves understanding some of the basics of Yamaha motorbike parts, as well as assessing the advantages of various types of parts, including new, used, OEM, or aftermarket parts. Consumers who are looking for serviceable parts for a Yamaha motorbike should also understand the ins and outs of some of the better retail options out there. Traditional brick and mortar vendors can provide viable options, but an increasingly popular alternative is online shopping at large aggregators like eBay.
Choosing and Finding the Right Parts for Your Specific Bike
The most important criteria when selecting a part for a Yamaha motorbike is finding a part that fits and works with a particular model. Beyond this, consumers also need to decide between various conditions and types of parts during the purchasing process.
Finding a Part by Model and Year
The easiest and most direct way to search for a part is to search with the motorbike's model and year. A motorbike's model is the series of numbers and letters that come after the Yamaha name. If a consumer has an older bike that is the focus of a restoration process, and he or she does not know the model number, there are a few ways to resolve this problem. For one, the consumer should be able to find the frame and engine numbers imprinted or placed on a decal on the motorbike. This information can then be cross-referenced with vintage motorcycle information to get the model and year of a motorcycle.
Getting the model and year correct is essential. Design schematics often change from one model to another or from year to year within the same series of bikes. Consumers who are looking for body parts need to also use body colour as a central reference, as well. Trying to force a fit with a part that is close but not exact can lead to damage to a vehicle and set a consumer back to square one.
Finding a Part by Part Number
Another way to find a part quickly and effectively is to use a specific part number. These details can come from the literature that comes with a motorbike or from a parts catalogue. Many vendors list replacement Yamaha parts with a complete part number, so this can be a direct lead to the right part.
Buying Yamaha Motorbikes for Parts
A popular solution for restorers is to purchase a non-working Yamaha motorbike for parts. These are typically motorcycles that are no longer in road condition, but still have many essential, working parts. Consumers who wish to pursue this route should have a modicum of repair skills and the proper tools. Any motorbike purchased for parts should ideally be the same model and year. Motorbikes that are sold for this purpose are typically listed as 'spares only', 'for parts', or 'breaking for parts'. This solution can also be helpful for larger body parts or accessory parts that may work well outside of a specific model of Yamaha motorbike.
Deciding Between OEM and Aftermarket Parts
One essential decision that must be made when purchasing parts for a bike is whether to buy OEM or aftermarket parts. OEM, or original equipment manufacturer, parts are those which were made during the original assembly of the motorcycle, typically by a third-party manufacturer working in tandem with the motorbike manufacturer. Aftermarket parts are parts that were manufactured after the release of a motorbike to mimic those original parts.
One of the big advantages of aftermarket parts is that they have been reverse engineered and, as such, often feature some problem solving in their designs. This means that they can sometimes be an improvement or upgrade over OEM parts. There is also a wider range of selection among aftermarket parts. OEM parts extend the advantage of being an ideal fit with a proven track record with a specific motorbike.
Considering New or Used Parts for a Yamaha Motorbike
Another consideration to make is whether to purchase new or used parts for a Yamaha. Each has its own set of advantages that can make them good deals for consumers.
Part Condition

Advantage

Disadvantage

New Yamaha Parts

Brand new, mint quality

Longer performance / usage

Includes parts literature

More costly

Higher carbon footprint

Used Yamaha Parts

Low cost

Recycled product, lower carbon footprint

Potentially shorter usage life

May not include manuals
While consumers are looking through replacement parts for the parts they need, they should weigh the advantages and disadvantages of a new or used part. Both can be serviceable and can bring solid performance to a Yamaha motorbike. When purchasing used parts, consumers should make sure that they ask for and receive a thorough breakdown of a part's condition and its usage history before confirming a purchase.
Useful Tools and Techniques When Buying Yamaha Motorbike Parts
There are some helpful techniques and tools consumers can use during their search for parts for their Yamahas. Leveraging these tools can help ensure that a consumer not only finds the right part, but finds a quality part, as well.
Leveraging Parts Catalogues and Other Literature
Parts catalogues can provide essential guidance during the purchasing process. These types of books can be found in new or used quality and detail the different parts needed for various models. They can also have assembly and installation guidelines, as well as expanded views that help a consumer visualise how a part fits into the whole. The original literature that came with a Yamaha motorbike can also be of assistance. If these have been misplaced or if a consumer never had possession of them in the first place, they can also be sourced on the open market. Look for manuals that address exact model numbers down to the digit or letter, as well as the year, as model schemas can change dramatically within a series or from year to year.
Communicating with Vendors of Yamaha Motorbike Parts
Pursuing active communication with a vendor when shopping for parts can be a great way to facilitate and streamline the process. Consumers should feel at ease with the idea of asking any and all questions related to a part and its role in the function of a Yamaha. Vendors are often seasoned parts experts or aficionados who can provide quality guidance or installation advice. They may also be able to help with a good aftermarket recommendation from their stock or point a consumer toward a quality, used option. None of these advantages can come about if a consumer does not act assertively in communicating with a vendor.
Conclusion
Finding and purchasing parts for a specific Yamaha motorbike is a straightforward process, and one that is made easier by adhering to a few essential tips. Searching by specific model and year is essential, as is utilising helpful literature, including manuals and parts catalogues. Consumers in the midst of this process can also benefit from communicating with sellers to gauge the quality and serviceability of a part. For restoration projects, purchasing abandoned bikes or chassis can be a great help.
When purchasing any part, a consumer must also decide between new and used parts or whether to go with original manufacturer equipment only or an aftermarket solution. Finally, consumers can search in local motorcycle repair shops or access a wide selection of Yamaha parts via the online retailer eBay, where they can find the right part using any one of these techniques and considerations. In short order, a consumer can find and purchase the perfect part to complete a project and get a Yamaha motorbike back in ideal shape.