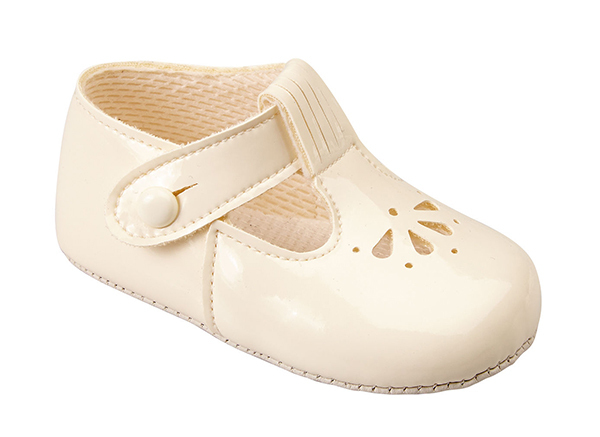 When it comes to welcoming a new baby, there are an endless number of considerations to take into account. Pregnancy through birth is often nine months of constant preparation for the baby's arrival, from purchasing a crib to throwing baby showers and deciding on food choices for the baby. But new purchases certainly do not cease once the baby is actually born. In fact, some things are completely unnecessary at first but soon become essential in the months following the baby's arrival, such as baby shoes.
Once your baby begins to walk, or at least starts to make attempts, it is necessary to find some suitable baby shoes to protect his or her fragile feet. Buying shoes for a baby is not quite like buying shoes for an adult, but there are some best practices to follow that can make the process go a bit more smoothly, such as learning to look for the right materials and choosing the right size. Taking the aforementioned factors into account makes it quite easy to find a cute, affordable, and supportive pair of baby shoes, either at a retail shoe store or online on eBay.
Ensure Timing is Right
Although it is possible to purchase baby shoes for an infant of virtually any age, it is really not necessary for babies to wear shoes until they begin to walk. Rather, it is recommended that newborns wear socks, slippers, or booties to keep their feet warm, but actual shoes are superfluous. Once your baby begins to walk, it is the right time to buy shoes. While many babies first learn to walk barefoot, once they are toddling around outdoors, shoes can protect their feet from rocks, dirt, and other debris.
Baby Shoe Materials
While the actual construction of most baby shoes is fairly simple, there are a few factors that should be considered. One of the more important things to keep in mind is the type of material from which the shoes are made. Because your baby cannot tell you when a pair of shoes is uncomfortable, keeping the following guidelines in mind helps parents and caretakers find the most comfortable and safest shoes for any baby.
Baby Shoe Soles
The soles of baby shoes are important when it comes to supporting and protecting the baby's feet. They must be thick enough to provide protection from dangerous elements that could be lurking on the ground, but they also must be flexible and soft enough so that the baby's feet can properly grip the ground. When babies are first learning to walk, they need to be able to properly balance. A sole that is too thick or inflexible can prevent this and even cause difficulty in muscle development. Be sure any baby shoes you buy are flexible. It is also a good idea, particularly if your baby may be walking on any slick surfaces, that you find baby shoes with a non-slip sole. They provide traction and help your baby stay upright, even when the floor is slippery.
Baby Shoe Uppers
The soles of the shoes are not the only portion that should be carefully considered. It is also important that your baby be comfortable in the shoes so that they do not want to take them off at the first opportunity. The uppers of the shoes, therefore, should be made out of a flexible and breathable material. Cotton, canvas, and leather shoes are all good choices for baby shoe materials. Synthetic baby shoes are usually not the best choice since they can make your baby's feet sweaty, uncomfortable, and even smelly.
Measure Your Baby's Feet
Of course, another important factor when choosing your baby's first shoes is finding the right size. The best way to do so is to measure your baby's feet. There are a few ways to accomplish this. At retail stores where baby shoes are sold, there is often a measuring device specifically for babies and toddlers. You can either use it yourself or ask the staff to assist. The device tells you the size and width of your baby's feet.
However, if you purchase your baby's shoes online, you most likely do not have access to this type of device. In this case, you can use your own measuring tools to determine the size of your baby's feet in centimetres, then convert that measurement to a shoe size. Remember, it is not a good idea to buy baby shoes that are too big in hopes that the baby grows into them. This can make it difficult for your baby to walk and develop proper balance and strength.
Baby Shoe Sizes
Just as with adult shoes, baby shoe sizes can vary from brand to brand. Therefore, parents shopping online can use the following chart, which lists the most common baby shoe sizes.
| | | |
| --- | --- | --- |
| UK Size | Centimetres | Approximate Age |
| 0 | 9.3 | newborn to 6 months |
| 1 | 10 | newborn to 6 months |
| 2 | 11 | 6 to 12 months |
| 3 | 11.6 | 6 to 12 months |
| 4 | 12.3 | 12 to 18 months |
| 5 | 13.7 | 12 to 18 months |
| 6 | 14.4 | 18 to 24 months |
| 7 | 15 | 18 to 24 months |
| 8 | 15.6 | 24 months and up |
| 9 | 17 | 24 months and up |
Keep in mind that these measurements are only general and may not be exact for every brand of baby shoe. Depending upon the brand of shoes, it may also be necessary to consider European or U.S. sizes, which can be quite different.
Try Out Baby Shoes When Possible
Although measurements and sizes are a good guide to shopping for baby shoes, if possible, it is best to have your baby try on shoes before purchasing. The best time to have babies try on shoes is in the afternoon, since just as adults, their feet tend to swell over the course of the day. There should be enough room in the shoe to fit your smallest finger between the back of the shoe and the baby's foot as well as a thumb width between the end of the shoe and your baby's longest toe. When you take the shoes off your baby, make sure to look for any pinched or red areas that indicate whether or not the shoes are a good fit.
Choosing the Right Fastening Mechanism
It is important to keep in mind that you are the one in charge of taking off and putting on the baby's shoes. This is why you should consider what type of mechanism can hold the shoes onto the feet. The most common ways that baby shoes are fastened are Velcro and laces, each with its own advantages and disadvantages. Velcro is certainly faster to put on, but it is also easier for baby to take off. Laces are likely to stay on better but can also be much more difficult to fasten, particularly when the baby is squirming around. Ultimately, the decision about the right fastener is a matter of personal style and preference.
How to Buy Baby Shoes on eBay
Once you have determined the best style and size of shoes for your baby, you can begin to search for the perfect pair of shoes on eBay. The best way to shop for baby shoes on eBay depends upon how specific your requirements for baby shoes are. For instance, if you are looking for a pair of cute shoes to go with particular dress outfits, you may want to search for something like "baby trainers" or "baby formal shoes", which will guide you to the right listings. You can search for these keywords using the search box on any eBay page.
Moreover, you can also use more general searches if you are not sure exactly the type of shoes you want. Simply searching for "baby shoes" shows you all the relevant results, which you can then narrow down using the available eBay filters. When you find the pair of shoes that you want to purchase, be sure to verify the condition of the shoes with the seller. Many people have baby shoes that have been gently used. While the condition of the shoes should be obvious in the listing, you can also contact the seller directly through the eBay interface if any questions remain before you complete your purchase.
Conclusion
Shopping for baby shoes can be an enjoyable activity. Not only does adding shoes to your baby's wardrobe give you further options for completing outfits, it also indicates that your baby is moving through important growth phases. While it is true that babies may quickly outgrow their shoes, just as with their other clothes, it is still quite important that any shoes you purchase fit comfortably and provide the proper support. In fact, the right baby shoes can actually help your child to walk better and progress more quickly.
Be sure that the shoes you purchase are not only chosen for their aesthetics. Rather, they should be made from comfortable materials, should fit your baby properly, and should support and protect your baby's delicate feet. Following the previously mentioned simple guidelines and paying attention to whether or not your child is comfortable in the shoes you choose can make shopping for your baby's first shoes an exciting and memorable milestone in your child's life.