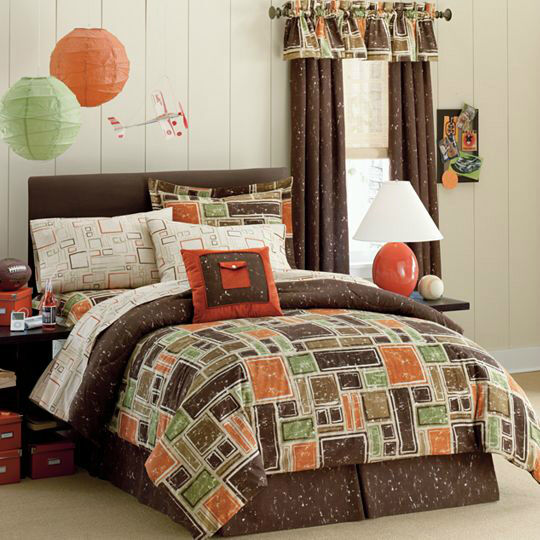 Buying a bedding set is more than a matter of picking some fabric to cover the bed and some matching pillowcases. Adults spend about a third of their lives in bed, so a bedding set is both the first and last thing that anyone sees every day. So, it is important to choose a bedding set that is comfortable, appeals to the eye, and matches the decor of the room. It is equally essential to factor in the size and fabric used to make the sheets, pillowcases, and duvet cover, as well as understanding the thread count. A poor quality bedding set will be uncomfortable and prevent a good night's sleep.
Also worth considering are the decorative elements, such as valances and bed runners, which bring the whole room together and complement the duvet and pillowcases. Department stores and homeware shops sell bedding sets, but they may also be purchased online through an auction site such as eBay in the Home & Garden section.
Components of a Bedding Set
A typical bedding set is made up of matching fitted and flat sheets, pillowcases, and a duvet cover. Buyers can easily complement a basic bedding set with extras using the same hues or patterns to help to bring the look of the room together and to make a bed seem more luxurious, such as a valance, decorative pillowcases, and a bed runner.
Sheets
Bedding sets usually contain matching fitted and flat sheets. The fitted sheet fits over the mattress and the flat sheet can be used for covering the body at night, or as a mattress protector for non-standard size beds. Having multiple sheet sets allows for regular changing of the sheets that can prolong their life. It also allows for a change of design and colour each season, or even mixing and matching colours.
Pillowcases
Nearly all bedding sets will include one or two pillowcases, depending on the size of the bed. Pillowcases are available in two designs, standard or oxford. The standard design is simple with no ornamentation, just a flap through which the pillow is inserted. By contrast, an oxford pillowcase has a decorative frill around the edge. Most pillowcases are made to fit pillows measuring 50 x 75 cm, but king size pillows may be available as well. These measure 50 x 90 cm: long enough for two pillows to span the length of a super king size bed. Check the packaging to see if the pillowcases can fit a larger pillow.
Duvet Cover
The duvet cover is a protective and decorative covering for the duvet. Changing a duvet cover is often less expensive than replacing an entire duvet, and it makes it easy to alter the colour scheme and design of a room. Like sheets, duvet covers come in a variety of thread counts and fabrics, and a natural fibre is more breathable than a synthetic one. Remember that duvet covers should be able to withstand repeated washing, so while delicate detailing, such as lace, looks stunning, it may require special care.
Valance
A valance is a sheet that serves as a trim for a divan. It is effectively a skirt that hangs down to cover the base of the bed. A valance should hang far enough to completely cover the base in order to look appropriate. Valances are available in a variety of designs, including ruffles and pleats. They may not be suitable for beds with very high bases.
Decorative Pillows
It is easy to add ornamentation to a bedroom by incorporating decorative pillows. Some bedding sets may include decorative pillowcases, or they can be bought as extras in the same fabric and design as the set. Square pillows, sometimes called continental pillows, can be decorative or functional, offering support when reading or relaxing in bed. Their sides measure about 65 or 66 cm. In addition, smaller rectangular boudoir pillows measure about 30 x 40 cm.
Bed Runners
A bed runner is a narrow strip of decorative fabric that sits at the foot of the bed as an extra covering to complement the pillowcases and duvet cover. Bed runners are usually placed horizontally, but they can be arranged in a variety of creative ways.
Factors to Consider When Buying a Bedding Set
Buyers should not skimp on the quality of a bedding set. Poorly made sheets or duvet covers can be uncomfortable. Also, the fabric may fade, bleed, or even develop holes quickly, which may cost more in replacement costs than just buying a well made set at the start. There are a variety of ways to identify a good quality set of bedding, including the fabric and the thread count. Also bear in mind how the bedding set will fit with the rest of the room. Using a variety of textures, colours, and layers can bring a space to life and make it warm and inviting. Neutral colours, such as blue and beige, may be more soothing and tranquil, while bright, bold hues such as red and yellow add a sense of energy and joy.
Sizing for Bedding Sets
When buying a bedding set, shoppers need to consider the size of the mattress. It is necessary to match the length and width of the mattress to the sheets, as well as the depth, in the case of a fitted sheet. The chart below outlines common mattress sizes for the UK, along with their corresponding duvet and sheet sizes.
| Mattress Name | Mattress Size (cm) | Duvet Size (cm) | Fitted Sheet Size (cm) | Flat Sheet Size (cm) |
| --- | --- | --- | --- | --- |
| Single | 90 x 190 | 135 x 200 | 90 x 190 | 180 x 255 |
| Double | 135 x 190 | 200 x 200 | 135 x 190cm | 230 x 255 |
| King size | 150 x 190 | 225 x 220 | 150 x 190 | 275 x 260 |
| Super king size | 180 x 190 | 260 x 220 | 180 x 190 | 305 x 320 |
Note that the first number in the measurement is always the width and the second number is the length. If a third number appears on the packaging for bedding, then it corresponds to the depth of the fitted sheet. Keep in mind that manufacturers may vary slightly in the sizing of their products. Standard mattress depths are typically 26 cm, but deep mattresses can be up to 32 cm. Buyers should measure the depth of the mattresses and check it against the dimensions on the packaging of the bedding.
Fabrics for Bedding Sets
The fabric used is important to the quality of a bedding set. Common choices include cotton, silk, and synthetic fabrics, as well as a variety of blends typically made of polyester and cotton. Check the fabric of the bedding set and assess the benefits carefully. Cotton has long been considered the staple for sheets, with buyers able to choose from high quality Egyptian and pima cotton, as well as organic varieties. Silk is highly comfortable, although it may require more care than cotton. Natural fabrics such as cotton and silk are more breathable, and therefore, more comfortable than their man-made counterparts. However, synthetic fibres are more affordable and can be more durable than natural fabrics.
Thread Count for Bedding Sets
While the fabric plays a large role in the comfort of the bedding, thread count should not be overlooked. Thread count, sometimes abbreviated as TC, refers to the number of threads woven into a one square inch of fabric. The higher the thread count, the softer the texture of the sheets. Typically, a thread count above 180 is considered good, but luxury sets start at 300, and the highest quality sheet sets are from 600 thread count to 1,000 or more. Bear in mind that a higher thread counts also make the sheets and duvet cover more delicate. A good balance is a 400 thread count sheet, which combines softness with durability.
How to Buy Bedding Sets on eBay
When buying a bedding set, visit the eBay homepage.. From there, you can enter whatever you are looking for into the search box, such as "silk bedding set&" or "Christmas-themed bedding set&". You can filter the results by the size and colour. Read the item description carefully to check exactly what is included, the fabrics used, and their thread count. In addition, check the location of a seller, as mattress sizes can vary by country.
Shopping with eBay Stores
Even if a bedding set does not include all of the extras, such as a valance and a bed runner, you may still be able to buy them independently in matching fabrics. When browsing for items, keep an eye out for a red logo depicting an open door. The logo indicates that the seller has a store with multiple items available. Clicking the logo takes you directly to the store, where you can browse all of the listings available and search for individual accessories to complement the bedding set.
Conclusion
When buying a bedding set it is important to look for quality as well as colour and design. A high thread count sheet is softer on the skin, so buyers should look for something with at least a 300 thread count. Natural fibres such as cotton and silk are more breathable than synthetic alternatives, but man-made fibres are typically less expensive and more durable. Buyers should also note the width, length, and depth of the mattress and use these measurements when buying sheets to ensure a perfect fit. The duvet cover is the focal piece of any bed set, so it should be durable enough to withstand repeated washing to avoid a faded look.
In addition to fitted and flat sheets, pillowcases, and a duvet cover, a bedding set may include a valance that hides the base of the bed. Finally, to complement the set, look for a runner and decorative pillowcases to add elegance to the bedroom. eBay sellers offer a range of bedding sets to give the bedroom style and to aid a good night's sleep.