A black leather belt is a wardrobe staple for many. Whether it is purely a functional belt to hold your trousers in place, a fashion statement, or something in between, the range of black leather belts is exhaustive. Knowing what to look for in a black leather belt ensures you choose a belt that is stylish, comfortable, and practical, and best suits your needs.
Consider the Size of a Black Leather Belt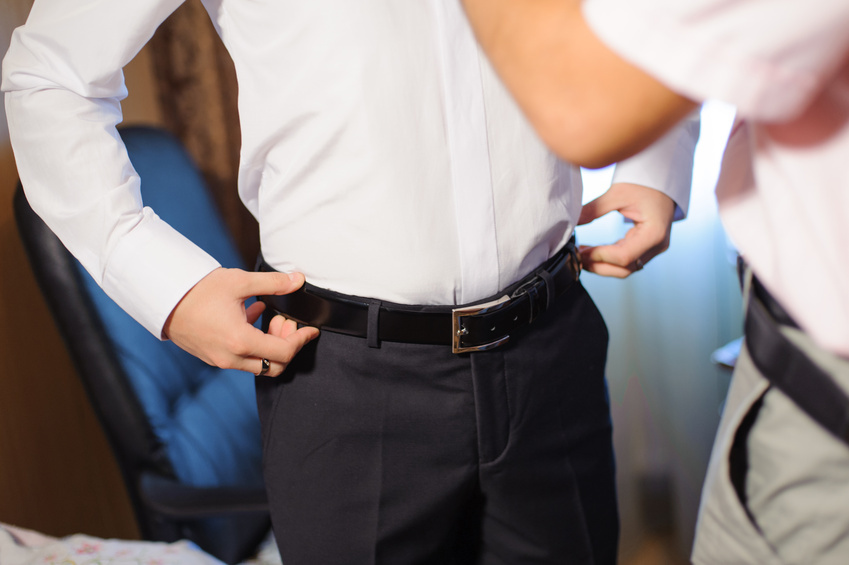 The size of your belt is a vital consideration, as it impacts the fit and the overall appearance. In the United Kingdom, women's belts are usually available in standardised sizing, ranging from XS to XXXL, while men's belts are generally available in inches. Ensure you choose a belt that comfortably sits around your waist, because if the belt is too tight, it digs in painfully and looks unsightly, with your stomach bulging above and below the belt. Choose a belt that has roughly 3 inches of excess belt after you put it around your waist and through the buckle. This provides enough excess leather to tuck under the first belt loop on your trousers or skirt, without wrapping too far around your body. For men, opt for a belt 2 to 4 inches larger than your waist size. Women's belt sizing depends on the height of the trousers and the size and type of belt and buckle. On average, choose a size which matches your clothing size, or go up one size.
Choose a Buckle on a Black Leather Belt

The buckle impacts the overall appearance of a black leather belt. As a general rule, the smaller the buckle, the more formal the belt is. As the size of the buckle increases, generally the less formal it becomes. Consider the colour of the buckle and fastenings. These should complement the colour of your jewellery or accessories, including necklace, earrings, cufflinks, and shoe buckles. Avoid wearing a belt with a buckle of a different metal or colour than your other metal accessories.
Pick the Type of Leather for Your Black Leather Belt
You can choose from a number of different leather types for a leather belt, each offering a different appearance and varying quality. Full-grain leather belts are the most expensive and the highest quality. The construction process only uses the finest natural hides and only employs the top layer of hide. It features unique blemishes and striations because it undergoes minimal processing, also making it the toughest and most durable leather type. Genuine leather belts have a multilayer construction, featuring multiple layers of thin hide with glueing or stitching in between each layer. The top layer consists of a synthetic material or a thin layer of top-grain leather. Bonded leather belts use scraps of multiple leather grains, processed to form a single piece of leather fabric.