Black dresses are timeless and always in fashion. Thanks to their versatility, they are suitable for almost any situation. Black shift dresses are short dresses that hang from the shoulders and look good on all body types and sizes. Learn more about black shift dresses to help you purchase one of these wardrobe staples.
Wearing a Black Shift Dress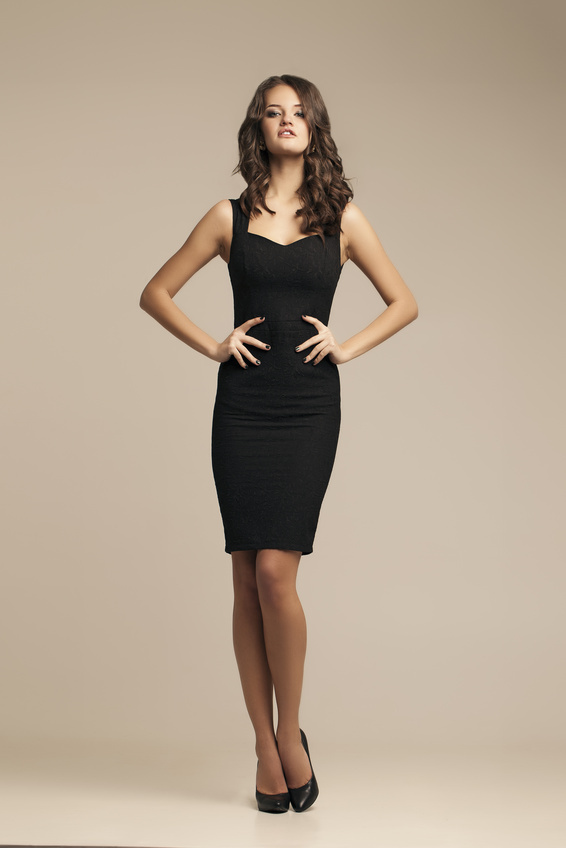 Before purchasing a shift dress, consider where and when you are going to wear it in order to narrow down your choices. You can wear it at the office as well as on a night out with your friends. For the office, you may want to get a simpler material, while for a night out you could opt for a dress in glossy satin. However, you can also purchase one shift dress that looks great in all situations. You can change your style quickly by adding the right accessories. Create an elegant Audrey Hepburn look by wearing black gloves and pearl necklace or rock the outing with your girlfriends in black lace hose and high heels. In the office, pair the dress with sheer black pantyhose.
Features of Shift Dresses
Commonly, shift dresses come with a high neckline, such as jewel or boat neckline, although you can also find square or scoop necklines as well as lower varieties. The latter also help to show off your collarbones. If you have a long neck, go for a higher neckline, while women with shorter necks should opt for lower necklines that visually elongate their necks and make them appear slender. The most typical length of a shift dress is about mid-thigh. However, in a corporate environment it is generally better if the dress comes just above the knee for a more professional look. Shift dresses typically contain minimum details and embellishments on them, leaving you the freedom to accessorise. Some formal shift dresses include trim, beading, and lace at the neck. Moreover, formal dresses could feature fancier materials, such as satin.
Shift Dress Quality

When picking a shift dress, ensure that it is of high quality material and craftsmanship. The dress should have no loose threads, holes, unravelling edges, or puckered seams. By opting for quality, you ensure that the dress will serve you for a long time. Pay attention to the material and ensure you know how to take care of it. Choose the material according to the occasion because this way you can feel your best while wearing the dress. Cotton and linen work best in every day situations, while satin and silk are good for formal events.