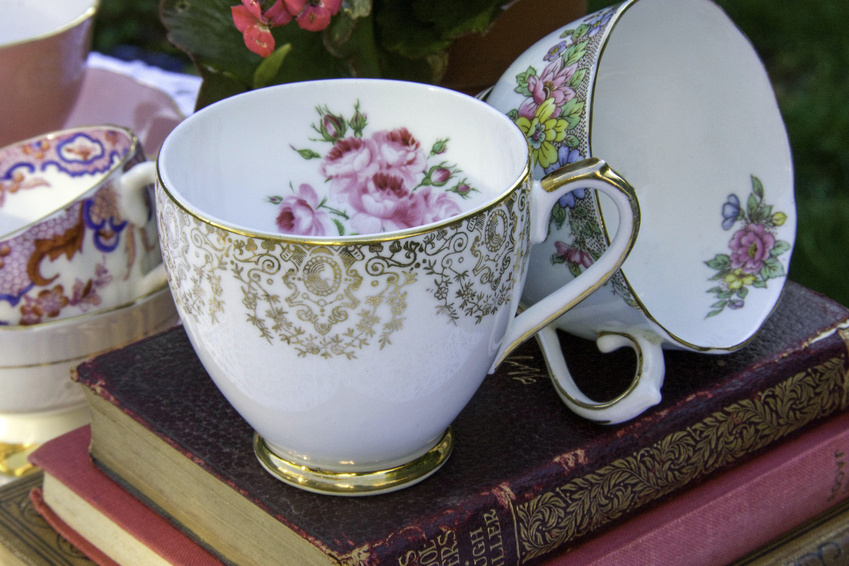 Brambly Hedge mugs are made from white bone china and depict intricate scenes. They are popular with Brambly Hedge beaker collectors, as well as people that enjoy Brambly Hedge books. Before purchasing a Brambly Hedge mug, buyers should learn more about the images depicted on the china.
Overview of Brambly Hedge Mugs
Brambly Hedge is the setting of a series of fictional children's books by Jill Barklem. The books follow the daily lives and adventures of mice that live in Brambly Hedge. The illustrations in the books are highly detailed, and use primarily earth tones and pastel colours. They picture quaint scenes of the mice's homes and flowering gardens. The mug series, created by Royal Doulton, features illustrations directly from the Brambly Hedge book series. There are four illustrations, one for each season. The mugs have thin, delicate handles that resemble thorny brambles. The bases flare out slightly and feature a simple floral pattern.
Brambly Hedge Spring Mugs
Brambly Hedge spring mugs feature a colourful floral scene. This pattern includes a picture of a small brown mouse wearing a pair of blue coveralls. He is standing in a small garden filled with lush greenery, and delicate yellow and white flowers. At the side of the image is a mouse-size window that is part of a mouse cottage. The inside of the mug features the word "Spring" and more yellow flowers.
Brambly Hedge Summer Mugs
Brambly Hedge summer mugs feature a picture of two mice: one male and one female, standing in front of a cottage. The mice are well dressed and the female mouse wears a floral bonnet. Above the door of the cottage are many flowering plants in light pink. On the inside of the mug is the word "Summer", with more pink flowers.
Brambly Hedge Autumn Mugs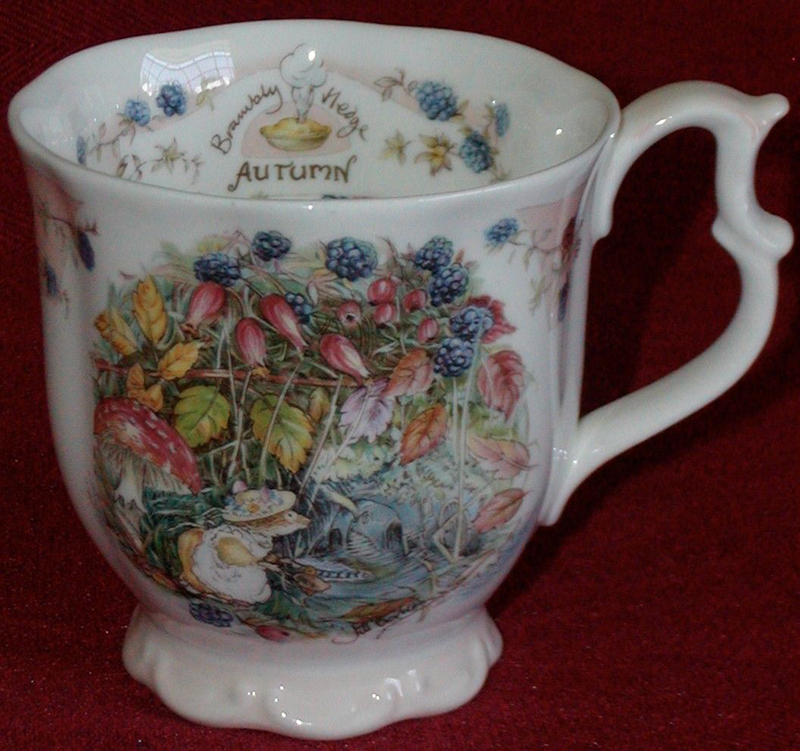 The autumn Brambly Hedge mug features deep colours. It depicts a female mouse wearing a dress and hat standing in front of a large bush. The bush has blackberries, and leaves that are just starting to turn brown and orange. The inside of the mug has the word "Autumn", with a picture of a freshly baked pie and a border made of berries.
Brambly Hedge Winter Mugs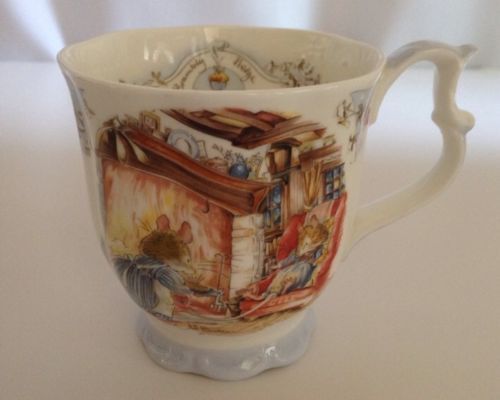 The Brambly Hedge winter mug depicts a cosy indoor scene of two mice sitting in comfortable chairs inside of a small cottage. The mice look lovely and warm, and one is falling asleep. The word "Winter" is on the inside of the mug.