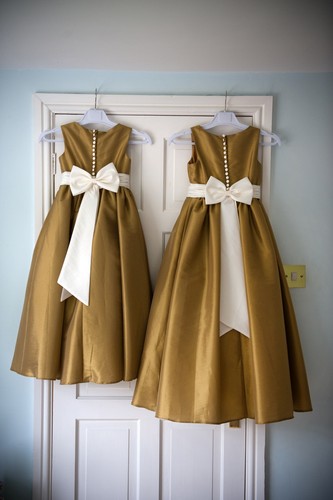 It is the day you, as a woman with many girlfriends, dread with fear in the pit of your stomach: one of your best girlfriends asks you to be a bridesmaid in her upcoming wedding. You love your friend and don't mind being there for her on this big, important, special day, but the thought of wearing a hideous, puffy, weird coloured or ugly bridesmaid dress that will cost a lot and then be relegated to the back of the closet gives you the shivers. Perhaps you can help your friend select beautiful bridesmaid dresses that can actually make a reappearance after the "I Do's" have been said, or even better, she may let you pick your own bridesmaid dress as long as you stay within her chosen colour scheme and wedding theme.
There are definitely bridesmaid's dresses available that are flattering, beautiful, and appropriate to wear again to a cocktail party, work event, or other formal affair in the future. Select a bridesmaid dress that not only the bride will love, but also you'll be thrilled to have the chance to wear again. This guide contains suggestions on what to look for when you're buying a bridesmaid dress that will not only shine on your friend's wedding day, but also continue to look beautiful for other events and parties you can wear it to.
What to Look For in a Bridesmaid Dress
When it comes to choosing a bridesmaid's dress that you can wear again, there are a few different factors that come into play. Those factors include the dress style, length, price and colour. It is important to take into consideration the various factors to find the perfect bridesmaid's dress that can be worn time and time again.
Bridesmaid Dress Style
The style of the bridesmaid dress should be flattering and made of wearable material. In the past, most bridesmaid dresses were made from stiff, uncomfortable, and unattractive materials such as taffeta or satin. Now, there are more options for bridesmaid's dresses that will be more wearable later on. Select a dress made of pretty, loose chiffon, elegant tulle fabric, or even silk. These fabrics fall softly on the body and create a nice silhouette that will be perfect for other events. Pick a dress that you can imagine outside a wedding, such as at a holiday party for your job, or an evening out at the opera. If it passes that simple test, it is probably a great bridesmaid dress you can get more than one use out of.
The most universally flattering style for most women is a scoop neckline. If all the dresses must look the same, this style will work for everyone. If each bridesmaid gets to choose her own dress, then you can pick the neckline that looks best on you. An A-line or circle style skirt is flattering for every shape and will also make a great evening dress once the wedding is over when paired with great shoes.
Bridesmaid Dress Length
Ideally, the bridesmaid's dress you choose that will ensure you get the most wear out of it will be knee length or a bit shorter. However, a tea length or long bridesmaid dress can always be shortened later, so it's not that big of a deal. If the choice is yours, select a knee length dress unless you're comfortable with a shorter length, but for a formal wedding knee length is usually considered more appropriate. Also check the measurements of the dress and think about which shoes you'll be wearing with the dress, which will affect the way it looks. Also think about what shoes you'll wear with the dress after the wedding.
Shopping for bridesmaid dresses online is easy, but it definitely helps to know how you'll be accessorising the dress at the wedding so you can imagine how all the little details will fit together in order to have a more complete picture in your head of how the dress will look on you.
Bridesmaid Dress Colour
Usually a bride has one wedding colour in mind for the bridesmaid's dresses, but some brides may let you pick from a general palette of colours. Always opt for the most flattering colour for you if the choice is given. If it's a black tie wedding and her colour is black, selecting a fabulous little black dress is simple. For colours that may not look great on you, such as yellow, orange, or cream, or colours you're simply not a fan of, such as pastel pink, keep in mind that any dress that's light enough can be dyed later to a darker shade so you can wear it confidently again.
Typically most brides wants their bridesmaids to wear matching coloured dresses, so it's possible you may end up in a dress at the wedding that isn't your best shade, but it can always be easily customised later so it isn't a total waste of money. If you get to choose your shade of the same colour, go for the most flattering tone of that shade. And even if the colour isn't great, a flattering dress cut can still make you look and feel fabulous.
Bridesmaid Dress Price
Sometimes bridesmaid dresses can be exorbitantly priced. Avoid this by shopping for your bridesmaid dress on eBay. Keep to your budget and don't spend more than you can afford, after all, it is generally a one time use dress, and any extra wear you can get out of it is great, but you shouldn't have to spend a fortune to be in a wedding. Consider what you think is a reasonable amount to spend on the dress and stay within that price point for best results.
You will also need to consider the cost of shoes, accessories, your hairstyle, stockings, or any other extras that you'll need for the wedding, along with any extra costs after the wedding if you need to shorten or dye the dress to get some more use out of it.
Taking the Bridesmaid Dress from a Wedding to a Cocktail Party
It may be easy to create a cocktail dress from an already pretty bridesmaid dress. First, you can have any items removed that scream "bridesmaid," such as bows, extra ribbons, sashes, or lace. Next, add straps to a strapless dress to make it look like a lovely cocktail dress, or conversely, remove straps to create a different look for your bridesmaid dress.
Dyeing a light coloured dress can make a dramatic difference and make a plain dress into a stunning one, as can altering the length to further customise the dress. Another way to make the dress your own evening dress is to accessorise it the way you'd like. Add your own belt, necklace, earrings, bracelet, and hair accessories along with the perfect pair of heels for a dress that nobody would ever believe walked down the aisle at a wedding. Additional items like a nice, elegant wrap or pashmina, ribbon belt, rhinestone clip or brooch, and sheer hose can also add more personalisation and make the dress look less like a bridesmaid dress and more like a cocktail or party dress.
How to Buy a Bridesmaid Dress You Can Wear Again on eBay
Buying a bridesmaid dress that can go from wedding to wonderful cocktail dress on eBay isn't hard. Search general terms like bridesmaid dress, formal dress, or cocktail dress to begin shopping; narrow the search based on criteria like colour, price, and size of the dress you'd like to purchase. Once you've gotten all the specifics keyed in, begin your search for the dress that either the bride would like you to wear or one of your choosing based on the bride's specifications. Consider the length of the dress, the neckline, and the style as well as what shoes you'll be wearing with the dress.
Make sure the seller has listed exact measurements of the dress, and it is good to know all your own measurements before shopping so you can get a dress that fits perfectly. Communicate with the seller and if the seller is local, arrange a personal pick up and the seller may even let you try on the dress in person. Ask if there are any items that can be bundled with the dress for lower shipping, such as accessories or hair items. Only shop with Top-Rated sellers that have excellent buyer feedback so you know you can buy with confidence.
Conclusion
Being a bridesmaid in a friend's wedding doesn't always have to be a groan inducing experience; it could end well if the dress can be worn again after a few tweaks. Purchasing a bridesmaid dress on eBay is fun and less painful than trying on a million dresses in a store. Search for the perfect dress online and minimise the time it would take to visit formalwear stores searching for the perfect dress. Envision the way the dress could be customised later to become the perfect cocktail dress, little black dress, or holiday party dress so the bridesmaid dress will be worth the money that was spent.
A nice formal dress can be worn many ways for many uses; a long dress can be shortened into a cocktail dress, a strapless dress can have spaghetti straps added to it, and a plain dress can be made a little more interesting with a sash or belt, shawl, rhinestones, or sparkling jewellery and hair accessories. Bridesmaid dresses have come a long way since giant bows, stiff, uncomfortable fabric, and puffy, oversized skirts. These days, bridesmaid dresses can reflect current trends and be just as lovely as other types of formal wear. A bridesmaid dress can be flattering, beautiful, and perfect for all types of occasions other than the one it was solely meant for.