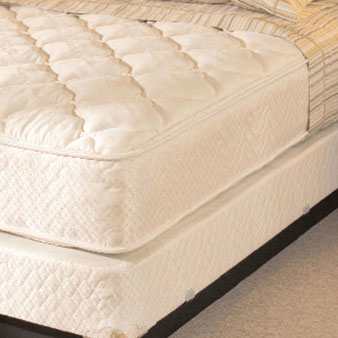 For consumers that have been sleeping on a rock hard mattress that's creating back pain, or perhaps a mattress that has simply seen better days, it's time to upgrade to a newer model. For whatever reason a consumer needs to shop for a double mattress, buyers know they want to find one that's not only affordable but comfortable as well. The right mattress can mean the difference between a horrible or wonderful night of sleep, so consumers will want to weigh mattress options carefully and get a mattress that's supportive, but soft, and will support his or her back and neck all night long for the best night of sleep possible.
Finding a comfortable double mattress on eBay is convenient and easy, and buyers don't have to make a million stops at furniture shops to look at mattresses. It's best to research ahead of time to find out which brands, types, and styles of mattress are more commonly preferred, this way selecting the best type of double mattress will not be a difficult task.
What to Consider Before Buying a Comfortable Double Mattress
Before shopping for a new double mattress, the buyer should think about what his or her specific sleeping needs are. Some consumers hate sleeping on a hard bed, and some buyers may need the extra back support that a firm mattress gives. Perhaps consumers enjoy sleeping on a pillow top mattress, and may enjoy the softness it cradles the body with. Don't forget that if a mattress is being replaced, it's most likely time to buy a new box spring, too. These can also wear out over time, and it's better for back support and overall comfort to buy a new one.
Some mattresses are extra thick, which some people find comfortable, but some people don't. Selecting the individual's mattress preference can help when shopping for a double mattress, because everyone's body is different and every individual has a specific mattress preference. Consumers also may want to shop by brand, such as Silentnight or Miracoil. A memory foam mattress might be a good option for someone with a lot of neck and back issues.
Common Types of Double Mattresses
When it comes to shopping for double mattresses, it can be confusing. There are several different types of mattress that consumers will run into, and each type can be good for each different person, so each buyer will need to think about what features in a mattress are the most important to them before selecting one.
Memory Foam Mattress
A memory foam mattress is similar to a memory foam pillow. The material of the mattress, which is a type of foam that can conform and mould to the body, is a comfortable choice for a sufferer of back pains and neck aches. The foam is very supportive, but for people that don't need the support, it might be uncomfortable. Consumers that need extra support should consider one of these mattresses. It's also a good option for allergy sufferers, because memory foam is hypoallergenic as well as antibacterial and resistant to dust mites.
Memory foam mattresses do come in varying levels of firmness, so consumers can customise the level of support they are getting, so perhaps the mattress won't be too hard. It can take a little while to conform the mattress to each individual's body for a good night of sleep.
Orthopaedic Mattress
An orthopaedic mattress is a specialised mattress that is specially made for people with chronic back problems. This type of mattress offers specific support to the body's pressure points that will help alleviate pain while sleeping, and buyers will wake up feeling more refreshed and with a lesser amount of pain in the back area. These types of mattresses are also hypoallergenic, and generally come with medium firmness.
An orthopaedic mattress may have extra coil springs to give added firmness and support to prevent back pain, and for people that have back pain, they can be a great solution to that problem. A good orthopaedic mattress may be costly, but will last for years.
Coil Spring Mattress
An all around, basic good type of mattress for most sleepers is the coil spring mattress.This mattress comes in degrees of softness from quite soft to very firm, and they are less expensive than memory foam or orthopaedic mattresses. For consumers that don't have any pressing back or neck issues and just need an all around good mattress, a coil spring mattress is a good option.
A coil spring mattress is generally made up of one coil spring that distributes weight evenly throughout the mattress, and has supportive springs in the middle of the bed, too.
Open Spring Mattress
An open spring mattress is probably the most common type of double mattress. The springs are open for flexibility, and can be very comfortable and soft for a person that enjoys a plusher, soft, mattress, and they are a good value for the money. An open spring mattress is good for people that have zero to mild back problems, because consumers can buy an open spring mattress that's also orthopaedic for a more comfortable mattress, but still need the range of support that an orthopaedic mattress can offer.
The stitched edges also offer a more finished look and supportive corners to the bed. An open spring mattress, like a coil spring mattress, is a good affordable option for any sleeper that doesn't need a lot of bells and whistles and just wants a good, comfortable mattress for their money that will last a long time.
Pocket Sprung Mattress
A pocket sprung mattress has springs that aren't connected, so for consumers that roll around a lot or sleep with a restless sleeping partner, his or her sleep won't be interrupted. It gives each sleeper individual support and is also quite comfortable while being supportive, too. A pocket sprung mattress is recommended for consumers that frequently sleep with a child, partner, or even animals; it won't matter if the dog jumps on the bed, because chances are, nobody will wake up.
These mattresses can vary in price and can also vary in firmness, so the consumer can choose the exact level of comfort her or she would like. A pocket sprung mattress can also be hypoallergenic if consumers have allergies and need a mattress that addresses those needs, too.
How to Select the Right Double Mattress
Now that consumers know what the basic double mattresses are, it should be easy to narrow down the style that will benefit each specific buyer the most. For people that need more support, it's helpful to choose a comfortable memory foam or orthopaedic mattress to cradle an aching back or neck. For sleepers that just need a great night of rest and no extra enhancements, a coil spring or open spring mattress will easily fit the bill.
For sleepers that don't sleep alone, a pocket sprung mattress can really make the difference between a bad night of sleep and a good one. For consumers that have a rolling child, kicking partner, or big dog sleeping as a sleeping buddy, choose this type of mattress for the most comfortable night of sleep a person can get.
How to Buy a Comfortable Double Mattress on eBay
When you're going on eBay to find the perfect comfortable double mattress, you can search double mattresses, and then narrow the selection based on which type of mattress you would like. Alternately, you can search based on a mattress type, such as memory foam mattresses, to lead you to your desired results. When you're shopping for a double mattress from a merchant on eBay that's a Top-Rated Seller, find out what the mattress comes with. Can they sell you a set that includes a box spring for a reduced shipping rate? A bundled package like this can be a wonderful deal and get you exactly what you need.
If you don't want to deal with shipping costs at all, select a local seller and talk to them about doing a pick up in person for your double mattress. This can alleviate some frustration when it comes to dealing with shipping such a large item, and it can save you money, which you may want to use to buy new bedding with.
Conclusion
Purchasing a comfortable double mattress doesn't have to be a hassle. Once consumers know what they are looking for, there are a wide variety of mattress options on eBay, and buyers can take their time selecting the perfect mattress for them based on their own individual sleeping needs, the price and budget allotted for the double mattress, or brands the buyer enjoy that are high quality. A consumer may need a set of box springs or not, and buyers can communicate with sellers to find out what exactly buying the mattress entails. The right mattress can last for ten years, and it's definitely an investment buyers want to consider carefully before jumping into, because sleeping on an uncomfortable mattress can cause a range of problems including sore neck, sore back, and loss of a good night's sleep.
Whether buyers have allergies, arthritis, or sleep with the most active sleeper on the planet, there is a comfortable double mattress for each person that will turn the worst night of sleep into a peaceful, dream filled experience that will leave consumers feeling comfortable and refreshed in the morning.