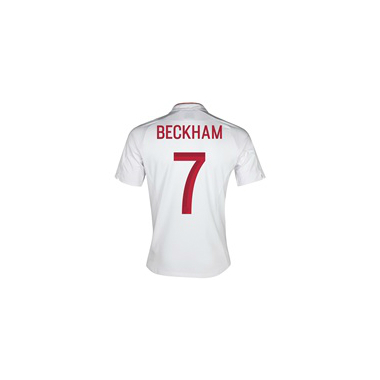 A David Beckham signed England shirt includes any England shirt signed by the football player. These can range in condition, year of release, and even the size and type of signature, so value and style do vary. If buyers do not want or are not able to purchase a shirt and stand in line for a signing, they have the option of looking for signed shirts in a variety of locations including sports speciality stores and online stores. Typically, England shirts are more valuable than club shirts, so buyers should be prepared to spend a little more on the shirt.
Buyers should check the year, condition, and authenticity of the signature before making a purchase. Many David Beckham signed England shirts come with a certification to ensure that the signature is genuine although many in-person or self-signed signatures do not come with this certification. The latter are usually more affordable but buyers also take a risk on the signature being false. The following information can be used to find and purchase a signed David Beckham England shirt.
Type of Signature
The first thing that any buyer should consider is the type of signature on the shirt. While any David Beckham signature might be appropriate for anyone who is not a collector or who simply wants a good deal, it is important to note the differences between the different signatures in order to value them appropriately. The following list includes most of the types of signatures, although some sellers who acquired their shirt from someone else might not know the difference.
Certified Signed
A certified signed England shirt is one that has been signed for publicity or sale reasons such as a giveaway, promotion, or limited edition sale. These shirts come with a certificate of authenticity and were most likely signed in bulk, all in the same place at the same time. This means that duplicates of the shirt do exist. This is a very high quality type of shirt because typically the signature is put on in optimum conditions such as on a table and given some sort of waterproofing to preserve the signature.
Certified Signed in Person
Certified signed in person means that the shirt was signed at a public signing. Someone purchased an England shirt and then stood in line to have it signed either on a table or while wearing the shirt. This is also a high quality signature from David Beckham that is currently available, as these sellers are issued a 'certified signature' certificate after having their shirts signed.
Signed in Person
Signed in person means that someone, usually while wearing an England shirt, met David Beckham who signed the shirt. These signed shirts are not certified and therefore usually more affordable than certified signed shirts. However, the signature is likely to be in a different place from mass signings, which makes the shirt unique. Buyers do take a risk when purchasing any uncertified shirt as it is not verified as being real.
Multi-Signature
Multi-signature means that the shirt has been signed by more than one person. Examples could be the entire Manchester United Team, David Beckham and a member of Preston North end, or even Beckham and a member of any of his non British teams who might have been present when the shirt was signed. There are a lot of variations so it is always important to check the exact signatures before purchase.
Condition of the David Beckham Signed England Shirt
It is also very important to consider the condition of the shirt and the signature as these are used to value the shirt. A shirt that has been worn is of less value than one that is brand new with a quality signature, so it is always important to check. In person buyers can likely examine the shirt themselves, while anyone purchasing online should look at photos and read the description before buying the signed shirt.
New Shirts
A new shirt is usually a certified signed England shirt that was used as part of a promotion. Alternately, it could also be one that was purchased for the purpose of a signature and then never worn. In either case, this shirt shows no signs of wear, although the tags are most likely no longer on the shirt. New shirts are likely to be more expensive than worn shirts, although more affordable than framed or game shirts.
Worn Shirts
A worn shirt is one that has been worn, usually not by the player. These typically show signs of wear and tear such as fraying, stains, or simple fading. These are the least valuable signed shirts but still a good choice for collectors as they are 'authentic' in that they were usually signed in person by Beckham to a fan rather than signed in bulk. Usually, buyers can compare these to find the one in the best condition if a worn shirt is available.
Framed Shirts
Framed David Beckham signed England shirts are usually expensive due to the cost of the frame, but for anyone who would like a shirt that is not damaged in any way, the frame is a great idea. Usually, collectors put shirts in frames, which means that any framed shirt is likely to be from someone's well-taken-care-of private collection. Buyers who do not want to pay the price, or the cost of shipping if purchasing online, for a framed shirt, can consider purchasing their own frame for an unframed shirt.
Game Shirts
Game shirts are an extremely valuable option for buyers because the shirts have actually been worn in a game. Typically, these are very rare, very expensive, and should never be purchased without a certification. Usually, game shirts feature grass and dirt stains and hardly ever look new. They are most valuable when left unclean as any stains on the shirt are proof that they were worn in the game.
Age of the David Beckham Signed England Shirt
The age of the shirt also affects the value of the shirt so buyers should consider looking for specific years. While anyone can ask David Beckham to sign an England shirt at any time, buying one from his time on Manchester United or from the Champions League is definitely a better value purchase. Buyers can look at the date signed, as well as the insignia or logo on the shirt to decide when it was produced and signed.
Finding a David Beckham Signed England Shirt
David Beckham signed England shirts can be hard to find, especially for buyers who do not want to use the Internet. Most are owned by professional collectors and individuals so an easy way to find them is online, in a sports specialty shop, or at a private auction of someone's estate. Buyers can choose to look through any of these venues, although local purchases are easier when going through private collectors, or by purchasing an unsigned shirt and having it signed.
Some stores do cater specifically in signed sports memorabilia including shirts, trophies, balls, and more. These are usually expensive ways to purchase a signed shirt from David Beckham, so anyone who is on a budget should be very careful when purchasing shirts. However, anyone who is looking for a specific shirt can usually ask a sports memorabilia shop to look for the shirt for them if they choose not to look for it online or in another store.
Buying a David Beckham Signed England Shirt on eBay
eBay is a great place to purchase football memorabilia including David Beckham signed England shirts because the website allows you to easily search through options and pick the exact shirt that you want. eBay sellers list from all over the world so you can find local or international items from collectors, usually at affordable prices. Typically, finding a shirt is easy as you can find the available options by typing in 'David Beckham signed shirt' or by specifying 'England' in the search on the eBay home page.
Remember to read the full description and check any photos of the David Beckham signed England shirt as these are your assurances of quality. You should also check the delivery time and cost of, especially if the shirt has to arrive by a certain date such as a birthday or sports party. Finally, consider asking the seller any questions you might have and then purchase the item.
Conclusion
Finding and purchasing a David Beckham signed England shirt requires consideration as to the quality and value of the shirt. Buyers must decide which type of signature they would like including certified or non-certified, and whether the shirt should be new or used. Sometimes there are limited options available so every option might not be up for sale during the purchase period. Buyers can look on online sites such as eBay to find shirts more easily but still might have trouble finding very rare items.
Important considerations when purchasing a signed shirt from David Beckham include verifying the team, checking the signature, checking if a certification has been provided, and checking the condition of the shirt. Options vary from new to used, and the shirt might be a game shirt or in a frame. Each variation changes the value of the signed shirt, so it is always important to research before buying the shirt.