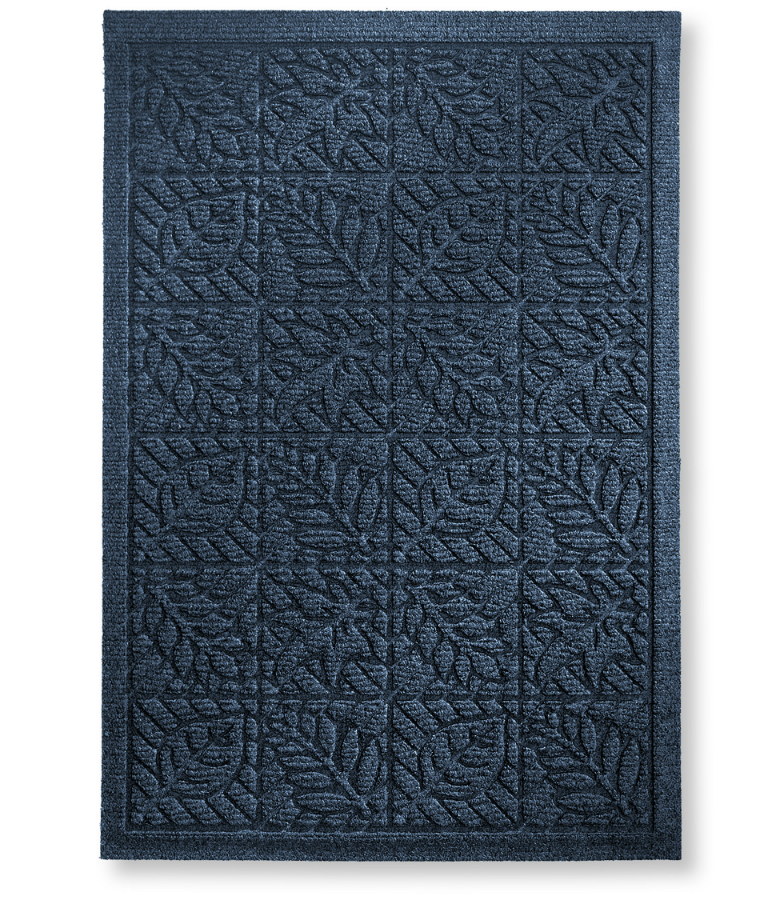 Laying a doormat outside a home's entrance is a sign that the residence is occupied and also serves as a friendly, decorative welcome to visitors. Indeed, some doormats literally spell out "Welcome" or some other warm and cordial message. Perhaps more importantly, doormats also serve a functional purpose in that they trap dirt, debris, and moisture. In effect, they keep these substances from being tracked indoors onto the floor or carpet. Therefore, having doormats at each entry to the home is a good way to cut down on sweeping and vacuuming.
With so many different designs available, however, shopping for a doormat may be a little bit confusing for buyers. When looking to purchase doormats, buyers should first decide what type of material looks best with their house and would be most useful for the area. Then, shoppers can take the size, shape, and colour into account and consider novelty doormats.
Doormat Materials
Probably the most important decision when it comes to buying a doormat is choosing the material. The material not only affects the look of the mat but also how it functions and what type of care and maintenance a homeowner must provide to extend the mat's useful life.
Rubber Doormats
A pure rubber doormat is perfect for wiping thick clumps of mud off of boots and shoes. The rugged texture is effective at cleaning shoe treads. This type of doormat is ideal for rural areas, such as farms and boggy areas. Such a mat can be left outdoors indefinitely without worry of rot. Some doormats advertised as "rubber" are actually carpet or coir mats with a rubber backing, and these kinds are not as hardy.
Metal Doormats
Metal doormats are among the longest-lasting types of doormats. They do not stain or wear out and are easily cleaned. Examples include decorative cast iron versions and more industrial-looking steel doormats. Some are sunken into the floor or walkway at the time of construction, while other metal mats can be placed on top of a finished floor, porch, or sidewalk. Another advantage is that strong winds cannot blow them away.
Natural Doormats
Eco-conscious people may want to look into doormats made of natural, renewable plant materials. Fibres like coir and jute are quite durable and look attractive as well. Harder plant substances such as bamboo and wood can also make good doormats.
Fabric Doormats
Doormats made of different fabrics may be woven, braided, or tufted like carpets. Possible materials used for doormats include
Whether natural or synthetic, a fabric doormat usually does better indoors, where the colour tones and patterns can enhance the décor of a room and the material is safe from the elements. They can easily be vacuumed or even thrown into the washing machine for regular cleaning.
Doormat Sizes, Shapes, and Colours
The doormat material may be what plays the largest part in its usefulness, but many people also wish to consider aesthetics. Elements that affect the look of a doormat include its size, shape, and colour.
Doormat Sizes
Doormats come in a variety of sizes. The choice of size depends on the size of the entryway, the amount of traffic passing by, and the general look that is preferred. The following chart shows a list of common sizes and their conversions from metric to imperial.
| Metric Size (centimetres) | Imperial Size (feet) |
| --- | --- |
| | 1 1/3 by 2 |
| | 2 by 3 |
| | 2 by 4 |
| | 2 by 6 |
| | 2 1/2 by 5 |
| | 3 by 5 |
| | 3 by 6 |
| | 3 1/4 feet by 5 |
| | 4 by 6 |
For a private residence, the smaller sizes usually work best, whereas in a business or industrial application, larger doormats are often used to accommodate a heavy load of foot traffic or cover a wide expanse of a corridor.
Doormat Height
One should also consider the height of the doormat when deciding on the right measurements. It is important that the doormat not interfere with smooth functioning of the door. A doormat that is too tall will either get pushed out of place by the door or make the door difficult to open fully.
Doormat Shapes
The most common shape for doormats is the rectangle, both inside and outside, but other shapes are available for variety. One can find oval, round, and even square doormats. A true oval is egg-shaped, but many semicircular or half-round doormats are listed as being ovals or just round. A truly round doormat may resemble a small decorative carpet or be made to look like a sports ball, such as a football or baseball. Doormats with rounded edges generally give a softer, more organic look than rectangles, but some people prefer the straight sides because they can be placed flush with the edge of the doorstep.
Doormat Colours
Outside doormats are often the most utilitarian and are frequently found in neutral colours. Rubber mats are most often black, while wood and natural fibre mats are likely to be brown or beige. More carpet-like mats are often seen in cheerful hues, such as red, green, and blue. These tones add a nice pop of accent colour to the exterior of the home.
Novelty Doormats and Doormat Humour
In addition to plain versions, doormats also come in novelty shapes, such as moustaches, footprints, and other unusual designs. Many novelty doormats are printed with funny sayings, much like slogan t-shirts. Others feature cartoons or other images, such as flowers, cats, and even the Union Jack. When it comes to more refined message mats, the aforementioned "Welcome" mat is one of the most popular; however, other options include "Home sweet home" or other such sentiments. Doormats can even be personalised with the household's last name, as in "The Cavanaughs", a monogram, or perhaps even a coat of arms, or other custom image.
Doormat Cleaning
Unfortunately, many doormats are left in place forever, either rotting outside or accumulating months of grime indoors. A few minutes of care every once in a while keeps the doormat doing its job properly and helps it to last longer. Outside doormats should have debris knocked out of them on a regular basis. Most weatherproof doormats can simply be hosed off and placed back in their regular spot to dry. Interior mats can be laundered, vacuumed, or beaten, depending on the materials from which they are made. Sweeping with a good, stiff broom is another cleaning technique that may be used on both outdoor and indoor mats.
Where to Find Doormats
Doormats range from discount to designer and can be found at a variety of locations, usually wherever home goods are sold. Options include department stores, bed and bath stores, home decorating outlets, discount stores, dollar stores, and hardware stores. You can also purchase doormats online, either through specialty retailers or online marketplaces such as auction websites.
Used doormats may still be in excellent condition, depending on the material. These can be found through private sales, in resale shops, or on Internet auction sites as well.
How to Buy a Doormat on eBay
Doormats are easy to find on eBay, especially because of the helpful search tools. You may locate the available listings in two separate ways. The first way is to start on the home page and navigate through the various categories until you find the appropriate one that will include door and floor mats. The second way also starts on the home page. Look for the search bar and do a keyword search for "doormats". This will generate a listing of all the products related to that keyword. Either way, you can make use of the clickable category filters to further narrow down your results, which is especially helpful when there is a large selection to look through. Filtering options may include size, shape, material, main colour, even brand and condition. Some sellers offer free postage and packaging, so you can sort your results by all listings that offer this if you prefer.
Conclusion
The doormat is a useful item that should not be overlooked. Anyone who wishes to cut down on their housekeeping chores would do well to place several doormats at strategic locations. Furthermore, a doormat makes a perfect housewarming or wedding gift. It is one of the finishing touches that make a house into a home.
Choosing the doormat material depends on whether the mat is to be used indoors or outdoors, whether a buyer wants a highly functional, durable, weatherproof doormat or a decorative design to coordinate with the home interior. The material should be selected accordingly. It is useful to place one doormat outside every exterior door and then place another one on the inside of the same door. Where there is no portico over the entryway, it is best to go with a weather-resistant mat instead of a carpet, which will quickly become saturated with moisture and grow mouldy or rotten. More often, carpet mats are best used on the interior side of the entryway door. This provides an extra measure of dirt and moisture control as people come through the door.
Doormats come in a wide variety of sizes, shapes, and colours to suit anyone's taste. Mats can also come with attractive designs, funny sayings, or some type of personalisation. With so many choices, even the lowly doormat can be something that accents the overall look of a home.