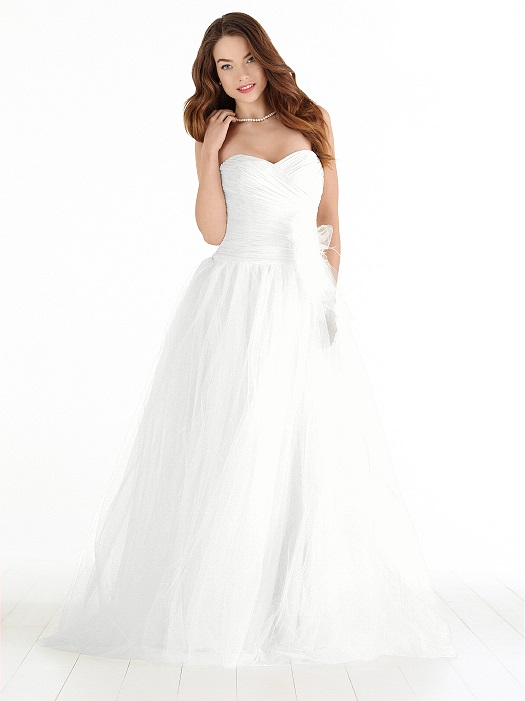 Every woman wants to feel special on her wedding day. Most likely, she will spend a lot of time on hair and makeup, but the most time will be spent selecting a wedding dress that will emphasize her best features. All brides want to feel like a princess for a day, which is probably the reason why so many brides choose a dramatic ball gown wedding dress.
Ball gown wedding dresses are often confused with princess dresses because their style and design often resemble something from the most romantic fairy tales. However, princess wedding dresses are distinctly different although some may appear similar to ball gown ones from afar.
Younger brides generally choose ball gown dresses. While a ball gown dress can look good on almost anyone, women should still be mindful of certain factors when selecting their wedding gown. This guide provides brides with information on how to differentiate dress styles and select the right ball gown design for their body type.
What Is a Ball Gown Wedding Dress?
The name should probably give anyone wondering an idea of what the dress looks like, but for brides who are uncertain, they should think of the type of dress that Cinderella wears to the ball. Ball gown dresses are sometimes referred to as fairy-tale style dresses and are generally the dress of choice for fairy tale weddings. The upper bodice hugs the body down to the waistline and then expands in a 360 degree poof.
Ball Gown Wedding Dresses vs. Princess Wedding Dresses
Ball gown wedding dresses can sometimes easily be interchanged with princess style dresses. If a bride is certain that she needs a ball gown dress, she should look at her choices carefully and use the information provided below to tell the difference.
Princess Dresses
Princess dresses also hug the upper bodice and flair from the waist, but the major difference can be seen in how the seams run on the dress. They run vertically from the shoulders down to the flare of the skirt, and there are no defined waistline seams. Princess dresses are also called A-line because the skirt flare resembles the shape of the letter "A". Sometimes, princess dresses are worn with a puffy petticoat, which makes them even more similar to ball gown dresses.
Ball Gown Dresses
As opposed to a princess gown, ball gown dresses have a defined horizontal seam around the waistline. The skirt is generally attached separately and has a wider flare. Sometimes, the skirt is made from a different material to give it a contrasting design or to add extra flare.
Who Should Wear a Ball Gown Dress?
Young women tend to gravitate towards ball gown dresses due to the fairy tale allure. This dress type can make a bride feel like "princess for a day", but if it does not suit her body type, she may feel frumpy or weighted down, which then shatters the fairy-tale illusion.
What are the Different Body Types?
Before a bride can determine what type of ball gown dress to choose, she should first ascertain which design is more suitable for her body type. However, before that determination is made, she will first need to know her own body type and its characteristics.
Shape

Characteristics

Hourglass

Busty with wide hips

Small, short waist

Average/long legs with thick thighs

Average/broad shoulders

Brick

Broad shoulders and no waist

Average tummy with a relatively flat bum

Chunky thighs and calves with average legs

Skittle

Small/average breasts with narrow/average shoulders

Slim waist with average belly

Similar pelvis and hip width

Average/short legs with thick thighs and calves

Lollipop

Big breasts with a slight waist

Slim hips and long legs

Average/broad shoulders

Cornet

Broad shoulders with small breasts

No waist with slim hips and long slender legs

Pear

Narrow shoulders and small breasts

Long waist with a relatively flat tummy

Bigger bottom with possible saddlebags

Short thick legs

Cello

Average/broad shoulders

Big breasts with a short waist

Big hips, bottom, and thighs

Slim lower legs

Goblet

Broad shoulders and a busty chest

little to no waist

Narrow hips and long legs with a slight tummy bulge

Column

Similar shoulder and hip width

Slight waist with long legs

Bell

Small shoulders that are often much smaller than the hips

Small breasts and waist

Average or long legs

Big thighs and bottom

Apple

Narrow shoulders and average breasts

Tummy often protrudes beyond breasts

Average legs

Vase

Big breasts with a slightly curvy long waist

Similar hip and breast size

Slim thighs and legs
Ball gown dresses are pretty straight forward in their design, but with 12 different female body types, the fit for each bride will not be the same. Each woman should consider the flaws and/or assets of her body type before choosing a design.
Accentuate Features and Hide Flaws
A ball gown dress can be ideal for all body types as long as the bride is able to admit her flaws and select a dress that hides them. Ball gown dresses can give the appearance of wider hips to women whose body types have smaller hips, and it can hide extra wide hips in more curvy body types like cello, bell, and pear-shaped women.
Even though ball gown dresses are versatile, there are still a few women who may want to think twice about selecting one for their wedding regardless of body type. Women with big bodies may find that their dream gown makes them look even bigger, and very petite women may experience discomfort in lugging around a dress that weighs almost as much as they do.
Big women who insist on getting a ball gown dress should avoid ones with overly decorative or fussy bodices. They should also opt out of a petticoat or wear one that is extremely thin because their body already provides some flare to the skirt of the dress. Extremely thin women should consider strapless, ball gown, wedding dresses and select a petticoat that is wide but not too heavy.
Ball Gown Wedding Dress Sizes
The hugging top and wide skirt flare of ball gown wedding dresses tend to have many women guessing the appropriate dress size. It is always best to consult the dress size chart provided by the seller and compare them with recent body measurements. Below is a wedding dress size chart that can be used in the event that seller does not provide one. Measurements are in cm. Sizes are estimated and may vary by brand and manufacturer.
| | | | | | | | | |
| --- | --- | --- | --- | --- | --- | --- | --- | --- |
| Size | 6 | 8 | 10 | 12 | 14 | 16 | 18 | 20 |
| Bust | 83 | 84 | 88 | 90 | 93 | 97 | 100 | 104 |
| Waist | 65 | 68 | 70 | 72 | 75 | 79 | 83 | 86 |
| Hips | 91 | 92 | 96 | 98 | 101 | 105 | 109 | 112 |
| Hollow to Hem | 147 | 147 | 150 | 150 | 152 | 152 | 155 | 155 |
| Height | 160 | 160 | 165 | 165 | 170 | 170 | 175 | 175 |
Ball gown wedding dresses are generally made with a wide flare skirt and thus the hip measurements are not often highlighted. However, this information should be considered, and emphasis should be placed on the bust, waist, and height measurements.
Bust
Bra sizes should not be given as bust measurements, but women should wear bras while being measured. The measuring tape should completely measure the circumference of the back and run across the fullest part of the breasts with arms relaxed and down at the sides.
Waist
This is a measurement of the circumference of the smallest part of the waist; this should be approximately 2.5 cm above the navel.
Height
The height measurement for a ball gown dress can be a little tricky. The height should be measured from the back and should range from the top of the head to the base of the feet. However, at least an additional 12 cm leverage should be added to facilitate the extra width of the petticoat. If possible, the bride should take this measurement in the same shoes that she will wear on her wedding day. She can also wear a pair of shoes with a similar heel height.
How to Buy a Dramatic Ball Gown Wedding Dress on eBay
These wedding dresses are almost always dramatic, but some designs cater to brides who want a more demure look. eBay's wide collection of ball gown wedding dresses caters to both preferences, so if you are looking for the dramatic, just follow the procedures below.
First, you can perform a general search for ball gown wedding dresses from eBay's home page. The truth is that you will not see any results if you input the word "dramatic" in your search; sellers are not often that descriptive. You will have to find the dresses that are "dramatic" to you. The general search will return with over 12,000 ball gown wedding dresses of various designs and colour; this is where you would select additional filters to minimize the choices to get you closer to your dream gown.
If you are already certain of the main colour and material you would like; it may be easier to include those details in your initial search before applying additional filters. For instance, you could search for "white satin ball gown dresses" and be greeted with array of styles and designs to suit your preference. At this point, you could filter the options by either neckline or sleeve style to make the selection process even simpler. Try to select at least two options and then contact the sellers for a size chart and shipping details before making a definite choice.
Conclusion
Many women break down and become frustrated when trying to select a wedding dress. Finding the right gown is often considered high priority among the many important decisions she will have to make about her wedding day. Ball gown dresses are a popular choice, and eBay provides a wide selection; however, having too many choices can also be an issue for many young brides.
A bride should first determine her body type and ascertain the best designs to suit her figure. She should also have recent measurements done by a seamstress or anyone except herself. Once these details are hashed out, she can begin her search.
Going through pages upon pages of wedding dresses may easily fluster brides, but eBay's filters allow these brides to easily narrow their choices and become closer to finding that dream dress. Many dresses may be classified as ball gown wedding dresses by their sellers, but their silhouettes are not what the bride is looking for. The easy pictorial layout on eBay allows brides to quickly skim through the options and select the one that is right for them.