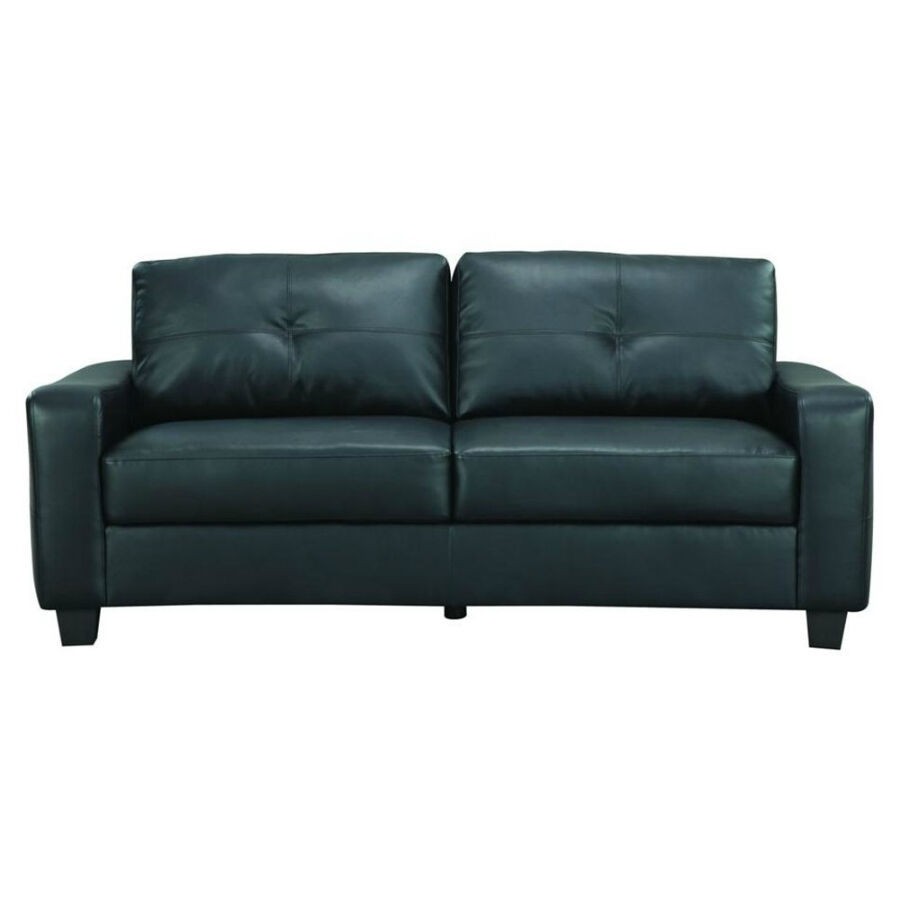 A sofa is often found in a living room, and sometimes, a bedroom. Sofas are designed to seat two or more people, and some have armrests. Sofas can be partially or fully upholstered and are often fitted with springs and tailored cushions, which are used as padding for the seats. Sofas come in various types including loveseats and sectional sofas, and some can fold out into a bed. Sofas are made from a wide array of materials, most notably, leather or faux leather.
Faux leather sofas have many of the same attributes as natural leather sofas: the appearance of high quality faux leather can often not be differentiated from natural leather. However, no animals are harmed during the manufacturing of faux leather. It also a less expensive alternative to natural leather. Faux leather comes in many forms, more commonly polyurethane and PVC. Polyurethane is easier to care for, breathable, and more environmentally friendly, whereas PVC tends to be more difficult to care for and does not breathe as well.
Faux leather sofas are available from furniture shops and department stores, as well as online. When purchasing a faux leather sofa at retailers such as eBay,, buyers should consider the grades of faux leather, the various materials and types, and the advantages and disadvantages of the material. Buyers should also familiarise themselves with the differences between faux leather and natural leather, and learn how to care for faux leather sofas properly.
Grades of Faux Leather
To create faux leather, various polymers are blended with the leather to create a material that resembles natural leather. Vinyl and a softener are injected into the leather to create durability and to mimic the texture of natural leather. As with natural leather, there are different grades of faux leather. The number of polymers used determines the grade of the final product: the greater the amount of polymers, the lower the grade.
Materials for Faux Leather Sofas
Faux leather sofas are made from a variety of materials. The materials include polyurethane and polyvinyl chloride (PVC).
Polyurethane
Faux leather sofas can be made by coating a fabric such as cotton or polyester with a flexible polymer. The material is then treated to mimic the appearance of animal hide. Polyurethane is easier to keep clean than other types of faux leather. It is also softer, more flexible, and more durable, making it the ideal material for sofas that receive high volumes of use.
PVC
Faux leather sofas can be made by adding plasticisers and dye to PVC. This helps to make the material more flexible and gives it the colour of natural leather. PVC cannot be dry cleaned because the cleaning solvents used can cause the material to harden. PVC marks easily and is not as breathable as polyurethane, making it the less desirable choice.
Naugahyde
Naugahyde is a vinyl coated fabric. It strongly resembles natural leather and has a soft textural feel. It is often seen covering furniture in medical environments such as dentist chairs and chiropractors benches, but it can also be used for sofas. It is manufactured solely by Uniroyal Engineered Products in the United States, which created a mythical creature called Naugas and promotes the material as being 100 percent cruelty-free, because the Naugas shed their hides naturally and do not mind them being used to make products for human consumption.
Types of Faux Leather Sofas
There are various types of faux leather sofas that range in size and style. Choosing the best type for a buyer's requirements often depends on the amount of available space and personal taste.
Type of Faux Leather Sofa

Description

Ranges between 180 cm and 245 cm in length

Seats two to three people

Fits into most living rooms

Ranges between 150 cm and 180 cm in length

Seats two people

Ideal for smaller spaces such as flats

Ranges between 175 cm and 425 cm in length

Seats four to six people

Ideal for large living rooms

Pieces can be separated and used in smaller spaces

Unfolds to create a bed

Versatile: can turn a room from a living room to a bedroom

Unfolds to create a bed more simply than a sofa bed

Reclining options

Usually features a standard sofa and a loveseat

May also feature a matching chair
Buyers who live in smaller spaces may opt for a loveseat, while a sectional sofa is ideal for larger spaces and can comfortably accommodate more people. For those who often have guests staying overnight, sofa beds and futons are a great option.
Advantages of Faux Leather Sofas
Faux leather sofas are cheaper than their natural leather counterparts. They are animal and environmentally friendly, with the exception of PVC. Unlike natural leather, faux leather sofas can be produced in various colours, styles, and patterns. They can also possess a high gloss finish. Faux leather sofas are known for their durability, being easy to care for, and having low levels of maintenance. Faux leather sofas are not susceptible to cracks and are resistant to fading caused by sunlight.
Disadvantages of Faux Leather Sofas
Faux leather sofas do not age as well as natural leather sofas, so they tend to need more frequent replacement. They are also not as breathable, especially models made of PVC. Natural leather sofas contain a higher quality lustre and patina than faux leather sofas. Faux leather sofas are more susceptible to wear and tear and do not possess the same hypoallergenic qualities of natural leather. This is a downside for consumers who suffer from allergies. Faux leather also lacks the leathery smell that many buyers like.
How to Tell the Difference Between Faux Leather and Natural Leather
Although the two are made to strongly resemble each other, there are several noticeable differences between faux leather and natural leather. Faux leather both looks and smells different: faux leather has a rubbery scent to it as opposed to the distinct smell of natural leather. Unlike faux leather, natural leather usually has visibly, irregular pores, rough edges, and forms a pattern of criss crossing lines when folded. Faux leather may have printed pores, but the pattern often repeats itself. The edges generally resemble plastic and are smooth. Natural leather has a soft, smooth feel and a more satin unfinished look, while faux leather feels like plastic or vinyl and has a shine. Natural leather is also much warmer than faux leather. This is because the polymers used in the material of synthetic leather do not have insulating properties.
Caring for a Faux Leather Sofa
Buyers should always follow the manufacturer's care instructions when cleaning a faux leather sofa. Generally, faux leather sofas should be cleaned with products that are designed for plastic or synthetic materials. Buyers should dampen a cloth and gently wipe any dirt from the sofa's surface area. Faux leather sofas are stain resistant as their outer layer is made of plastic, which is not absorbent. When spot cleaning, it is best to use a diluted mixture of mild soap and water. If dealing with greasy stains, buyers may decide to use a mild cleaning solvent or rubbing alcohol to rid the material of the blemish. If the faux leather sofa ever needs to be disinfected, then buyers could use a solution made by diluting bleach with water.
Searching for a Faux Leather Sofa on eBay
To navigate to eBay's assortment of faux leather sofas, buyers should start their search on the eBay home page.. Using the search bar, buyers can type in any key terms related to the item that they are looking for. Buyers may choose to simply search for a "faux leather sofa&" or to type in more specific keywords such as "black faux leather sofa&". A more specific search narrows down the listings, although searching using this method often skips over items that may have been of interest to the buyer.
Alternatively, buyers can use eBay's advanced search feature to browse by category or price. This feature also allows buyers to search by location or to limit the listings of faux leather sofas to those available from Top-rated sellers.
Ask a Question
If not all questions regarding the faux leather sofa are answered within the item description, buyers are free to use the "Ask a question" feature on the item's listing page. This link is designed to help buyers to communicate freely with the seller. Most sellers are more than happy to answer any additional questions to promote a positive transaction.
Conclusion
Faux leather can mimic the appearance and feel of natural leather without the additional cost and maintenance. It is a great option, especially for buyers who support the ethical treatment of animals. Faux leather is often used to make sofas because the material is able to resist spills and stains. Buying a faux leather sofa requires some thought: buyers must weigh up the pros and cons of purchasing a faux leather sofa against buying a natural leather sofa, and learn how to differentiate between the two.
To prolong the life of the sofa, buyers should consider the various types of faux leather materials. Polyurethane is recognised for its ease of care and its durable surface while naugahyde is known for its softness and its strong resemblance to natural leather. Look for a sofa that matches the room's decor. Blacks and browns are popular choices. Buyers should purchase the faux leather sofa from a reputable seller and inquire about any additional information before placing a bid on eBay.