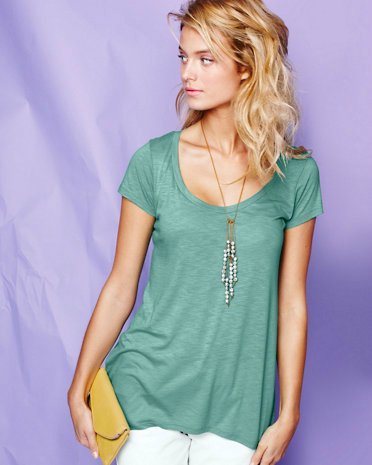 There are various types of women's cap sleeve shirts available in online and local stores. A woman may own at least three variations of each shirt type for many different occasions. Cap sleeve shirts are popular items in women's wardrobes, especially in tropical climates, but they can easily be worn three seasons out of four.
A cap sleeve shirt is versatile, but there are many different styles, and if a woman does not choose a style that complements her body, she will look less than flattering and feel uncomfortable in her shirt. Women should also consider the occasion and what clothes the shirt will be paired with before buying any particular cap sleeve shirt; they can be worn many different ways, but not all outfits complement each other. This guide highlights the characteristics of cap sleeve shirts and provides information on different styles that can suit all types of women.
What Is a Cap Sleeve Shirt?
Cap sleeves refer to a specific short sleeve design that can be found on many women's shirts and dresses. Many women's blouse and T-shirts have this design because of the way the sleeves are cut and stitched to fit their shoulders. Cap sleeve shirts and blouses are generally comfortable to wear for long periods of time and during numerous activities because the design allows easy arm movements with little to no restrictions.
Cap sleeves on T-shirts and some blouses generally circle the deltoid muscle, which is the top part of the shoulder before the biceps. Dress shirts and other similar blouse types tend to cap only over the outer part of the shoulder and do not circle to the underarm.
You can often tell the difference between a regular short sleeve shirt and a cap sleeve one just by looking at it. The underarm section of cap sleeve shirts are a lot shorter than the outer shoulder, and their overall length rarely exceeds 10 cm from seam to rim.
Types of Cap Sleeve Shirts
Cap sleeve shirts can be categorized as three basic types: T-shirts, dress shirts, and blouses. Women will become better cap sleeve shoppers once they are aware of their choices.
Cap Sleeve T-shirts
Cap sleeve T-shirts are probably the most popular kind, and they are also the most basic in design. They are simply stretchy, fitted T-shirts that often feature a built-in waistline and stop at the top of the hips. They will sometimes feature a print or stencil design on the front or back but not many embellishments, if any. Some designers have even added to the style by attaching contrasting cap sleeve colours to add a bit of flair. Women often wear plain cap sleeve T-shirts beneath jackets, cardigans, and blazers while wearing printed ones by themselves.
Cap Sleeve Dress Shirt
Cap sleeve dress shirts refer to shirts that are often buttoned at the front and made from cotton, linen, or other similar materials. Women can wear these shirts with a nice semi-formal skirt or pants during the workweek, or with a not so fitted bootcut jeans on a Friday. These cap sleeve shirts often feature top front pockets and a collar, and their caps tend to only cover the outer shoulders.
Cap Sleeve Blouse
Cap sleeve blouses fall somewhere between T-shirts and dress shirts because they are generally made with similar T-shirt, stretchy materials but also have more style and embellishments to make them dressier. Cap sleeve blouses can be worn to dinner, a semi-formal event, or even to the movies as long as the design is appropriate. Some have embroidered, beaded, crocheted, or lace designs and various necklines to show or hide cleavage.
Cap Sleeves vs. Sleeveless Shirts
Many people consider cap sleeve garments hard to wear because they cut across the top of the arm. Some women are still under the impression that they need to have toned arms to wear a cap sleeve shirt, but the same women see no problem completely baring their arms in a sleeveless shirt.
If a woman can select the right design cap sleeve shirt to suit her body, it is generally more flattering and dressy than a sleeveless one. Some people have bony shoulders, unless they have an overall chunky body. Displaying those bony shoulders with sleeveless shirts and dresses does not suit everyone.
Selecting a Flattering Cap Sleeve Shirt
Every woman can wear a cap sleeve shirt, but finding one that is right for her body type requires some guidance. There are three main body parts that should be considered before purchasing a cap sleeve shirt: the waist, bust, and arms.
Waist
Women with small waists can wear all cap sleeve styles without an issue, but women with wider waistlines should consider the dress shirt types that are worn more loosely in order to conceal any bulges.
Bust
All cap sleeve styles can be worn by women with ample or small busts; they must find a design more suited to their specific figure. For instance, busty women should go for longer cap sleeves and stay away from contrasting colours unless they want to actually emphasize their busty chests. Women with smaller busts should avoid plunging necklines and loose fitting dress shirts.
Arms
The arms are probably the most important factor when considering cap sleeve shirts. Women with thick or bulky arms should avoid shorter sleeves and focus more on caps that cover the outer shoulders. Exposing too much of the deltoid muscle will make the arms seem even bulkier, but the caps that covers the upper shoulders will balance out the contours of the arms.
Cap Sleeve Shirt Sizes
Cap sleeve t-shirts are often made with a polyester blend or other similar stretchy materials; therefore, selecting the correct shirt size can sometimes be difficult. Close fitting measurements can be used to determining the size for cap sleeve T-shirts, but a little room should be added for dress shirts and blouses. The chart below shows the most important measurements to help select a comfortable shirt size for women. Measurements are in cm. Sizes are estimated and may vary by brand and manufacturer.
| | | | | | | | |
| --- | --- | --- | --- | --- | --- | --- | --- |
| Sizes | 6 | 8 | 10 | 12 | 14 | 16 | 18 |
| Bust (cm) | 78.5 | 81 | 86 | 91 | 96 | 101 | 108.5 |
| Waist (cm) | 60.5 | 63 | 68 | 73 | 78 | 83 | 90.5 |
| Hip (cm) | 68 | 88.5 | 93.5 | 98.5 | 103.5 | 108.5 | 116 |
The actual sleeves do not play much of a part in selecting a cap sleeve shirt size, but it is always recommended to utilize the size chart provided by the seller. If the seller does not provide their own size chart, the one above can be used as a reference to select a size.
Bust Measurement
Women must first understand that bust measurements do not refer to their bra size; they must wear a bra while being measured. The measuring tape should complete the circumference of their back and run across the fullest part of their breasts with arms relaxed and down at the sides.
Waist Measurement
The measuring tape should be placed around the smallest part of the waist. This should be roughly about 2.5 cm above the navel.
Hip Measurement
The measuring tape should circle the widest part of the hips just across the hipbone and the centre of the bottom. This is roughly 18 cm below the waistline.
Buying Women's Cap Sleeve Shirts on Ebay
Cap sleeve shirts and blouses can be a useful addition to any wardrobe. There are numerous designs that match with almost any outfit, and eBay has a wide collection to choose from. Whether you are buying cap sleeve blouses for casual settings or dress shirts for work and other formal settings, you can easily perform a standard search on eBay and find various colours and styles for your body type.
You can perform an initial search for "cap sleeve shirts&" on eBay's home page and look through the result pages for cap sleeve shirts that flatter your body type based on the procedures outlined in this guide. If you already know the colour or specific design that you want, you can add these criteria into your initial search to get a more refined result. For instance, you could search for "buttoned cap sleeve shirts&" to return a result with cap sleeve shirts that would be more ideal for a formal or semi-formal setting. You could also search for "black cap sleeve shirts&", but you may find that other colour shirts appear in the listing, which often means that those shirts are also available in black as well. Always check with the seller if you are uncertain.
You can also narrow your search further by selecting price range and your preferred shipping method. Once that is done, you can make a direct buy or place a bid, depending on the seller's listing.
Conclusion
Cap sleeve shirts are relatively simple and can be worn on almost any occasion as long as a woman buys shirts and blouses that flatter and compliment her body. Women should consider their arms, busts, and waists before selecting specific cap sleeve tops, and then pair them appropriate pants and skirts to create a gratifying ensemble.
Sleeveless shirts are often considered an alternative for cap sleeves, but cap sleeves are more stylish and versatile. Women should always select a style that flatters their body and ensure that the selected size corresponds with the seller's size charts and recent measurements.
eBay allows the search for the perfect cap sleeve shirts and blouses to be quick and simple. They can even filter their searches by shirt type and even specify types of embellishments. Women can use eBay's thorough search engine and filter options to find the cap sleeve shirts that they may need for specific occasions.