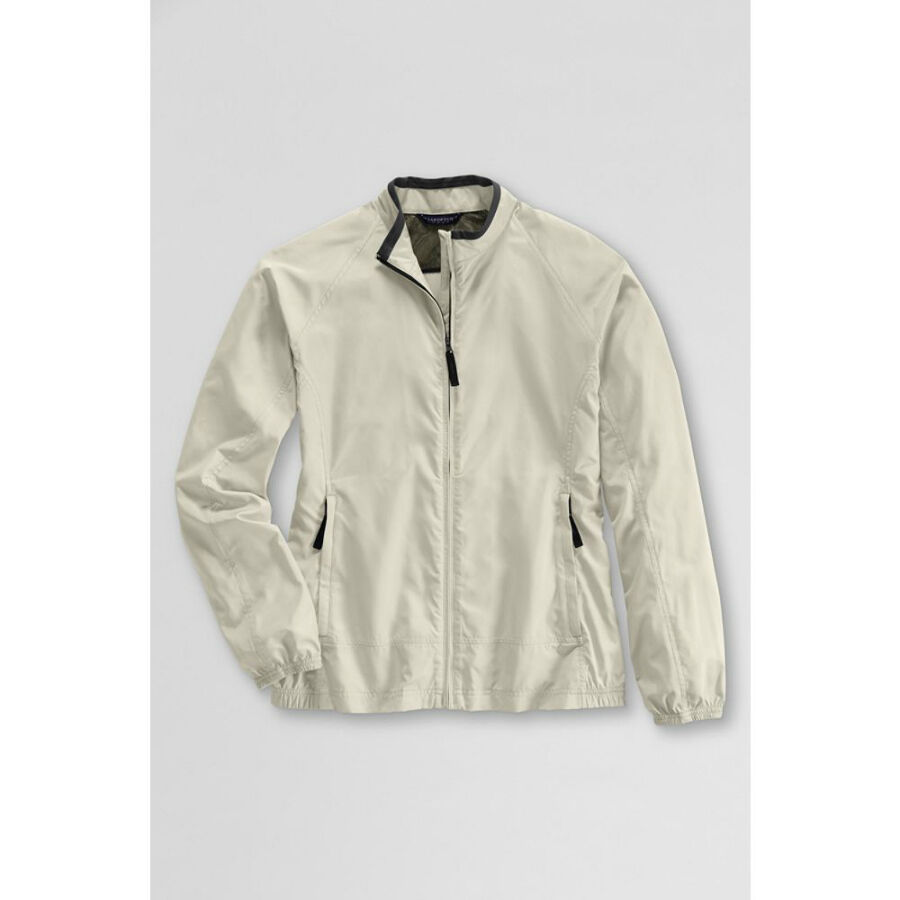 It's early or late in the day in the day or early or late in the year, or maybe just a typical unsettled British summer day. A shirt won't offer enough warmth or protection out there on the golf course. Something more is required. Call it a jumper, a sweater or a pullover, the moment a golfer steps out of the clubhouse wearing it, he or she is on show, even on a public course.
What's to stop them putting on a jumper they are fond of wearing for walking the dog or going to the shops? Nothing - except pride and the appraising eye of club members who can tell whether a jumper has those subtle features specific to the game. So jumpers should be chosen with an eye to performance as well as catching the eye. They should fit comfortably, feel light, allow freedom of movement, especially in the sleeves and shoulders, and never impede the swing.
Not only does a fit-for-purpose yet fashionable jumper enable a player to keep up appearances, it can help to bring out their individual best. Knowing you look good can boost confidence, and that in turn can help raise the level of play. On the other hand, feeling shabby can produce shoddy shots.
The four factors
There are four key factors to consider when choosing a jumper made specifically for playing golf and which differentiate it from its casual wear cousins:
Design – in terms of both appearance and performance
Fabric – natural, "technical" or a blend
Brand – golf heritage or name for sport
Price – getting the best deal with eBay
1. Design
The evolution of the golf jumper
In the early part of the 20th century, golfers went to the course without changing from the clothes they wore at home or in the office – lounge suits and long skirts. By the 1920s, liberalisation of fashion for both genders had led to some changes in golf apparel. Golfers freed themselves of the most cumbersome item of clothing in their wardrobes, the formal jacket .
It was during this period that the V-neck sweater became popular amongst those golfers. Some of the more daring golfers ditched ties in favour of bow-ties, combining these with severely low-cut V-necks and brightly patterned socks .
In the 1970's golf did not escape from the tasteless fashion of the era. Every colour imaginable was given an outing, embracing the most jarring patterns and hues.
As the end of the twentieth century approached, golfers began to tone down their use of primary colours. The entry of companies like Nike into the golf market helped matters. Dedicated fashion designers began to iron out the extremes in golf fashion by introducing well-made pullovers and jumpers.
Whereas most golf shirts are variations on the polo shirt theme, golf jumpers mirror the range available over the whole knitwear fashion scene. That means virtually infinite choice. But here are a few pointers to help to narrow down the selection of designs, crafted with the game of golf in mind but fashionable enough to wear off the course.
Layering In seasons of the year when the temperatures are cool in the morning or towards evening, but warm enough just for a shirt in the middle of the day, golfers can sometimes overdress. They set out in heavier jumpers , or do not dress warmly enough if they have a late tee time that can run into the evening hours. A lightweight jumper can chase away the early or late chill and can be removed in the afternoon when it's warmest.
Fit Roomy but not baggy with raglan sleeves tends to be the rule for jumpers made of wool, cotton or a blend of these with technical fibres. They allow plenty of room for the back-swing. If the jumper contains a stretchy fibre, this rule can comfortably be broken because the garment moves with the action.
Another aspect is the ability to be tucked into a bag on the golf course without taking up equipment room and come out again unruffled by the experience. No one could call a creased-up garment flattering.
Styles V-neck , crew neck, zip neck and slipover – each has its advantages from both the practical and the flattering points of view.
Weather It's open to debate as to whether a fleece is a jumper or in a category of its own. What's more certain is that it's rain resistant and very quick to dry. But the way to keep both smart and dry is to look for a wool jumper which utilises a water repellent finish, which results in rain beading off the surface. Another option to explore is the lined wind sweater, which has a layer of polyester inside the knitted wool, cotton or fleece outer to stop the breeze getting through.
Colour Colour needs to be chosen in relation to both the shirt and trousers . Opt for neutral shades, grey or white in the jumper if the other items are bright or pastel colours. The jumper is essentially an add-on to a trouser/shirt ensemble. That is why neutral or heather tones tend to predominate in most brand ranges. But if the intention is to make the sweater the centrepiece there are plenty of solid colours on offer.
Patterns Certain distinctive patterns have been associated with the golf sweater since the days of Jeeves and Wooster – in particular the diamond or square intarsia knit and the argyle. These cosy standbys might create a slightly more traditional impression. Look for a modern twist on the traditional theme, such as an asymmetrical argyle. The material can make a difference. A woman's jumper in fine cashmere will always be a classic. Beware: A patterned jumper with a patterned shirt can create a cluttered look.
2. Fabrics
Think jumper , think wool. But what might appear to be wool at first sight could perhaps be cotton, or a blend of natural with a manufactured fibre like acrylic. All have their advantages, but be careful how you combine them. Layering works best when the materials of each layer are compatible, for example, when both are natural fibre or both technical fibre. Layering technical with natural can interfere with the breathability of the combination and cause moisture to build up.
Wool
As well as its flattering qualities, wool fibre naturally holds in the warmth whilst staying breathable and can withstand light rain for a while before getting soggy. Clever finishes can add to wool's water repellent capacity and allow it to be machine washed. If the preference is for 100% wool, should it be lambswool, merino or cashmere?
Lambswool is super soft because it has been sheared off the lamb when it's young. Being slightly thicker in texture and richer in looks than merino, it scores on both looks and warmth. Even without treatment it absorbs dampness and can be machine washed with care. But it is slightly bulkier to pack and some sensitive skins can find it itchy.
Merino wool is thinner, cooler, softer and more durable than lambswool and less prone to pilling. In a V-neck with a polo shirt in a complementary colour, the effect can be as smart as informality can get. Note that its weight is apt for packing.
Cashmere Careful – cashmere can get a little warm for comfort, but that problem can be solved with a cashmere cotton blend.
Cotton
The lightest way to make a difference is cotton. Brushed cotton can add a little extra bulk. But cotton does tend to soak up moisture, whether from perspiration or a light, unexpected shower. That can make cotton jumpers heavy and stick to the body. And that can imperil performance.
Technical materials
Recently, manufacturers have been incorporating new technologies that keep golfers cool, dry or warm depending on the ambient temperature. These 'technical' fabrics are light, breathable, flexible and able to wick (draw) moisture away from the body and back into the atmosphere to keep the wearer dry. They can be more durable; they hold up better after much wear and many washes than wool does by itself.
Check the jumper's specifications for materials like polyester (which has come a long way since the 1970s), spandex, nylon, acrylic and Lycra. Many have their own brand names so check the listing of the item's features. They can also incorporate anti-microbial properties to ward off odours.
New technology has led to better maintenance of optimum core body temperature, improving the golfing performance of any serious golfer. Nike CoolMax, from Nike Golf, claims to keep players dry and comfortable on the golf course by wicking sweat away from the body and allowing the skin to breathe. Mizuno Windlite, created by Mizuno Golf, offers superior wind-proofing to protect from the elements for a cool comfortable game of golf.
3. Brands
More than any other sport, golf attracts a mix of genres when it comes to clothing brands:
| | |
| --- | --- |
| Names known universally for sport | Nike, Adidas and Puma |
| Names specific to golf | Ping, Lyle and Scott, Pringle, Ashworth, Galvin Green, ProQuip and Callaway |
| Famous fashion designers | Hugo Boss, Armani, Lacoste and Ralph Lauren (the Polo collection, of course) |
Many of the top golfing-specific brands manufacture superb ranges styled for wearing in any weather conditions encountered out on the course. These world famous golf clothing brands appreciate the importance of striking a balance between fashion and function. They offer all sorts of innovative materials and features of design to keep players swinging, chipping and putting in total comfort and peak form.
Faced with such a diverse choice, many individuals go for jumpers that have been endorsed by pro-golfers. Not only is this likely to create a sought-after fashion statement, but it will be most appropriate for playing the game itself.
4. Price
Opting for the highest profile brand names and celebrity endorsements is the safest way to meet expectations of high quality, flattering, fashionable, fit for purpose, long lasting golf clothing. Usually this reassurance comes at a premium price. So it can be worthwhile exploring lesser known brands, which can offer quality at affordable prices.
Shopping on eBay provides the ideal forum for price comparisons. With little trouble it's possible to find high-end jumpers at medium range prices; whilst reputable smaller brands can be on offer at commodity prices. It's even possible to find that cashmere is surprisingly within reach.
People who are drawn to the retro look in golfing jumpers might well be able to bid for an original 1970's shocker. Flattering, maybe they are not; attention-grabbing, certainly.
Buying Golf Shirts on eBay
Golf shirts of all kinds are readily available on eBay . With access to a huge range of sellers, tracking down the right golf shirt for you is simple and convenient. Many vendors offer free shipping and competitive prices. Once you have a clear idea of the sort of golf shirt you need, just navigate to www.ebay.co.uk .
While you shop, don't forget balls , tees , shoes, and other appropriate clothing for the course. To start shopping, go to the Sports and Leisure category. Click the Sporting Goods portal and click Golf .
Categories: The Categories list on the left side of each page will help you narrow down your listings by item type. You'll find links for Accessories , Apparel, Bags, Balls, Books, Videos, Golf Club Components,Footwear, Golf Carts, Cars, Schools, Lessons, Experiences, Tee Times, Green Fees,Training Aids, Vintage, and Other Items. As you refine your search you'll be able to narrow down your choice by subcategory.
Product Finder: Use the Golf Clothing Finder to quickly narrow down item listings by type of shirt, brand, model, condition (new or used), and product material.
Keyword search: Search eBay listing titles for specific words. For example, if you want to find new golf shirts for men, type the keywords "golf shirt men new" (without quotation marks) into the Search box. Click "Search title and description" to expand your results. Visit eBay's Search Tips page for more tips on searching with keywords.
If you can't find exactly what you want, try browsing eBay Stores or tell the eBay Community what you're looking for by creating a post on Want It Now, or save a search on My eBay and eBay will email you when a matching item becomes available.
Buy Golf Shirts with Confidence
Make sure that you know exactly what you're buying and understand how eBay and PayPal protect you.
Know your item
Read the details in the item listing carefully.
Remember to add delivery costs to your final price. If you're buying a high value item, check that the seller will insure it until it is delivered to you.
If you want more information, click the "Ask seller a question" button on the seller's profile or the "Ask a question" link at the bottom of the item listing page.
Always complete your transaction on eBay (with a bid, Buy it Now or Best Offer) otherwise you will not be covered by eBay Buyer Protection.
Never pay for your eBay item using an instant cash wire transfer service like Western Union or Moneygram. These are not safe ways of paying someone you do not know.
Know your seller
Research your seller so that you feel safe and positive about every transaction.
What is the seller's Feedback rating?
How many transactions have they completed?
How many positive responses do they have?
What do buyers say in their Feedback?
Are they positive about the seller?
Most top eBay sellers operate like retail shops and have a returns policy.
Do they offer a money-back guarantee?
What are their terms and conditions?
Buyer protection
In the very unlikely event that you do not receive your item or it is not as described, eBay Buyer Protection your purchase price plus original delivery cost.
Conclusion
Smart and stylish, the golf sweater is an essential part of the golfer's wardrobe, adding valuable warmth when the temperature drops. Chosen for fashionable styling as well as performance enhancing qualities, they are equally comfortable and flattering on and off the golf course. Chosen with the aid of this guide they can be treasured for a long time. And with eBay there is no need to raise capital to raise one's profile on both the green and in the clubhouse.