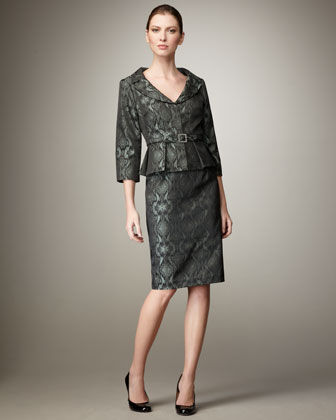 There are many styles of suits available for women to wear. There are the classic skirt suits as well as trouser suits for the modern woman. Every woman should have at least one well-tailored suit in her wardrobe. Suits are multifunctional and can be worn not only to work and to interviews, but also to fancy restaurants, weddings, and funerals. A suit can be broken down into individual pieces to be worn separately or mixed with other suit pieces, creating a variety of looks. Be careful when selecting the colour and material of the suit, as not all suiting materials can translate flawlessly from one occasion to the next. Women should find what style of suit best flatters their body types and then make sure to have it professionally tailored so that it is the perfect fit. When looking to buy a new suit, women should consider looking on eBay for the largest selection of designers and styles of suits at affordable prices.
What is a Women's Suit?
Women's suits are made up of a jacket and matching trousers or skirt. The jacket style can be fitted or boxy, double breasted or single, one button, two button, or three button. The skirt can be styled in a number of ways, but generally reaches no less than a couple of inches above the knee. In addition to two piece suits, there are also three piece suits where both skirt and trousers are included. Suits are an easy way for women to look classy and professional. Dress suits are another way for women to wear a suit without the hassle of deciding on a blouse.
History of Women's Suits
The first women's suits were riding suits that appeared in the seventeenth century; however, with their long, full skirts they bear little resemblance to modern suits. In the 19th century, skirt suits remained long, but become more fitted to the body. In the 1890s, women's trouser suits first made their appearance. They were designed to be worn when riding bicycles, where a longer skirt would tangle in the wheels. With the reinvention of women's fashion in the 20s, skirts became shorter and dominated women's daily wear. Suits remained fashionable for everyday wear until the 90s where they temporarily fell out a favor outside of professional settings. They have slowly been returning to fashionability in the 21st century.
How to Choose a Flattering Suit for an Interview
Suits that are worn to interviews need to be more professional than suits that are worn to the office. The first impression is important, so the interview suit should be crisply ironed, flattering without being provocative, and made out of an appropriate material in an appropriate colour combination. When selecting a suit jacket, bustier women may wish to consider purchasing a double breasted jacket, or barring that a jacket with three buttons whereas smaller women will be able to pull of a single-button or two-button suit jacket.
Skirt Suits, Dress Suits, and Trouser Suits
The first question women will come up against when deciding which suit to purchase for an interview is if they are looking for a skirt suit, a dress suit, or a trouser suit. This option is best left to the personal style of the buyer. However, both skirt suits and dress suits will generally need to be worn with heels, so women who are taller than average may wish to avoid purchasing a skirt or dress suit for a first interview so as to not run the risk of towering over their prospective employer. If a skirt or dress suit is selected, women should always wear a pair of nude-coloured sheer tights that are a close match to their skin tone. Skirt and dress suits can be A-line, straight, or pencil depending on which style best flatters their body type.
Wearing a trouser suit will present the option of wearing a pair of low heels or flats to the interview. Make sure the hems are long enough without dragging on the ground. Look for trousers that are straight-legged and fit well through the hips and thighs. Both trouser, dress, and skirt suit styles are considered professional enough to wear to an interview provided they fit well.
Colour of Suit
When looking for a suit to wear to the interview, women should opt for dark colours. Popular colour choices are black and dark grey. Some women may find that black is too harsh a colour to wear and therefore opt to go for a dark grey suit instead which is less somber. Pinstripe suits are also professional looking, however they are more difficult to repurpose into a new outfit if called back for a second interview. If women are only looking to own one suit to interview in, a pinstripe suit is not recommended. Navy suits were once considered a mainstay of women's suit collections, however they have faded from popularity as it can be more challenging to match shoes and blouses to a navy suit.
Suit Materials
When looking to purchase a suit for an interview, look for a suit in a wool or wool blend. These will be heavier weight and therefore more resistant to wrinkles. The heavier weave of the fabric will also look more professional. While cotton suits can be worn to interviews, they will wrinkle and require ironing. Linen suits are generally considered casual and not appropriate for an interview.
Buying a Suit for Other Occasions
When not purchasing a suit for an interview, there are many more options of suits available. In additional to the formal long sleeve suit jacket, short sleeved and three-quarter length sleeve suits are available. Linen suits become appropriate alongside the traditional wool suits. Many other colour choices will also open up beyond black, dark grey, and pinstripe. Once the office dress code is known, women will have a full variety of colour choices available to them for suits, including pastels for the spring and rich reds for the autumn. Instead of putting on a fancy dress, women may sometimes find it easier to slip into a crisp suit for dinner at a fancy restaurant. If selecting a dress suit, it saves women the trouble of having to find a jacket to match during cooler weather and will still look smart and chic when the jacket is removed.
Finding a Suit that Fits
There are many styles of suits that better flatter different body types. Skirt suits, dress suits, and trouser suits will fit differently, so women should decide before they begin their search which style of suit they are looking to purchase. When ordering a suit, the most important considerations that should be made are that the shoulders fit comfortably in the jacket and that the hemlines are long enough. It is better to err on the long side, as skirts and trousers can be hemmed. Consult a sizing chart to learn what size should be purchased. The most common measurements needed are for the bust, the waist, and the hips.
| | | | | | | | | |
| --- | --- | --- | --- | --- | --- | --- | --- | --- |
| Size | 4 | 6 | 8 | 10 | 12 | 14 | 16 | 18 |
| Bust (cm) | 76 | 78.5 | 81 | 86 | 91 | 96 | 101 | 108.5 |
| Waist (cm) | 58 | 60.5 | 63 | 68 | 73 | 78 | 83 | 90.5 |
| Hips (cm) | 83.5 | 86 | 88.5 | 93.5 | 98.5 | 103.5 | 108.5 | 116 |
Very few suits will fit properly off of the rack. Two fingers should be able to fit into the waistband of the skirt or trousers, if they do not, consider purchasing one size larger. Even if the suit fits decently, taking it to a professional tailor for a few minor adjustments can turn a decently fitting suit into a flattering one.
How to Buy a Flattering Suit on eBay
While suits can be purchased through department stores and online retailers, eBay will offer a larger, more cohesive selection of suits at affordable prices. Begin your search for a suit on eBay by deciding if you are looking for a skirt suit, a trouser suit, or a dress suit and then type your query directly into the search bar on the main page. Once you've typed in your query you will have the option to narrow your search parameters through eBay's navigational bars. With these customizable options, you will be able to create a unique search based on your suit needs. If your search is not yielding the desired results, your query can be modified from any eBay page or a new search can be started. Being overly specific may produce a small pool of results, so it is sometimes better to keep the searches general and flip through the pages.
A suit is an investment. Be sure to check out a seller's reliability before making a purchase. Buyers rate sellers and these scores are indicated in the seller's feedback score. While suits will need to be tailored, it is still important that the overall shape and style of the suit is flattering. Be sure to look at a seller's return policy so that you will know what options are available in the event that the suit does flatter your body type.
Conclusion
Suits are an easy way for a woman to look classy and elegant, both in the workplace and in her personal life. Every woman should own at least one well-tailored suit so that if the need for one arises she does not have to panic in her search to find one last minute. The style of suit is generally left to her personal preference, as dress suits, skirt suits, and trouser suits can all be worn interchangeably. Suits that are worn to interviews should be kept classic, without any flounces that will distract the interviewer. Suits for daily wear have more leeway and will allow the personal style of the woman to shine through. Heavier weight suiting material will look more professional and be wrinkle resistant. While most suits are found in black, greys, and browns, more colourful options are available. Adding colour to a suit is as simple as putting on a colourful blouse. Women should consider making their suit purchase on eBay so that they can find the best deals on flattering suits.