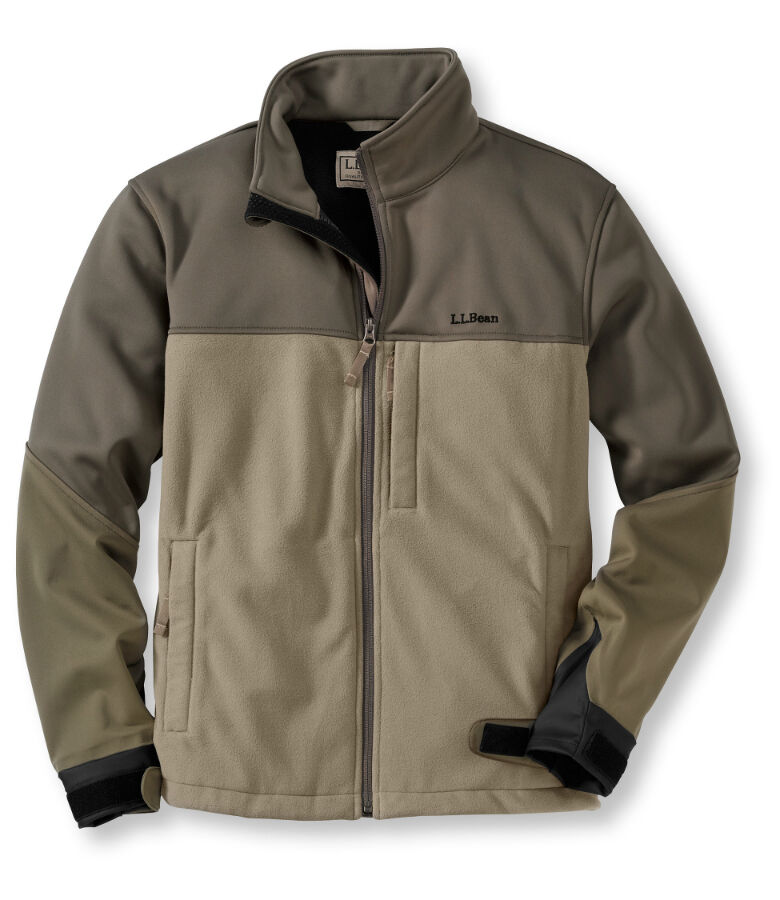 For years, consumers bought wool or cotton winter jackets to protect them against winter weather elements. Before the 1980s, consumers received protection from cold temperatures by wearing multiple layers of clothing. The heavy fabrics used to make winter jackets did not breathe well enough to evaporate sweat, nor did they prevent external moisture from soaking the insides of winter jackets. In 1981, Malden Mills invented polar fleece and the company radically changed the way people dress for winter weather.
Consumers can now buy fleece jackets at prices that are lower than natural fibre winter jackets, since supply and demand does not influence fleece jacket production as much as it does for cotton or wool winter jackets. While big box retailers offer a wide variety of fleece jackets, consumers receive higher quality fleece jackets when they buy directly from manufacturers, such as North Face and L.L. Bean. eBay offers the most convenient way for knowledgeable men to purchase men's fleece jackets. To gain that knowledge, consumers should learn about fleece, the benefits of wearing fleece jackets, the must-have fleece jacket features, and a few tips to maximise the functionality of fleece jackets.
What Is Fleece?
Fleece has become a popular material for constructing winter jackets that keep users warm and dry. However, most consumers do not know much about this popular clothing material.
Purpose of Fleece
Manufacturers utilise fleece for making blankets, throw rugs, workout clothes, hoodies, scarves, and jackets. Fleece possesses breathability properties that make it a popular material for articles of clothing that need to lose moisture, especially during cold weather.
Composition of Fleece
Fleece is a wool-type fabric that is typically derived from 100 per cent polyester. Some manufacturers combine hybrid fleece products that also contain natural fibres from wool or cotton, although using natural fibres diminishes the capability of fleece to provide warmth or repel moisture.
Fleece Manufacturing Process
Manufacturers implement technology to produce polyester fibres that are created from terephthalic acid and ethylene glycol, which are two petroleum-based compounds. The fibres are then twisted into a type of yarn that manufacturers knit or weave into a fabric. Fleece is often brushed with sharp wire brushes before it is trimmed to fit inside an article of clothing.
Categories of Fleece Jackets
Consumers have many choices when it comes to choosing a type of fleece jacket. To make shopping easier, fleece jacket manufacturers and clothing retailers divide fleece jackets into four broad categories. Begin the fleece jacket buying process by learning about the four categories.
Jacket Category

Description

Lightweight

100-weight fleece

Low bulk

High breathability

Perfect for people who generate abundant body heat

Makes transition from heavy layered jackets

Midweight

200-weight fleece

Most versatile fleece jacket

Commonly used over base layered clothing and under a shell

Most popular fleece jacket category

Often used as outerwear in moderate temperatures

Heavyweight

300-weight fleece

Works best during stationary activities, such as camping

Chosen for its warmth properties

Breathable enough to wear as a mid-layer

Worn as an outer layer in dry conditions

Windproof

Constructed with lightweight, midweight, or heavyweight fleece

Does not breathe as well as standard fleece

Worn as outer layer to protect against wind

Windproof membrane sandwiched between two fleece layers
No matter what characteristics one is looking for in a fleece jacket, there are multiple options available to suit most people's needs. From lightweight to windproof, fleece jackets provide protection from any type of weather.
Benefits of Fleece Jackets
Fleece presents numerous advantages over other synthetic materials and every type of natural fibre. For instance, fleece offers consumers who suffer from cotton or wool allergies a viable alternative. Fleece is also eco-friendly, since it can be produced from recycled plastic bottles. Nonetheless, consumers choose fleece over other materials because of three primary reasons.
Lightweight
Fleece was initially developed to be a lightweight alternative to heavier wool- and cotton-based clothing. Its lightweight properties make fleece the perfect material to fill winter jackets. Users do not feel as weighed down during hikes, and the lighter material allows them to compact their jackets inside a backpack. Moreover, fleece causes less discomfort than wool.
Waterproof
Winter precipitation includes snow, ice, and cold rain. Fleece holds less than one per cent of the water that falls on it. Not only does fleece keep users dry, the capability to lose water means a lighter winter jacket. This is especially important for outdoor enthusiasts who ski, snowboard, or mountain climb.
Style
Fleece jackets come in more varieties of colours and designs than are offered by wool or cotton winter jackets. Fleece jacket styles can range from ski jackets to camping outerwear. In addition, fleece has a number of features that consumers use to customise their fleece jackets.
Fleece Jacket Features
Perhaps the greatest attribute of men's fleece jackets is that there is not a prototype model. Consumers can add features that provide utility for certain types of outdoor activities. While there are many feature options, consumers should look for fleece jackets that possess the following three features.
Neck Snugness
Some fleece outerwear, such as hoodies, do not fit snugly around the neck. Fleece jackets can come with neck warmers to wrap around the neck, or collars that fold over the neck. Outdoor enthusiasts typically do not think about this important feature until they are hiking on a windy day or setting up camp in a wind blown valley.
Zipper Vs. Pullover
Many people believe the choice between buying a men's fleece jacket that zips or one that pulls over is a personal choice. Zipper fleece jackets provide much more versatility in terms of managing body temperature. While users have to pull off a pullover to cool down, those who own zipper fleece jackets can make slight adjustments on the zipper to regulate temperatures.
Pockets
Fleece jacket pockets are a necessity for hikers and backpackers who need to store compasses, sunglasses, insect repellent, and maps. Yet, the greatest benefit of pockets lies in breathability. Fleece jackets that posses pockets provide more open space for air to circulate, and thus, help eliminate moisture faster than pocketless fleece jackets.
Fleece Jacket Buying Tips
Buying a men's fleece jacket may seem like a straightforward process, but many consumers ignore some basic fleece jacket buying tips. Follow these tips to ensure you maximise the benefits of owning a men's fleece jacket.
Water Resistance
Consumers who live in climates that are prone to high precipitation levels need to purchase water-resistant fleece jackets. These jackets possess the same breathable layer that is found in windproof fleece jackets. While non-waterproof fleece jackets have declined in supply, there are still manufacturers that produce non-waterproof jackets for cost-conscious customers. Never sacrifice comfort and personal health for the sake of price.
Zipper Wind Flaps
Consumers buy pullover fleece jackets because of the jacket's windproof properties. They eschew the benefits of zipping a fleece jacket up and down to regulate temperature. Manufacturers now make zipper fleece jackets with strips of fabric that add wind protection layers underneath the zipper. Without zipper wind flaps, cold air can penetrate the interior of a fleece jacket.
Mesh Lined Pockets
Pockets improve the airflow inside of a men's fleece jacket. Mesh pockets do an even better job of providing moisture-repellent properties. Mesh acts as a vent by moving air quicker than fleece-lined pockets. Improved airflow also helps regulate body temperature.
Draw Cords
Purchase a fleece jacket that has tight, elastic draw cords sewn into the sleeve or bottom lining of the jacket. Draw cords allow users to regulate the amount of airflow and prevent wind gusts from suddenly cooling the body. Hikers, and especially mountain climbers, need to make sure the draw cords do not hang from the sleeve or bottom of the jacket. Hanging draw cords present safety issues.
Buying a Fleece Jacket on eBay
eBay offers consumers the most convenient way of buying fleece jackets. Where else can you find such a wide selection of brand names that provide the features that make fleece jackets far superior to cotton or wool winter jackets? Type a few keywords into eBay's search engine and then navigate through the search results to find sellers that meet your shopping criteria. Use specific keywords, such as "Columbia fleece jackets" or "extra large fleece jacket" to narrow your search.
Once you find the seller that meets all of your fleece jacket buying needs, visit the seller's eBay store to review the seller's product photograph, delivery terms, and return policy. Buy from top-rated sellers, those which eBay designates as the sellers who provide high-quality products and offer generous return policies. Many top-rated sellers specialise in selling certain types of products and you may find such sellers who offer fleece jackets. You may also find sellers who reduce shipping charges for ordering multiple products and offer discounts on bundle purchases.
Conclusion
There was a time when consumers bought heavy fabric winter jackets that did a poor job of remaining dry during snowstorms or cold drizzles. Winter jacket manufacturers developed technology that produced fleece, a material that keeps outdoor enthusiasts both dry and warm. Lightweight fleece is now an integral part of a camper's outerwear, as well as an indispensable component of a backpacker's clothing inventory. By only retaining less than one per cent of the moisture absorbed, fleece weighs less when it is wet and it takes little room inside of a backpack or duffel bag.
The popularity of fleece jackets has led to an increase in their number of styles. Many fleece jacket owners customise designs and colour patterns to match their personalities. While fleece jackets continue to provide unparalleled functionality, the fleece jacket of the future may also make a fashion statement. Instead of being the preferred choice of winter jacket for outdoor enthusiasts, fleece jackets can be an integral part of a man's wardrobe for social events and professional meetings.