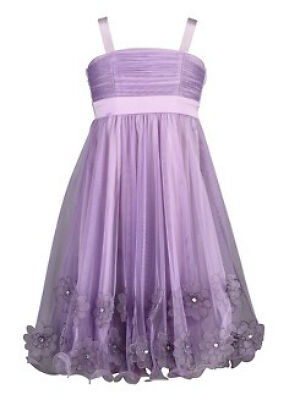 Whether there is a big wedding coming up in the future, or a fantastic Christmas party, chances are that parents need to purchase a girls holiday dress for their child. Holiday dresses come in many different styles and materials, allowing a young girl to dress up like a princess or an older girl to wear the latest trend-setting fashion piece. Though often called holiday dresses, in reality these are formal dresses that girls wear to parties, theatre halls, and other momentous events. Purchasing the right dress depends on many different factors. Parents need to consider the event, the child's age, and the fit of the dress before making any final decisions. For parents who are entirely at a loss when it comes to girl's fashions, take a trip to the mall and see what is offered at the local department store to get some ideas. Then, return home and shop on eBay for the right dress.
Occasions for Wearing a Holiday Dress
Most girls who rarely go to formal occasions will only wear their holiday dress once, since they will be too big in a few months to wear it again. Therefore, parents need to buy a dress that fits and not worry about purchasing a dress that can be used over and over again. Since durability is not a highly relevant factor, parents can even purchase dresses that use tulle, lace, and other delicate fabrics. What the parent needs to focus on is the finding the right dress for a particular event, and this process starts with examining the different dress styles.
Formal Dresses
Formal girls' dresses are reserved for extra special events, such as a wedding. A flower girl, for example, needs a dress designed for her that matches the quality of the bride and bridesmaid dresses. Even if the girl is not going to be in the wedding, she still needs a formal dress to attend the ceremony. Most formal dresses for girls come in either a ball gown or a princess silhouette. Both of these styles have snug tops that spill out into an elegant skirt below the waist.
Differences Between Formal Dresses
The main difference between ball gown and princess silhouette dresses is that the waistline on the princess dress is at the hips, while the waistline on a ball gown is at the waist. While the skirt portions of these dresses are large and wide, the hemlines are slightly shorter than they would be on an adult style. These little dresses hang down below the knees but well above the ankle, allowing young girls to easily walk and run in them. Formal dresses for girls older than 10, usually forsake the billowing skirts of childhood dresses for straight silhouette dresses such an empire gown.
Party Dresses
Formal dresses, especially those for younger girls, typically include lots of fabric decorations using tulle and lace. Party dresses, on the other hand, feature a much simpler style. These are the dresses worn to birthday parties or holiday get-togethers. Again, for very young girls, expect to find party dresses in the ballgown or princess style. While they may lack the delicate fabrics used by formal dresses, party dresses still look spectacular in their own way. Some holiday dresses are even made out of velvet, but cotton or a cotton blend is much more popular. Party dresses also come in more colours than formal dresses, so parents can find the perfect red dress for a Christmas party. Party dresses for older girls have a tighter silhouette that fits their developing bodies, such as the empire gown, which delineates the bust area.
Accessorising Holiday Dresses
Timing is everything when it comes to purchasing the right holiday dress. Girls attending a summer wedding outdoors, clearly need a different type of dress than girls attending a Christmas party in the middle of winter. Summertime dresses are often made out of lightweight and breathable cotton while winter dresses tend to use heavier fabrics like velvet or velour. Most dresses are also sleeveless, which works great for the summer but can present problems in the winter. When attending a winter party, pick a dress made from warmer material and then pair it with a girl's jacket or cardigan. Spring and summer dresses look lovely when matched with a pair of sandals, but select a pair of boots for fall or winter dresses.
Age Appropriate Holiday Dresses
Every parent must decide if a dress is age appropriate for their child. As mentioned earlier, young girl dresses typically come in ball gown styles, but dresses for older girls start concentrating on being figure-flattering instead of just being cute. A prepubescent girl might genuinely want that halterneck dress with a short skirt, but it is up to the parent to decide if a dress like that is appropriate. If she does not want a ball gown dress at all because she feels it is childish, consider the slender styles of an empire or sheath dress instead. Most girl dress designers offer styles that look like womens party dresses, but they have a higher bust-line and longer hemlines. Wearing a slender, form-fitting dress with a high bust and a long hem, allows the girl to feel older while ensuring that the style is appropriate for her age.
Fitting a Girl's Holiday Dress
Girls' dress sizes run the gamut from the toddler to the pre-teen years. There are two ways to find the right size dress for a girl. Parents can either visit a local store and try on dresses in person, or they can consult a sizing chart. Online shopping on a website like eBay, requires only the use of a sizing chart and measuring tape. Stretch the tape around the upper chest of the girl to get her bust measurement, then do the same for her waist. For taller girls, take height measurements as well. If a girl seems to be in-between sizes, always choose the larger size.
| | | | | | | | | | |
| --- | --- | --- | --- | --- | --- | --- | --- | --- | --- |
| Size | 2 year | 3 year | 4 year | 5 year | 6 year | 7 year | 8 year | 9 year | 10 year |
| Height (cm) | 92 | 98 | 104 | 110 | 116 | 122 | 128 | 134 | 140 |
| Chest (cm) | 52 | 54 | 55 | 57 | 59 | 61 | 64 | 67 | 70 |
| Waist (cm) | 50 | 52 | 53 | 55 | 56 | 57 | 59 | 61 | 62 |
Generally speaking, it is easiest to find a dress for young girls that fits directly off the rack. As the girl gets older, her body starts to change and develop in ways that are different from other girls. Average sizes may no longer fit correctly, either being too short in the hem for girls with long legs, or too tight around the chest. Therefore, older girls may need to visit the tailor to get their dress fitted for their specific body type. If the parent is shopping on a budget, make sure to add this expense into the overall cost of the dress.
Buying Holiday Dresses on eBay
Now that parents understand the basic requirements of how to find the right holiday dress, it's time to decide where they want to spend their money. Local department stores and clothing stores sell holiday dresses, but the selection in each store is exceedingly limited. Typically, parents and children end up going from store to store looking for the right dress. With young children, this shopping trip can quickly turn into an exhausting ordeal. That's why many parents love the convenience they get by shopping on eBay. Not only does eBay allow buyers to shop directly from home, the website also lists hundreds of dresses for sale in styles not found in department stores. Many of these dresses, especially the slightly used ones, cost less than they do at the shopping mall. eBay allows for parents to save both time and money, something that is often in short supply when it comes to parenting.
New vs. Used Holiday Dresses on eBay
One of the areas where eBay truly excels is in the used dress category. Few stores outside of thrift markets and secondhand shops sell used clothing. This is a shame when it comes to girls dresses since most of the gowns have only been worn once or twice. New dresses, of course, come brand new directly from the seller with all of their tags attached. However, new dresses are more expensive than their used counterparts. Parents who truly want to save money should browse pre-owned girls dresses by entering a term like "used girls' holiday dresses" into the search engine. Even name brand dresses can be found for incredibly cheap prices in used condition. However, buyers should always make sure that the dress is still in acceptable condition. The seller needs to list pictures of the actual item, not a stock photo, and they should also be willing to answer any questions about the item's condition.
Conclusion
Buying a holiday dress allows any girl to feel like a princess or a fashion model during a special occasion. Whether the dress is actually going to be used on a holiday, or it is being saved for an upcoming party, parents need to follow the same considerations. Start with selecting the style of the dress based off of the fitting requirements. Special occasions like weddings and formal parties, require a formal dress while a party dress does wonders at more casual functions. The season and weather also dictate what type of dress and accessories to purchase. Parents should always choose a style that they feel fits their girl's' age. No matter the style of the dress, the fit is crucial. Select the closest size to the girl's measurements, and if necessary, use all the money saved by shopping on eBay for a visit to the tailor for a truly fabulous dress that looks terrific and fits great.