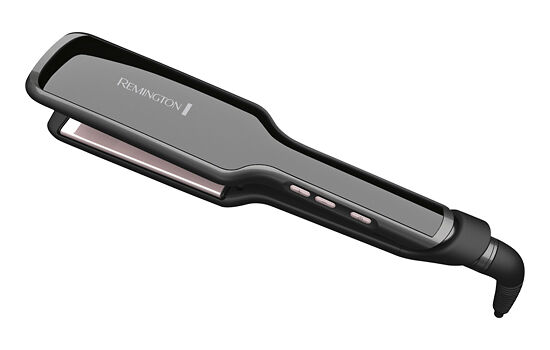 Hair straighteners have become increasingly popular and much relied on in the realm of beauty. They are used to smooth the appearance of hair with the use of heat. The heating element helps those with curly or unmanageable hair to achieve straight hair with minimal effort in a matter of minutes. Despite their name, many hair straighteners can also be used to curl or style hair in a wide array of fashions. In general, hair straighteners are designed to be used on dry hair, but some models can be used on damp hair. However, using a hair straightener on damp hair that is not designed for this task can result in damage to the hair.
Hair straighteners vary widely in cost depending heavily on the technology of the plates. Most hair straighteners have a temperature gauge that offers a range of settings. The level that the temperature can reach also has a bearing on the cost. When purchasing a hair straightener that won't damage your hair you should consider the various types of plates and the hair type and length, as well as becoming familiar with the wide array of features that these styling tools have to offer. Hair straighteners are available at hairdressers, department stores, and online at retailers such as eBay.
Types of Hair Straightener Plates
There are various types of hair straighteners. Although all of the types are designed to achieve similar results, each type uses a specific plate to facilitate the straightening process. When choosing a plate type, buyers should consider the amount of wear experienced by their hair during styling. Excessive wear can lead to damaged hair.
Ceramic Hair Straightener Plates
Ceramic plates are the most common types of plates used for hair straighteners. They are a newer form of technology and function by radiating heat into the inner hair shaft. This allows the heat to be distributed more evenly, lessening the chance of hot spots on the plates. In addition, ceramic plates use less heat while still allowing hair to be straightened in a timely manner. So, ceramic plates are less likely to cause damage to the hair.
Ceramic plates are also preferred because of their smoothness. This causes less resistance on the hair as it is being straightened. When looking for a hair straightener that won't damage your hair, consider choosing solid ceramic plates. Buyers should also use caution when choosing a hair straightener that claims to be ceramic coated. Ceramic coating tends to wear off easily over long periods of use.
Ionic Hair Straightener Plates
Buyers with dry and damaged hair should consider choosing a hair straightener with ionic plates. Ionic plates create negative ions that neutralise the positive ionic charge of unruly hair. This helps hair to achieve a shiny and smooth look that is healthy in appearance.
Infrared Hair Straightener Plates
Hair straighteners with infrared plates use a gentle heating method to penetrate the hair shaft. By limiting the temperature setting, hair maintains a smooth look without causing damage.
Titanium Plated Hair Straightener
Titanium plated hair straighteners are ideal for minimising the effect of hair damage. These hair straighteners maintain a consistent level of heat, while straightening hair quickly and effectively.
Aluminium and Alloy Hair Straightener Plates
Many older styles of hair straighteners use aluminium and alloy plates. These plates work by conducting heat directly onto the hair shaft. This can lead to long term damage when using this type of plate on a daily basis as it can cause the hair to become dry and brittle. When using an aluminium or alloy plated hair straightener, consider combining it with styling products that moisturise the hair.
Hair Type and Length
When buying a hair straightener that won't damage your hair, it is important to consider both the type and length of the hair. This helps to determine the temperature setting and plate size. Not all hair straighteners are suitable for all types of hair. The incorrect amount of heat can damage the hair, so using an appropriate temperature setting and plate size minimises hair damage and results in smooth, silky hair. The table below helps buyers to find the right straightener for their hair type and length.
Hair Type

Thick, coarse, curly

Normal, medium, wavy

Thin, fine

Above shoulders requires 2.5 - 3.8 centimetres
Shoulder length 2.5 - 5 centimetres
Below shoulders requires 3.8 - 5 centimetres
Above shoulders requires 1.3 - 3.2 centimetres
Shoulder length requires 2.5 - 3.8 centimetres
Below shoulders requires 3.2 - 5 centimetres
Any

Temperature

380 - 410 degrees
360 - 380 degrees
Below 360 degrees
Buyers with thick, coarse, or curly hair can withstand high heat settings, while those with normal, medium, or wavy hair should limit the amount of heat that comes into contact with their hair. Overheating hair can cause it to become dry and brittle, which can lead it to break easily. On the other hand, buyers with thin, fine hair should invest in a hair straightener that offers temperature control. In general, the finer the hair, the lower the temperature setting should be. In addition, buyers with coloured hair or hair extensions should also take into account the type of hair straightener that they chose.
Features of Hair Straighteners
When purchasing a hair straightener, buyers should consider the various features offered. These features can help buyers to straighten their hair quickly and effectively without causing damage.
Heat Up Time for Hair Straighteners
The amount of time the straightener takes to heat up should be considered. This lessens the amount of time that buyers spend waiting and helps them to achieve the desired results faster. In addition, each time the buyer's hair comes in contact with the hair straightener, the plates cools down. Therefore, the quicker the reheat time, the quicker the desired hair style can be achieved.
Heat Settings for Hair Straighteners
Heat settings are a key factor when searching for the ideal hair straightener. Those with fine hair may not find it necessary to invest in a straightener that reaches high temperature settings, but high temperature settings are a highly desirable feature for those with curly hair. Most hair straighteners offer variable temperature settings, although some come with a single heat setting. Those with variable temperature settings decrease the probability of damage to the hair, while single heat settings minimise the amount of flexibility in style that can be achieved.
Cable Length for Hair Straighteners
Buyers should consider the cable length when searching for a hair straightener. Most people choose to style their hair in front of a mirror for optimal results, and the length of the cable determines how far the buyer can travel with the straightener away from the plug socket. It is possible to use an extension cable if required.
Buying a Hair Straightener That Won't Damage Your Hair on eBay
Hair straighteners are widely available for purchase. eBay provides a wide variety of hair straighteners for every hair type, so the right model can be chosen that won't damage your hair. Buyers can use the search box to find a list of hair straighteners by typing a phrase, such as "hair straighteners", and then browse through eBay's wide selection by using the category search. This guides buyers through the listings and helps them to narrow down their choices. For a more selective search, or to search within a certain price range, buyers should use eBay's advanced search feature.
When searching and browsing, buyers sometimes see "Top-rated seller" icons near the item titles. This icon is intended to inform buyers of the most reputable sellers in the eBay community, giving buyers confidence when purchasing items sold by those sellers.
Searching by Location
Depending on a buyer's budget, they may choose to limit their search to items being sold close to home. The plates of hair straighteners tend to be delicate, so limiting the distance that the item has to travel may be wise. To find local sellers, buyers can filter the listing pages by item location. This allows buyers to limit the distance from a specific postcode. By using the "sort" drop down feature, buyers can arrange listings by distance in order of the nearest location.
Buyers should always communicate clearly with sellers to find out if they allow local collection. This information may also be listed under the item description. While some sellers may not allow this delivery type, others are willing to work with buyers to ensure a positive transaction and to help to reduce postage and packaging costs.
Conclusion
Choosing the right type of hair straightener is an important decision when trying to minimise damage to your hair. Before making a purchase, first consider the type of plates. Ceramic plates glide smoothly through the hair, leaving it silky soft, while titanium plates are hard-wearing and long-lasting, and can heat up faster and to greater temperatures. In addition, buyers must also take into account their hair type and length. The fineness of the hair ultimately determines the desired heat setting. If ignored, increased heat can lead to damaged hair.
For timely results, buyers should examine the hair straightener's features. The amount of time it takes the straightener to heat up as well as the control settings offered affect how quickly and effectively the hair can be straightened. With so many hair straighteners to choose from, eBay can help buyers to find the ideal styling tool, without compromising the quality of their hair.