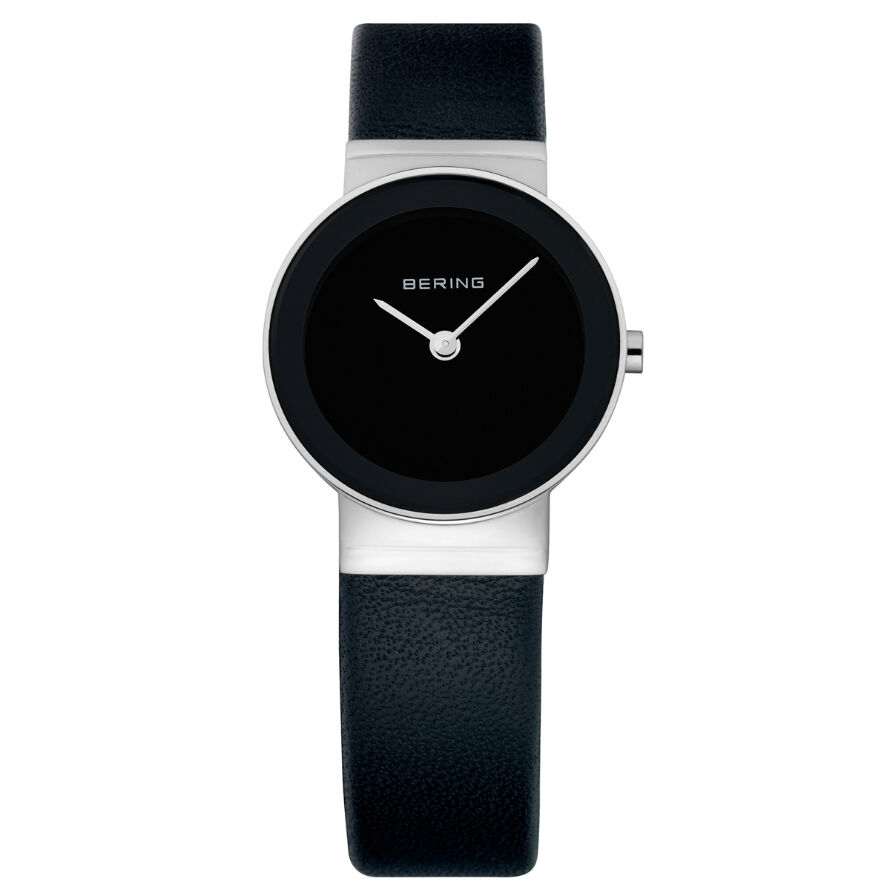 Ladies wear wristwatches both for practical and aesthetic reasons. Wristwatches are a convenient way to determine the exact time and because of the many designs available, they can also reflect a lady's personal style. With both simple and luxurious wristwatches available, every woman should be able to find a suitable design that matches her style and complements her wardrobe and other accessories. Wristwatches should be both functional and comfortable to wear. They can be an important accessory and can function as jewellery. Wristwatches consist of a dial and a strap. The dials can display the time using analogue mechanical hands to indicate the hour and minute, or a digital display. Straps can be made of leather, plastic, or metal.
When buying a ladies wristwatch, it is useful to understand the types of watches, their straps, displays, and features. Ladies wristwatches can be bought from jewellery shops and department stores, as well as online sites, such as eBay.
Types of Ladies Wristwatches
Ladies wristwatches can be divided into several types that mostly differ by their function. Fashion and jewellery wristwatches are often selected for their appearance, while sports and water resistant wristwatches have a practical use.
Ladies Fashion Wristwatches
Ladies fashion wristwatches have outstanding designs that make a statement and are suitable for style conscious women. These watches are usually created by designers and belong to the high-end category of accessories.
Ladies Jewellery Wristwatches
Ladies jewellery wristwatches can be expensive as they often feature precious stones that add to their value. They are jewellery as well as timepieces, and can accompany elegant evening dresses. Ladies jewellery wristwatches are also known as dress watches.
Ladies Sports Wristwatches
Ladies sports wristwatches are computerised and have many advanced features in addition to displaying the time. They are also known as multifunctional wristwatches. Ladies sports wristwatch features include GPS, a heart rate monitor, calculator, key drives, digital camera, video games, and tonometer, which can be used to measure the pitch of musical tones. Ladies sports wristwatches are usually robust and durable. They are perfect for women with an active lifestyle.
Water Resistant Wristwatches
Some wristwatches are splash proof and can withstand some contact with water. However, for the best performance, water resistant watches should be used. Water resistant wristwatches can be immersed in water, for example, when diving. These watches are protected from the water by a mechanical seal. The degree of water resistance is described by the theoretical depth at which the watch could still function in laboratory conditions. The following table presents the degrees of water resistance.
Depth Rating (m)

Recommended Contact With Water

0-30

No contact allowed

30-50

Washing hands

Rain

50-100

Poolside swimming

100-200

Swimming

Showering

Snorkeling

No hot water

200-500

Water sports, such as scuba diving or board diving

500+

Deep water diving
The values in the table are calculated in laboratories where the conditions are ideal, so may not always be valid for real world situations. Hot water may affect the wristwatch by loosening the screws, and the watch may also erode if it comes into regular contact with fluids.
Straps for Ladies Wristwatches
The structure of wristwatches is same for all models. They each consist of a strap and a dial. The strap holds the wristwatch in place around the wrist.
Strap Materials for Ladies Wristwatches
The material for the strap of a ladies wristwatch should be chosen according to the environment where the watch is worn, although the style also plays a significant role. For instance, leather straps may not be ideal for swimming, but they are used commonly for elegant dress wristwatches. Novelty or fashion wristwatches can have straps made of fabric or plastic. Plastic or resin is a common choice for sports watches because of its water resistance and durability. Jewellery watches can have solid silver or gold straps. Silver requires regular cleaning because it tarnishes easily. Gold may not tarnish, but it is softer than silver, so is easily marked. Ladies with skin allergies should choose nickel free watches or organic materials. Titanium watches also work well because they do not usually cause allergic reactions. Other metals used for straps include stainless steel, palladium, iron, and rhodium.
Fitting Straps for Ladies Wristwatches
Many straps made of leather and plastic have buckles for fastening. These straps can be adjusted by using the holes in the strap, and extra holes can be added to adjust the fit of the watch. Bracelet straps are typically found on elegant watches with metal straps and are fastened with clasps. The fit of watches with bracelet straps can be adjusted by removing or adding links, and this is usually done by a jeweller.
Dials for Ladies Wristwatches
The dial hold the face used to display the time. The display can be either digital or analogue. The dial is protected with a lens. Affordable watches use plastic lenses, while more expensive models have durable lenses made of mineral crystal or sapphire glass. Glass lenses are scratch resistant and very strong. The dial is often surrounded with a ring known as a bezel. The bezel can revolve and on sports watches it measures speed or time. Divers can use this to know how long they have been under water. Some analogue watches have a crown, which is the winding mechanism used to adjust the time.
Analogue Display for Ladies Wristwatches
The analogue display is traditional and is often preferred because of its elegant look. It consists of a dial that has the hours 1 to 12 in Arabic or Roman numerals, or sometimes just indicated by a marker, like a gemstone. The numerals can be displayed in lots of ways and not all of them are necessarily included, sometimes there are just markers at the quarter hours. The dial also has a hour hand and a minute hand.
Digital Display for Ladies Wristwatches
Digital displays show the time as figures. Digital wristwatches are electronic and can display the hours, minutes, seconds, and even fractions of seconds and the date. These watches are operated by a small computer. Digital watches usually have LCD or LED displays.
Features of Ladies Wristwatches
Two of the main differences between ladies wristwatches are the power source and the features. Features contribute to the overall look of the wristwatch and determine the style.
Power Source for Ladies Wristwatches
The power source is the mechanism that keeps the wristwatch going. Self-winding wristwatches, or kinetic power wristwatches, have a mechanism inside that winds the watch constantly and require no particular winding activity from the wearer. The winding motor inside the watch rotates when the wearer moves: body movements generate mechanical spring tension and make gears move at a specific speed. These kinetic watches may wind down if they are not worn for a long period of time, although some can conserve power for about six months.
Batteries are a common power source for wristwatches. Both alkaline and rechargeable batteries are used. The main disadvantage of this power source is that the batteries have to be replaced or recharged and sometimes this requires a jeweller to open the watch with special tools. Solar powered wristwatches that collect light and transform it into power are an environmental alternative.
Functions for Ladies Wristwatches
Many ladies wristwatches have special functions such as, displaying multiple time zones. This feature can be found on both digital and analogue wristwatches, where the two times are displayed side by side. These watches are perfect for women who travel or have business, friends, or relatives overseas. Another special function is illumination. Some watches have a back light, whereas others have hands coated with light-absorbing paint. Radio controlled wristwatches show the most accurate time because they receive signals from satellite transmitters. They are accurate to within one second.
Buying a Ladies Wristwatch on eBay
In order to find a ladies wristwatch on eBay, you may start with a simple search by typing "ladies wristwatch" into the box that you can see at the top of every eBay page. This search gives you thousands of results, which you may choose to narrow down in order to find the perfect wristwatch. You can sort the results by price or condition. Filters also allow you to choose features of the wristwatch. Specifying a colour or style in your search terms helps if you know the specific wristwatch that you want. Michael Kors offer a great selection of Ladies Wristwatch.
When reading the item listing, pay attention to the size of the watch. Often the size is adjustable, but if the watch is too small or has a metal strap, it may be more difficult to fit. If you have any questions about the size of the ladies wristwatch, or any other features, contact the seller directly using the "Ask a question" link.
Conclusion
Ladies wristwatches are both practical timepieces and stylish accessories. Some more elegant models can be worn as jewellery. All wristwatches have a strap and a dial. The strap can be made of leather or plastic and fastened with a buckle. Alternatively, it can be like a bracelet made of metal, such as titanium, silver, rhodium, palladium, or gold, and fastened with a clasp. The dial contains the display that shows the time. It can be either analogue or digital. The dial is protected by a lens.
Ladies wristwatches can be self-winding, battery operated, or solar powered. Their features can include water resistance, illumination, multiple time zone displays, and speed measurement. The features and style determine whether the wristwatch is a highly functional sports watch or a more sophisticated fashion or jewellery timepiece. With so many designs and features available on eBay, every woman can find a wristwatch to match any outfit or occasion.