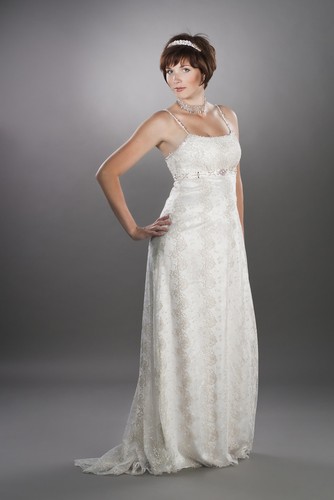 The majority of women dream of the perfect wedding for years and the wedding dress has a central place in those dreams. Brides to be who are pregnant should not worry because it is possible to find a maternity wedding dress that is flattering and looks great on the most special day of a woman's life. Looking spectacular on the wedding day when pregnant is quite easy because there are plenty of maternity wedding dress styles to choose from.
Pregnant brides can choose to get married in a traditional white dress or they can opt for a dress in another colour. There can be some challenges with the sizing of the dress, as women cannot predict accurately their growth rate when pregnant. Bearing this in mind when choosing a wedding dress is essential. As for styles, the safest bet is to go for fuller dresses instead of tight fits. By being informed about different styles of maternity wedding dresses, brides to be can make a wise decision and look stunning on the day of their wedding.
What to Look for in a Maternity Wedding Dress
Before starting the quest for a maternity wedding dress, women should first determine how far along they are going to be at the time of the wedding. By carefully figuring this out, the bride to be can determine the size of the dress as accurately as possible. The fit of the dress is the next thing to decide upon, and many pregnant brides choose to accentuate their baby bump. However, this is optional, and brides who do not want to stress the fact that they are pregnant may go for a looser fitting. In any case, it is important to avoid trying to hide the pregnancy because often this just makes it more obvious.
Moms to be should think about fabrics when it comes to choosing their dream wedding dress. Different fabrics give different styles, with some of them being more comfortable than others. Women should have a clear idea about their budget for the wedding and choose their dress accordingly. When buying a maternity wedding dress, it is vital to make sure it goes well with the theme and colour palette of the wedding.
Styles of Maternity Wedding Dresses
Being pregnant as a bride does not mean one should wear an unflattering wedding gown bought from the nearest located maternity store. Actually, there are plenty of stylish options available for brides who also happen to be expecting. Disguising the baby bump or flaunting it are the two choices for a pregnant bride to be when it comes to choosing a style for her wedding dress. Women who are in the early part of their pregnancy have a large palette of styles to choose from.
Perhaps the most popular style of maternity wedding dresses is the empire gown. The waistline of this dress is located right under the breasts and this is why the attention can be easily drawn away from the belly. This style is an excellent choice for brides who are in the first half of their pregnancy. Another style suitable for brides who are not looking too pregnant yet is the A-line dress, which may minimise the appearance of a swelling belly by drawing the eye up to the top point. For a touch of classic elegance, pregnant brides may also opt for Grecian styles because their flowing appearance looks great around a baby bump.
Brides who are pregnant in their last trimester have several options for accentuating their baby bump in style. One of the most popular choices is the pleated wedding gown. Even though this type of dress is not normally an ideal choice for full-figured women, it works perfectly for pregnant brides because it emphasises the belly. For brides who really wish to show off their baby bump, body-hugging sheath dresses are an ideal choice, but they usually only work well on women whose body has only changed in the area of the baby bump.
Tips for Wearing a Maternity Wedding Dress
Wearing a maternity wedding dress should not be too different than wearing a regular wedding gown. Perhaps the most important thing to consider in this case is the footwear. Pregnant brides should choose their shoes wisely because they need to be comfortable on the day of the wedding, especially women in their last trimester. Most women experience feet swelling during pregnancy, so it is important to have a spare pair of shoes ready for this eventuality. A good idea would be to buy two identical pairs, one in the regular size and the other a size up. High heels should definitely be avoided, especially in the last trimester, because they may be very uncomfortable and not too flattering at the same time. It is best to go for a pair of stylish low heels that provide plenty of comfort and work well with the dress.
When it comes to accessorising a maternity wedding dress, brides should avoid bows and chunky jewellery, as these may make them look bulkier than they are. V-neck style dresses are great for accentuating the cleavage and they can be enhanced with thin necklaces. Another thing to consider for wearing a maternity wedding dress in style is the bra because this can actually make a dress look better or destroy its look. Pregnant brides should opt for bras that offer good support for the upper part of the dress. If strapless bras are not an option in the case of maternity bras, brides should make sure the bra straps are hidden under wide shoulder straps.
Choosing a Maternity Wedding Dress That Fits
Buying a maternity wedding dress in a size that fits perfectly may often be a tricky thing to do, simply because a pregnant woman's body changes from one week to another. The best approach in this case is to approximate the size the bride is going to wear at the time of the wedding and choose a dress that can be altered easily if needed. The chart below provides brides to be with some essential sizing information for maternity wedding dresses.
| UK Size | US Size | EU Size | Bra Size |
| --- | --- | --- | --- |
| 6-8 | 0-2 | 34-36 | - |
| 8-10 | 4-6 | 36-38 | 32-34 A-B |
| 10-12 | 6-8 | 38-40 | 34-36 B-D |
| 12-14 | 8-10 | 40-42 | 34-36 C-E |
| 14-16 | 10-12 | 42-44 | 36-38 C-F |
| 16-18 | 12-14 | 44-46 | 40-42 C-F |
| 18-20 | 14-16 | 46-48 | 42-44 C-G |
Buyers should keep in mind that these sizes are simple guidelines and that they may differ from a dress to another. Depending on how far along is the bride on the day of the wedding, alterations may be needed with just one or two days in advance, so women should make arrangements for that eventuality with a local tailor.
How to Buy a Maternity Wedding Dress on eBay
Finding a maternity wedding dress may come with a lot of stress, mostly because of sizing problems. The most important thing when shopping for wedding dresses, however, is to find the style of your dreams without worrying about any downsides. Remember that most dresses can be altered, so you shouldn't worry about looking great on your wedding day.
A simple way to shop for maternity wedding dresses is to look on eBay because this website has hundreds of maternity wedding dresses in all the styles you may imagine, so this is where you should start the quest for your dream wedding dress. This task is quite simple when shopping on eBay, mostly because all you need to do is type 'maternity wedding dress' in the search bar and get hundreds of results immediately. Refining the search results according to your personal preferences and budget is also very easy and it may make finding the dream wedding gown easier.
When shopping for maternity wedding dresses on eBay, you need to pay very close attention to the sizing information provided by the sellers. Even though you may not be able to take accurate measurements because your weight and body shapes are in a continuous change, try to estimate as well as possible in order to avoid having to return the dress.
Conclusion
Maternity and weddings are happy events in the life of every woman and when they happen to coincide, it's twice the fun. Although choosing a maternity wedding dress may seem difficult, with so many styles available on the market, it is impossible not to find a flattering gown. Some of the essential things that a bride and mom to be needs to take into account are sizing and accessories such as shoes.
Maternity wedding dresses are available in high-street stores and online and buyers should have a look at many styles before deciding upon one. Websites such as eBay provide women with a massive selection of dresses to choose from. In addition to that, looking for a wedding dress online requires a minimum of effort. Regardless of how far along a pregnant woman is on the day of her wedding, there is a flattering gown for her on eBay just waiting to be found.