Men's black belts are essential components of the male wardrobe, especially when wearing formal clothes. Besides fulfilling a functional role, men's belts also help complete an outfit. An understanding of the different types of black belts available helps buyers pick one that matches their wardrobe and personal style.
Intended Use
Men wear belts with both formal and informal clothing. For formal wear, black leather belts are ideal when wearing black shoes. Most formal black belts have a shiny finish. There is more flexibility with casual clothes—such as jeans and trainers—and belts. Casual black belts have a dull matt finish as do those of other colours. Experts do not recommend wearing formal belts with casual attire or vice versa.
Material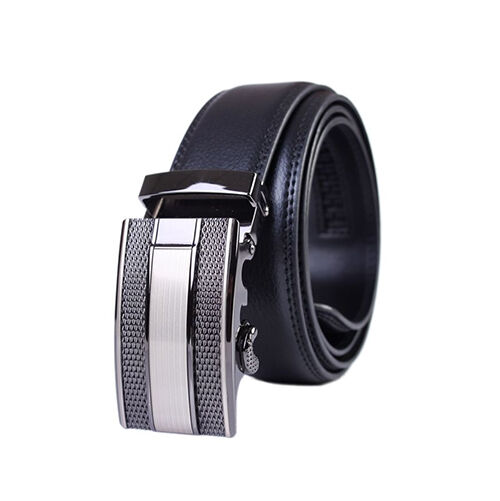 Men's leather belts may be either "genuine" or "full" leather belts. Reasonably priced and durable, Genuine leather belts have layers, with scrap leather used for the internal layers and full leather for the outer layer. Full leather types are made of a single, thick layer of leather. Though more expensive, they last the longest. However, they are prone to surface scratches. Some very expensive leather types feature exotic materials like ostrich or alligator skin. Despite their cost, these are casual belts. Faux leather belts look like real leather, but cost much less. Unfortunately, they also wear out quicker. Black canvas belts are durable, adjustable, and inexpensive. Worn with casual clothes, they are sometimes reversible, giving users a second colour option in one belt.
Size
Experts recommend choosing a belt one size larger than the wearer's waist size. This size refers to the length of the belt. Once fastened, belts of the correct size should have enough extra length left over to tuck under the first belt loop. Buyers should avoid belts that are too long. They should also consider a belt's width. Formal belts should be between 2.5 and 4 cm in width. Wider belts are for casual attire.
Buckle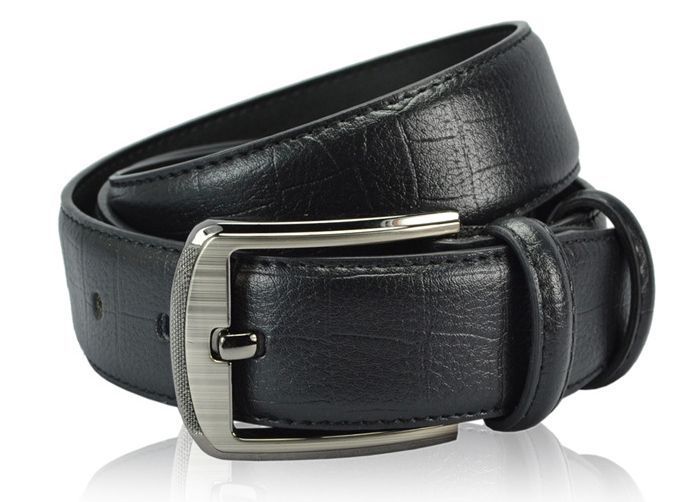 Men's belt buckle designs vary. Those with a metal tongue are the most common. Some models have two tongues. Others have a sliding latch with a peg that holds the belt in place. Larger buckles make a belt more casual. Formal types have small, discreet buckles, often gold or silver in colour. Like matching black belts with black shoes, men may match buckles with a watch or other jewellery, such as cufflinks, a wedding ring, or tiepin, when dressing formally. Casual belt buckles may be larger and more striking. Some models feature designs or lettering.