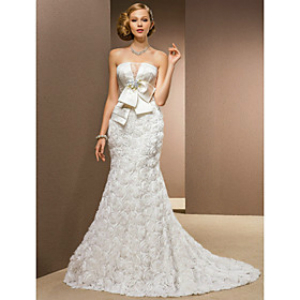 Similar to any other distinct garment types, wedding dress styles change on a yearly basis, and brides may have a hard time keeping up with the current trends. However, one of the most unique things about wedding dresses is that classics styles are always accepted as a solid choice.
Fashion forward brides tend to emulate the most recent trends, and lately, mermaid wedding dresses are becoming extremely popular for all kinds of wedding. It is a new age design that hugs the body and accentuates the curves of the bride, but this dress type is often confused with the "trumpet" and "fit and flare" wedding gowns. Additionally, a mermaid wedding dress is not suited for all body types, and brides should be conscious of this fact when selecting their gown for their special day. This guide clarifies the difference between mermaid and other wedding gown styles and also provides body type and fitting information to help brides make an informed decision.
Mermaid Wedding Dresses vs. Trumpet and Fit and Flare
People confuse the mermaid dress with "trumpet" and "fit and flare" because they are very similar in shape and design. Their differences are only easily detected if you know what to look for. Below, the styles' differences are discussed so that brides know what to look for when shopping for a mermaid wedding dress.
Mermaid Wedding Dresses
Mermaid dresses are the most body-hugging of the three types and is therefore considered the sexiest in some circles. A mermaid dress fits closely on the body until about the knee where it flares off extravagantly towards the hem. Brides should note that these dresses can be very constricting and may hinder walking and dancing to some extent.
Trumpet Wedding Dresses
Trumpet wedding dresses are made similar to mermaid dresses in that they hug the body most of the way, but they flare of mid-thigh as opposed to at or below the knees. These dress types are more conducive to dancing because the legs have a bit more wiggle room. Bustier brides sometimes opt for a trumpet rather than a mermaid because its wider bell bottom appearance helps to balance out their ample chest area. However, the right mermaid gown can have a similar effect.
Fit and Flare Wedding Dresses
Mermaid dresses are probably most confused with fit and flare than any other dress type. It may also be considered the second most flattering of the group. Fit and flare gowns hug the body and flare off just below the hips. They look great on women with wide hips. In essence, the major difference between the three wedding dress styles is mainly where they flare off from the body.
Who Should Wear a Mermaid Wedding Dress
Many women opt for a mermaid wedding dress simply because it is the latest trend, but they must also be aware that not all women look good in a mermaid dress. These dress types look great on models and mannequins, and women often assume that the dress is going to look the same on their body, but different body types produce diverse results, and not all of them are favourable.
Understanding the Different Body Types
Even after a bride understands what body types go well with a mermaid dress, she may still make the wrong decision if she is unsure of what her body type is exactly. Below is a detailed chart with the aforementioned body types and their specific characteristics.
Shape

Characteristics

Hourglass

Busty with wide hips

Small, short waist

Average/long legs with thick thighs

Average/broad shoulders

Brick

Broad shoulders and no waist

Average tummy with a relatively flat bum

Chunky thighs and calves with average legs

Skittle

Small/average Breasts with narrow/average shoulders

Slim waist with average belly

Similar pelvis and hip width

Average/short legs with thick thighs and calves

Lollipop

Big breasts with a slight waist

Slim hips and long legs

Average/broad shoulders

Cornet

Broad shoulders with small breasts

No waist with slim hips and long slender legs

Pear

Narrow shoulders and small breasts

Long waist with a relatively flat tummy

Bigger bottom with possible saddlebags

Short thick legs

Cello

Average/broad shoulders

Big breasts with a short waist

Big hips, bottom, and thighs

Slim lower legs

Goblet

Broad shoulders and a busty chest

little to no waist

Narrow hips and long legs with a slight tummy bulge

Column

Similar shoulder and hip width

Slight waist with long legs

Bell

Small shoulders that are often much smaller than the hips

Small breasts and waist

Average or long legs

Big thighs and bottom

Apple

Narrow shoulders and average breasts

Tummy often protrudes beyond breasts

Average legs

Vase

Big breasts with a slightly curvy long waist

Similar hip and breast size

Slim thighs and legs
Once the bride has determined her body type, she can now determine specific designs that would make a mermaid wedding dress perfect for her. Therefore, when she becomes aware of the designs that benefits and flatters her shape and prominent characteristics, making a decision becomes easier.
How Mermaid Dresses Correspond With Each Body Type
Each woman should find their corresponding body type and understand how she may look in a mermaid wedding gown. This helps her find a dress that flatters her body and look great on her.
Body Types - Hourglass, Vase, Cello, and Pear
Women with hourglass shapes are more recommended for mermaid dresses than any other body type. This is due to the fact that they have a balanced figure and the dress hugs and highlights their curvy body. However, a woman with a vase, cello, or pear-shaped body could also easily pull of the mermaid look. They simply have to choose a mermaid design that hides any flaws and highlights their better features.
Body Types - Bell, Skittle, and Lollipop
Bell-shaped women sometimes shy away from mermaid dresses because these dresses highlight their wide hips and protruding bums. However, if a woman has a slim pear shape, showing off those assets is not necessarily a bad thing. Skittle women can be considered as a slender pear shape, except that their hips do not have that defined curve. Skittle women can also wear a mermaid dress as long as they choose a material that is a bit thicker to help round out the hips. Lollipop women have a slender curve around the hips, but their busty chests tend to overshadow that fact. In selecting a mermaid gown, these women should find a dress design that emphasize their lower half and minimises the chest area.
Body Types - Column, Goblet, and Cornet
Column, goblet and cornet body types are relatively slender silhouettes with mild curves. Goblet women tend to have a bustier chest than cornets and columns, but they can all pull off a mermaid gown as long as they consider their most defining feature when selecting a design.
Body Types - Brick and Apple
It is not recommended for women with brick and apple shapes to wear a mermaid wedding dress, but if they insist on selecting this particular style for their special day, they should probably consult either a designer or a seamstress to make adjustments to an existing gown to create a design that flatters their shape.
Accentuate Features and Hide Flaws
Women who have a short or non-existent waistline, should probably get a mermaid dress that incorporates a decorated waistband or sash. The sash can be gathered, beaded, or embellished with jewels or lace. It is also best to get a sash that has a shade contrasting with the actual dress to give the illusion that she has a more prominent waist.
Women with large breasts should avoid empire waist mermaid wedding dresses as they emphasize the bust and would desynchronize the shape. This option should be considered for women with smaller breasts who need to accentuate the bust line.
Even though mermaid dresses have a distinct shape and style, women can personalize their gowns by selecting dresses with appropriate necklines, waists and skirts that suits their style and body.
Mermaid Wedding Dress Sizes
Women may find the perfect mermaid wedding gown, but if they do not select the proper size, the style may be an epic fail, and she is going to be unhappy on her wedding day. Brides should always consult a size chart and compare it with recent body measurements before deciding on a specific size. Even though most women are already aware of their dress size, they should use the chart provided by the retailer to discern the size dress to buy.
The size chart below can be used in the event that the buyer does not provide one. Measurements are in cm. Sizes are estimated and may vary by brand and manufacturer.
| | | | | | | | | |
| --- | --- | --- | --- | --- | --- | --- | --- | --- |
| Size | 6 | 8 | 10 | 12 | 14 | 16 | 18 | 20 |
| Bust | 83 | 84 | 88 | 90 | 93 | 97 | 100 | 104 |
| Waist | 65 | 68 | 70 | 72 | 75 | 79 | 83 | 86 |
| Hips | 91 | 92 | 96 | 98 | 101 | 105 | 109 | 112 |
| Hollow to Hem | 147 | 147 | 150 | 150 | 152 | 152 | 155 | 155 |
| Height | 160 | 160 | 165 | 165 | 170 | 170 | 175 | 175 |
It is imperative that brides have a professional seamstress take their measurements. If not, a friend or relative should do it as she cannot do it accurately on her own. If a professional semastress is not taking the measurements, the following details should be considered.
Bust
Women must first understand that bust measurements do not refer to their bra size; they must wear a bra while being measured. The measuring tape should complete the circumference of their back and run across the fullest part of their breasts with arms relaxed and down at the sides.
Waist
The measuring tape should be placed around the smallest part of the waist; this should be roughly about 2.5 cm above the navel.
Hip
The measuring tape should circle the widest part of the hips just across the hipbone and the centre of the bottom. This is roughly 18 cm below the waistline.
Hollow to Hem
Hollow to hem measurements help determine the length of the gown. The measuring tape should be placed at the hollow of the neck, which is the sunken section at the front just above the collarbone. The tape should then run the length of the body towards the desired hemline.
Height
The height should be measured from the back and should range from the top of her head to the base of her feet. If possible, the bride should take this measurement in the same shoes that she plans on wearing on her wedding day. She can also substitute with a pair of shoes with a similar heel height.
If the bride is choosing a gown with sleeves, she should also provide arm measurements. This includes measuring the biceps and the length of the arm for long sleeve gowns.
Buying Mermaid Wedding Dresses on eBay
eBay is a haven for wedding gowns; therefore, finding a suitable mermaid wedding dress does not have to be difficult as long as the bride to be is properly guided. First, perform a general search for mermaid wedding dresses from the eBay homepage. You are going to see numerous listings that can further be filtered to suit your preferences. For example, if you are already certain that a sweetheart neckline is right for you, you can change your initial homepage search to include that option. For instance, you could type "sweetheart mermaid wedding dress", and this returns only mermaid wedding dresses with a sweetheart neckline.
Filters can be created for sleeve type, fabric, and colour to find the perfect collection. Then you can further narrow your choices to match your budget by selecting a price range. Always select at least two or three options and then contact the seller to inquire about shipping and adjustment details. Multiple options are especially important when the items are on auction.
Conclusion
Selecting the right wedding dress is often the single most important task for a bride-to-be. Because so much emphasis is placed on how she looks and feels in her gown, a lot of time is spent on this task. Mermaid gowns are gorgeous and are at the forefront of contemporary wedding dress styles, but women should consider a few factors before deciding on the right one. A bride should be sure that she knows her body type and considers how her silhouette would look in a mermaid gown. She should also choose external designs and embellishments that accentuate her figure and hide any flaws that she may have.
A mermaid wedding dress search on eBay generates many results; however, some of those dresses may actually be trumpets or fit and flare dresses. Women should understand the differences between the types and be able to identify them. Oftentimes, a woman can substitute one for another as long as it is ideal for her body type, and she is comfortable in it. eBay's search engine and filters makes finding the right dress easy.