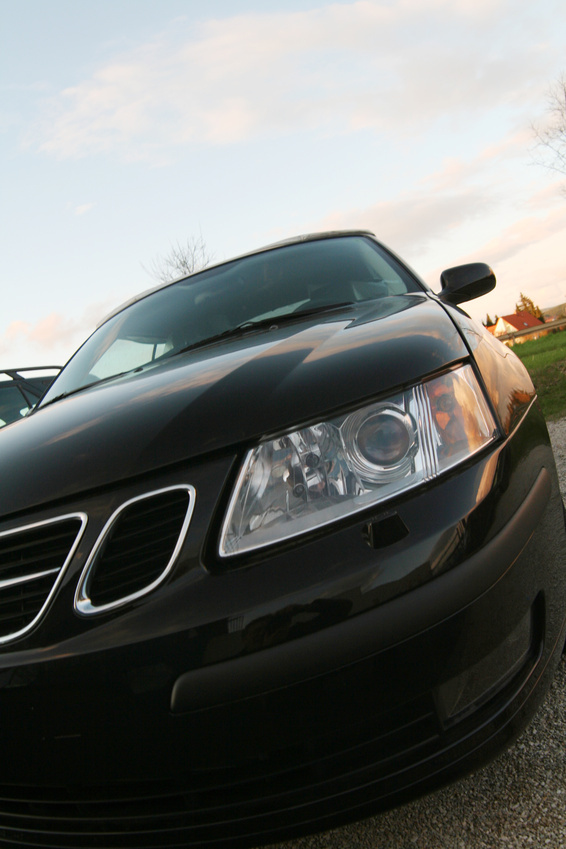 The Saab 9-5 was first introduced in 1997 and is one of the car manufacturer's most notable lines of executive vehicles. It has been through several changes in its history and is generally separated into two different generations. The first generation lasted from its debut in 1997 until 2009, while the second generation lasted from 2010 until production ceased in 2012. Buyers have several options when purchasing a Saab 9-5. Begin by choosing the year and model of the car. Options can be refined by transmission type and features such as a sunroof and electric seats.
Saab 9-5s are no longer in production, so nearly all models available for purchase have been used by a previous owner. Therefore, it is important to research the specific vehicle being considered. Begin by determining the true market value of the car. A vehicle history report can be obtained to check if the car has been in an accident. When possible, take the vehicle to a mechanic for a buyer's inspection before committing to a purchase. Some Saab 9-5s also qualify as Saab Certified Pre-Owned vehicles, which provides added benefits.
Saab 9-5s can be bought from car dealers and private sellers. Many are also available online. Some websites specialise in cars, while marketplaces, like eBay, also have a number of listings for vehicles, spare parts, and accessories.
Generations of Saab 9-5
The first generation of Saab 9-5 began with the introduction of the original model in 1997. After many years of retaining the same basic design, Saab overhauled the 9-5 and released its second generation in 2010.
First Generation Saab 9-5
The basic design of the car remained relatively unchanged throughout the 2000s. The second generation appeared in 2010.
Engines for the First Generation Saab 9-5
Until 2002, the first generation Saab 9-5 was powered by Saab's B205 and B235 straight-4 engines. These were replaced in European models with an Opel Ecotec diesel engine in 2002, and later, by a Fiat 1.9 unijet Turbo Diesel (JTD) 16V straight-4 engine in 2006. A B308 developed from General Motor's 54-degree engine was also used on some models made between 1999 and 2003.
Aero
A performance version of the Saab 9-5 started production in 2000. It was called Aero and offered significantly more power and torque than other models. Manual versions of the Aero, released between 2000 and 2001, are rated at 240 hp, and include a sport tuned suspension and body side mouldings. From 2002 to 2005, the Aero's engine was improved to 250 hp. From 2006 until the end of production, the Aero's engine provided 256 hp through the B235R straight-4 engine.
Second Generation Saab 9-5
The second generation Saab 9-5 built on the earlier models and added a turbodiesel I4 engine. Most models also come as standard with power adjustable driver and passenger seats, and leather upholstery.
Sportcombi
In addition to the saloon model, Saab released an estate version of the Saab 9-5 called the Sportcombi. These cars are essentially the same design from the C-pillar forward, but the Sportcombi includes a larger storage area of 1.6 cubic metres with the back seats folded down. The Sportcombi was more expensive than the saloon version, and buyers of used models should still expect to pay more for this version.
Factors to Consider When Buying a Saab 9-5
Saab ceased production of the Saab 9-5 in 2012, and as a result, nearly all available models on the market have a previous owner. As with any used car, there are several important factors to consider in order to buy a vehicle with the best appearance and performance. These include determining the vehicle's true market value, obtaining a vehicle history report, and taking the car to a mechanic for a buyer's inspection. Buyers also need to choose between automatic and manual transmission.
True Market Value
The market value of a Saab 9-5 fluctuates over time according to the demand from buyers. Particular years are sometimes in greater demand than others, which makes them more expensive. To avoid overpaying for a Saab 9-5, do some research to determine its true market value. This information can be found online and this is an easy way to set a budget for a particular year and model. The true market value is determined by recent sales figures of vehicles similar to the one being purchased, so it is always a reflection of the current market.
Vehicle History Report
Obtaining a vehicle history report on a Saab 9-5 is one of the best ways to ensure a positive buying experience. This report reveals a wealth of information about the vehicle, including past accidents and repairs. The report can also indicate whether the vehicle has a salvage title or if the odometer has been rolled back.
Mechanical Check
Another way to determine the condition of a used Saab 9-5 is to take it to a mechanic. Honest sellers should allow prospective buyers to take the car to a garage of their choice for an honest evaluation. Although some garages provide a simple buyer's inspection at no charge, it is not uncommon for a fee to be charged. Speak to mechanics in advance to check their rates and factor any fees into the total price of the vehicle.
Certified Pre-Owned Vehicles
For newer models of Saab 9-5s, it is possible to buy one that is Saab Certified Pre-Owned. To qualify for this, a vehicle must pass a 117 point inspection. These vehicles are given a multi-year warranty in case of corrosion and malfunctions. Buyers also receive a vehicle history report at no charge.
Automatic vs. Manual Transmission
Nearly all models of the Saab 9-5 are available with either automatic or manual transmission. Although this is primarily a personal preference, the manual versions of Saab 9-5 models have greater horsepower and torque.
Buying a Saab 9-5 on eBay
A number of Saab 9-5s can be bought from the sellers on eBay. To locate them, initiate a keyword search from the home page. For example, enter "Saab 9-5 Aero" into the field to see all listings tagged with those terms. You may narrow listings by adding new terms on subsequent search results pages. It is also possible to filter listings using eBay's category links. If you know the precise details of the car that you want to buy, then use eBay's advanced search feature to find the vehicle.
Review Item Listings
Review item listings on eBay before committing to a purchase. Understand the full price of the Saab 9-5 and any additional fees that may apply. It is also important to note the location of the car. Read the full product description and compare it with the available photos. Most listings also include a specification sheet from the car's manufacturer. Check this for detailed information about the vehicle's features and accessories. If any information is not included in the item listing, then contact the seller by using the "Ask a question" link.
Review Seller Profiles
Inspect seller profiles on eBay to feel confident in your purchase. Look for the seller's feedback rating and the number of completed transactions. This information can be used to determine quickly the reliability and experience of the seller. You may click on the name of a seller in item listings to see additional information, such as comments left by past buyers. Once you have completed your transaction with the seller and have driven the car, return to eBay to leave feedback about your experience.
Conclusion
The Saab 9-5 is a line of executive cars produced from 1997 until 2012. It proved to be one of the company's most popular models, and the cars are still sought after for their attractive design and high level of performance. One of the most notable models from the first generation is the Aero, which provides more torque and horsepower than other models. A second generation of Saab 9-5s was released in 2010. It featured a redesigned exterior and a new engine. An estate version, called the Sportcombi, was also produced during the second generation.
Saab 9-5s are no longer produced, which means that nearly all available cars have been used by a previous owner. There are several factors to consider while shopping for used Saab 9-5s. Begin by determining the true market value of the car. Research recent sales reports of similar vehicles and note that the value is always adapted to the current market. This information can be found online. It is also important to obtain a vehicle history report. This can reveal any accidents the car has been involved in and any possible odometer adjustments. Finally, it worth taking the Saab 9-5 to a mechanic for a buyer's inspection before committing to a purchase. This can usually be performed either free or for a fee, and is an excellent way to verify the condition of the car.
Compare listings for Saab 9-5s on eBay to find vehicles in the best condition at the lowest prices and enjoy driving one of Saab's most popular models.