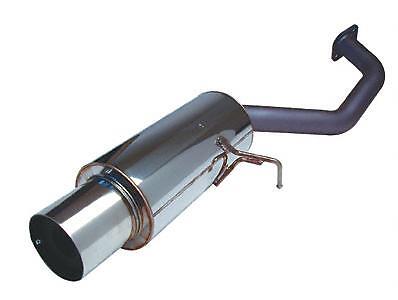 To ensure the smooth and noiseless drive of a Renault Megane, the noise created by the exhaust of its internal combustion engine must be cancelled out; this is where a silencer comes in handy. A silencer does not perform any of the tasks of the exhaust system; it is created as an acoustic soundproofing device, which receives and reflects the sound waves coming from the exhaust system to lessen, if not eliminate, the noise caused by the system.
Buyers of a silencer for a Renault Megane must consider a number of factors to ensure that they are getting the right part. Silencers used in this make and model can vary in the materials used to construct them, as well as their position in the car. Following a few steps when buying a silencer helps to take the guesswork out of the purchasing process. A silencer for a Renault Megane can be bought from specialist car part retailers and online at eBay.
Types of Silencer
The primary and most important function of a silencer is lessening the amount of noise that the engine makes. There are performance silencers that not only reduce the sound emitted by the engine, but also reduce back pressure that can decrease the engine's efficiency. Silencers can vary in their construction, size, and the way that they reduce noise. The two types of silencer are bullet and full case.
Bullet Silencers
Bullet silencers have a relatively small diameter, but despite their size they facilitate great flow. They offer little sound reduction, especially in the reduction of decibel levels. There are three types of bullet silencer: perforated, louvred, and chambered.
Perforated Bullet Silencer
The perforated bullet silencer features perforations that allow sound to be released and deadened. These silencers may use hollow space or may be filled with fibreglass to muffle the sound.
Louvred Bullet Silencer
The louvred bullet silencer, features louvres that protrude into the exhaust path to lessening sound levels. Although they produce less flow, louvred models are better at silencing than the perforated type because they trap sound instead of releasing it.
Chambered Bullet Silencer
The chambered bullet silencer muffles sound rather than releasing or trapping it. It does this by directing the sound into crimps or chambers.
Full Case Silencers
Full case silencers reduce sound levels better than the bullet type. They muffle sound while providing significant performance gains. Full case silencers can come as a single or dual-chamber variety. The single-chamber has one chamber that usually wraps around the outer wall of the silencer. In a dual-chamber, the inner wall separates the silencer into two sections.
Materials for Silencers
Silencers can be made of aluminised mild steel, aluminium, or stainless steel. A stainless steel silencer can last up to ten years longer than one made of aluminised mild steel, which is prone to corrosion and only lasts four years on average.
Factors to Consider When Buying a Silencer for a Renault Megane
Understanding the differences between the types of silencers and the materials used to make them prepares buyers to choose the right product for their Renault Megane. There are a number of factors to consider when buying a Renault Megane silencer to ensure that buyers get their money's worth.
Positioning of a Silencer
Buyers can choose to replace or add a middle, or centre, silencer or a rear silencer. A middle silencer is placed in the middle of the car in the original position. The rear silencer is placed at the back of the car in the area where the tail pipes are found. Both types are available for Renault Megane models. There are car owners that attest to the effectiveness of middle silencers in reducing noise, while there are others that swear by the power of rear silencers in muffling noise as well as improving performance.
Original Equipment Manufacturer vs. Aftermarket Silencers
Buyers can also choose either an original equipment manufacturer (OEM) Renault Megane silencer that is made of genuine components that would have been in a factory new car or an aftermarket silencer produced by a third party. Aftermarket brands available online include:
Klarius
Bosal
Link
Ashley
Model Year of a Renault Megane
Before buying a silencer for a Renault Megane it is recommended that buyers read the owner's manual for instructions and specifications. The manual contains information about the type of silencer that is best for the engine and horsepower output for the specific make, model, and year of car. It also contains instructions on how to troubleshoot a malfunctioning silencer. Buyers can also seek the advice from a professional mechanic when considering types of silencers and how they affect performance of the internal combustion engine and noise cancellation of the exhaust system.
There are silencer manufacturers that request certain Renault Megane details so that they can check them against their database and provide the right type of product. The table below shows an example of the information needed by a silencer manufacturer. Aside from the car make and model, the variant in this example is MK I [1996-2003], the type is 1.4 16V, and the engine is 390ccm 95HP 70KW (petrol).
| Year | Body Style |
| --- | --- |
| 1999 | Convertible |
| 2000 | Coupe |
| 2001 | Hatchback |
| 2002 | Estate |
This provides an example of information that buyers need to gather before purchasing a Renault Megane silencer. There are universal silencers that claim to fit all types of car, but it is always better to buy a silencer from a manufacturer that states clearly that the product is made for the specific Renault Megane model.
Installing the Silencer in a Renault Megane
After making a purchase, it is best to have a mechanic install the silencer in the Renault Megane. Although this option costs money, it provides buyers with peace of mind because it means that the silencer is installed properly without causing damage to the car. Of course, buyers with the technical knowledge of know how to install a silencer should be able to do the job.
Buying a Silencer for a Renault Megane on eBay
eBay can be your one-stop shop for all of your Renault Megane parts and accessories. The site has a wide variety of silencers for Renault Meganes, including middle and rear products. Make sure that you have the make, model, and year details of the car handy before conducting a search. When searching eBay, simply type the keywords into the field that can be found in any page of the site, for example, "Renault Meganes silencer&". You can use the filter options to narrow down your search to a specific condition or price. If you want to speed up your search, you can use the details of the car in the advanced search feature, which also allows you to select new or used products.
Read the Product Description
Read the product description carefully, especially the information about the compatibility of the silencer with the Renault Megane to ensure that you are getting the right product. Look at the photos provided by the seller. If the item is used, check for signs of excessive wear and tear. If there are any questions about the silencer that are not answered by the item description, then contact the seller directly via eBay.
Local Sellers
It is always better to buy a silencer from a seller nearby to cut the cost of postage and packaging. Local sellers are more likely to agree to you collecting the item in person.
Top-Rated Sellers
Buying from Top-rated sellers provides reassurance that you are purchasing from a seller known within the eBay community for providing excellent products and good customer service. Top-rated sellers are reviewed by eBay periodically to ensure that they are maintaining high quality standards.
Conclusion
A silencer for a Renault Megane is used to reduce the noise made by the internal combustion engine, resulting in a smoother drive. There is also a type of silencer that not only muffles sound, but helps to increase engine efficiency. Silencers are made of aluminised mild steel, aluminium, or stainless steel. They can have a bullet construction or a full case, and can be a middle or rear-positioned type.
When buying a silencer for a Renault Megane it is important to check the options for manufacturers and choose the one that makes products that are compatible with the car make, model, and year. These car details must be gathered before searching for a silencer because they serve as basis for a compatibility check from the manufacturer. Also, a Renault Megane silencer should be installed by someone that is experienced in the job, either the car's owner if he or she has sufficient technical skills or a professional mechanic.
A silencer affects how smooth and noiseless a car is on the road, and buying the right one that is a perfect fit and performs the job efficiently creates a better driving experience. Buying on eBay provides a fast, convenient, and money-saving transaction. eBay is a varied marketplace where buyers can find different brands of silencers for a range of Renault Megane models.