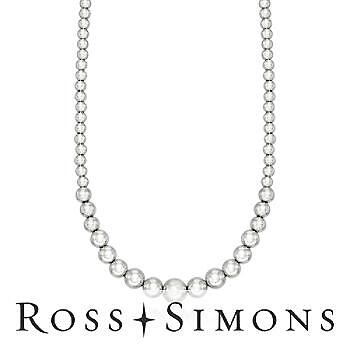 A silver bead necklace is a classic piece of jewellery that adds a modern twist to a sophisticated style. Although bead necklaces come in a variety of types, silver is a lovely yet not overpowering material that adds a sense of beauty to an outfit, and it matches nearly any colour. Silver is known for its eye-catching properties, its shine, and its brilliance. Sterling silver is the type of silver most often used for silver bead necklaces. Despite this fact, there are nevertheless a variety of different shapes and types of beads. The size of the beads and the length of the necklace are other considerations. The number of silver beads and their size are two factors that enormously impact the price of a necklace. Beading necklaces can be a fun craft, so some people prefer to make their own. It is important to have the correct number of silver beads in relation to the necklace length.
Silver bead necklaces are available for purchase in a variety of brick and mortar and online stores. Silver beads are found in bead stores. eBay has both silver bead necklaces and individual silver beads available for purchase.
Types of Silver Beads
Silver beads come in different shapes and sizes. Some silver bead necklaces have multiple beads, while others have extremely small bead chains supporting silver pendants. Several types of silver beads are discussed in the following sections.
Shapes of Silver Beads
A saucer bead is a round bead that has been squashed, with very narrow edges, until it resembles a disk. An oval bead is simply a round bead that has been elongated. An oval bead is also commonly referred to as "rice shaped". Heart shaped beads are, as their name implies, shaped like a heart shaped. They are extremely popular, especially for pendants and shapes. Square beads can be either flat or three-dimensional, and they feature four straight sides with right angles. A flattened cube resembles a diamond when it is on its side. Like square beads, coin beads can be either three-dimensional or flat. The coin bead is sometimes called a lentil bead or a side disc bead.
Fancy Beads
Fancy beads are generally beads that are non-spherical. Fancy beads usually have a specialised cut, or are adorned with crystals, and sometimes have stardust or various other elements.
Corrugated Beads
Corrugated beads usually look like a doughnut with rivets in it. Corrugated beads are usually hollow, and the corrugation is either straight or spiraled.
Bali Style Silver Beads
Bali style silver beads have very intricate designs. They have tribal-influenced etchings and detailing. Bali style silver beads are available in many different styles and sizes.
Round Style Silver Beads
Round beads are the most common and popular type of silver bead. The texture of a round silver bead varies; some are rough, while others are much smoother. They are known for their traditional and classic look, which makes them both popular and timeless.
Mirror Cut Silver Beads
Mirror (or laser) cut silver beads are specially cut to reflect a lot of light and add shine and brilliance. The shape of a mirror cut silver bead is typically either round or rice cut.
Different styles and bead shapes can be mixed and matched on a necklace to create a unique, individual, and lovely necklace. Repeating a single bead creates a classic, timeless piece of jewellery.
Silver Bead Sizes
Typical bead sizes vary between two and eight millimetres. It is important to know the size of the bead and how it relates to the length of the necklace for several reasons. First, bead size and count determine the look of the piece. Also, knowing how many beads are on a strand, and how large they are, gives the buyer an idea of how much the silver bead necklace should cost.
The table below includes the number of beads necessary for a standard 40 centimetre necklace, for bead sizes from 2 to 8 mm.
| Bead Size | Number of Beads Needed |
| --- | --- |
| 2 mm | 200 |
| 3 mm | 130 |
| 4 mm | 100 |
| 5 mm | 65 |
| 6 mm | 50 |
| 7 mm | 40 |
| 8 mm | 34 |
Knowing the numbers listed in the table above is important when purchasing a necklace, but is even more important for buyers who want to purchase beads to make an individualised necklace.
Lengths of Silver Bead Necklaces
Silver bead necklaces come in many different lengths to produce a variety of looks. Some necklaces are shorter, and hug the throat like a choker, while others are much longer, and can be worn doubled up on themselves. The table below lists several types and their approximate measurements. Necklace length may vary somewhat based on manufacturer, but the table provides readers with a general idea of lengths.
| Necklace Type | Length |
| --- | --- |
| Choker | 40 cm |
| Princess | 45 cm |
| Matinee | 60 cm |
| Opera | 80 cm |
| Lariat or Rope | 120 cm or longer |
Not every individual's neck is the same size, so buyers should understand that how a necklace fits depends on their own measurements. Some women cannot wear a choker at all, without it feeling extremely uncomfortable. Other wearers may need a smaller than standard choker to fit a smaller neck. Therefore, always consider the wearer when choosing a specific style or size. To find the ideal length for a necklace that lies right above the collarbone, measure the wearer's neck, and then add five to ten centimetres.
Make sure that the necklace matches the occasion and outfit. Longer necklaces should be worn with high necked shirts. Shorter necklaces look nice with dinner attire and on fancier occasions. Silver beads are very popular on longer necklaces.
Making a Silver Bead Necklace
Bead necklaces are generally easy to make, and if the buyer cannot find the type she wants, making a unique, beaded necklace is a fun option. First, collect the different types of silver beads desired. Some considerations when choosing beads are their size, colour, and shape. Many specialised bead necklaces incorporate other materials with the silver beads, to add variety of colour, texture, and shape. The maker determines the desired length, along with the size and type of beads, so the necklace can literally be made to order. Make sure to buy enough beads so that the necklace can reach the desired length. String the beads on twine, fishing line, or other material. If the necklace is large enough fit over the head, the ends need only be tied together, and the necklace is finished. If it is too short to fit over the head, a clasp needs to be added, so that it can be put on and taken off.
How to Buy a Silver Bead Necklace on eBay
You can begin a search on eBay by typing "silver bead necklace" into the search box on the eBay homepage. A search of that type returns both strands of silver bead necklaces and small chains with silver pendants. If you want to make your own necklace, many types of silver beads are available on eBay. Search for different bead styles by entering the appropriate keywords into the search box. Add more descriptive words to refine the search results. Once you find a silver bead necklace you like, read the detailed item description to make sure it is of the type, style, and length you desire.
Be sure to read the seller's feedback to see the satisfaction rate of previous buyers. Feedback is available from over the previous 12 months. Sellers with a lot of positive feedback are likely to be a good bet, since they have proven they provide buyers with a good product and a satisfactory buying experience.
To find sellers in your area, specify your location by entering your postal code into the box under the distance tab.
Conclusion
When purchasing a silver bead necklace, there are many factors to consider. These include the type and size of the bead, as well as the length of the necklace. Sterling silver is the most common type of silver available. Sterling silver is used for a variety of different types of beads. Bead shapes include hearts, cones, and squares. Popular styles include fancy beads, corrugated beads, Bali style, round cut, and mirror cut silver beads. Necklace lengths vary greatly, and include choker, princess, matinee, opera, lariat, and rope. A choker is a short necklace that hugs up close to the neck, while a lariat or a rope is extremely long and can be doubled up on itself. The size of the bead impacts the look, price, and style of the necklace. Bead sizes average between two and eight millimetres. Knowing the bead size is most important for buyers who intend to make a unique, individual necklace, themselves. Having the appropriate number of beads is important, and the beads should be purchased all at once. It may be difficult to find the same bead later on, if there are not enough. Both finished silver bead necklaces and silver beads for making your own jewellery are available in brick and mortar stores as well as online. eBay has a large selection of both beads and necklaces, in a variety of sizes for many different price ranges.