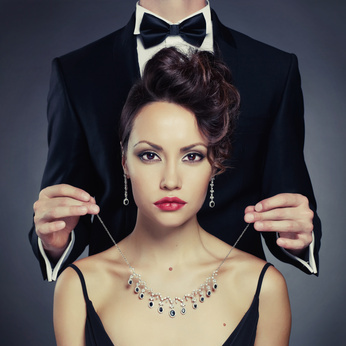 A silver choker necklace is any necklace between 10 and 18 inches, which is somewhere between 25.4 and 45.7 centimetres, but traditionally measured in inches for international purposes. The necklace traditionally titled as a 'choker' is worn tight on the neck and can range from a 'collar' style necklace to one that is set lower on the neck. Traditional measurements deem the very short necklace as a 'collar' and the necklace that reaches the collarbones as a 'choker'.
Silver necklaces can be purchased in a variety of lengths and should be chosen at a length that flatters the person wearing it. Considerations include the place of purchase, the value of the necklace, and of course the length of the necklace. Anyone looking for a silver choker necklace should decide what type of silver they want, how much they are able to pay for it, where they want the necklace to sit on the neck, and how long the necklace has to be before purchasing this piece of jewellery.
A Quick Guide to Silver
Fine silver, or silver that is 99.9 per cent or higher in purity is generally considered much too soft to be used to make jewellery. Genuine silver, like pure gold, is very soft and malleable, meaning that it can easily be damaged, especially when in the form of small chain links frequently seen in women's jewellery. As a result, most if not all 'silver' jewellery is either made with silver plating, sterling silver, or silver-like metals such as platinum, steel, or other similar metals.
Silver Plating
Silver plating is the least valuable type of silver jewellery and a silver choker necklace that claims to be silver plated might not contain any actual silver. Depending on the maker, the term means 'plated in silver', which usually involves plating a thin layer of silver over a base metal. 'Washing' the silver involves plating a thinner layer of silver over the base metal or simply washing the base metal in a substance that looks like silver. In any case, silver-plated jewellery is considered to be costume jewellery or 'junk' silver, as it has no real value.
Sterling Silver
Sterling silver is the metal most commonly used in silver choker necklaces. Sterling silver is 92.5 per cent genuine silver, and the rest is a base metal that is used to strengthen the silver. This alloy is always stamped with a 925 hallmark, usually without the period to indicate 92.5. This silver has more value than silver-plated jewellery and the plating does not rub off. However, a sterling silver necklace it is prone to tarnish and should be regularly cleaned to prevent damaging the silver.
Metals that Look Like Silver
Some metals are often sold as 'silver' or look like silver. These include platinum, which is a great deal more valuable than silver, white gold, which is also more valuable than silver, and base metals such as steel, which are very cheap. Rhodium, titanium, and most other white metals resemble silver to some extent, so they are all excellent options for anyone looking for an alternative metal silver choker necklace. For those with an allergy to nickel and other metals used to alloy 925 silver, titanium, steel, and platinum are all good options.
Choosing a Choker Length
Choker length necklaces come in a variety of actual sizes and should generally be chosen according to two deciding factors. The first is where the person wearing it wants the silver choker to lay, and the second is the size of this person's neck. Both of these factors determine how the necklace looks like when worn, so it is important to pay attention to these factors when choosing a necklace.
Measuring the Neck
The circumference of one's neck is one of the deciding factors in how a choker necklace sits on the person wearing it. First, one should take a soft tape measure or string and wrap it around the neck at about the height that the necklace is desired to be. Then, one should mark the measurement and repeat it to ensure that the measurement is correct.
Selecting the Right Choker Necklace Length
Taking the circumference of the neck into consideration, the buyer can choose a necklace that sits comfortably as a choker on the person wearing it. Usually measurements that are slightly too tight can be uncomfortable and even cut off air. For example, a 13-inch (or 33 centimetre) necklace on a 13-inch neck is usually be fine, unless of course the necklace has been decorated with large stones, which might cut into the final size of the choker.
| Necklace Length | Inches | Centimetres |
| --- | --- | --- |
| Collar Length | 12 | 30.80 |
| Collar Length | 13 | 33.02 |
| Collar Length | 14 | 35.50 |
| Choker Length | 15 | 38.10 |
| Choker Length | 16 | 40.60 |
| Choker Length | 17 | 43.18 |
| Princess Length | 18 | 45.70 |
The wide range of choker length necklaces is mostly due to the fact that some women have different neck sizes, and that many women prefer a slightly different fit. Some women are comfortable with a 'collar length' choker, which is very tight and often situated high on the neck. Others are not comfortable with this length and prefer something that sites at the base of the collarbones. Important considerations include that a woman with a very slender neck needs a much smaller choker to achieve a tighter fit, and vice versa.
Choosing the Silver Choker Necklace
There are a variety of styles and types of choker necklaces, and each suits a different type of face, figure, and age. For example, large stones on a silver chain are often considered to be excellent accoutrements for an older or aging lady, while a simple chain or smaller stones are more appropriate for a very young lady. Most agree that pendants and drop chokers suit almost any age; however, most women should still pay attention to which styles flatter their face shape when choosing a necklace style.
Where to Buy Silver Choker Necklaces
Silver chokers are available in a wide variety of stores and shops. Genuine silver chokers are slightly harder to come by and should be purchased in high-street jewellery stores, antiques shops, used jewellery stores, and any online retailers including eBay. Buyers can choose to look in their local area for a jewellery store that sells silver choker necklaces or can look online for a better deal and a comfortable shopping experience, but they need to take into account the shipping time and shipping fees, where applicable.
In general, buyers who are looking for genuine silver choker necklaces should look for the 925 hallmark to indicate sterling quality or should purchase the necklace with a certificate of authenticity. Whether purchased online or offline, the 925 hallmark, when genuine, guarantees authenticity. Buyers can generally choose between online and offline stores based on convenience, how quickly they need the item, and whether or not it is available locally.
Buying a Silver Choker Necklace on eBay
eBay is a good online place to purchase a silver choker necklace and silver jewelleries in general. eBay has wide range of necklaces for almost every budget, including new and used jewellery that is silver plated or made from sterling silver, silver alloys, silver-looking metals, and more. Buyers can literally choose any style they like without having to worry about availability, as many popular brands and styles, including international ones, are available on the site.
Start on the home page of eBay and type in your search. For example you could look for simple 'silver choker necklace' or you could specify your search 'diamond sterling silver choker' or 'sterling silver choker' to get more specific results. Once you have found what you are looking for, read the description thoroughly to ensure that you are getting what you expect, and check the shipping time and rates to make sure that the item arrives on time. If you have time deadlines, consider purchasing from a local eBay seller, who ships the item more quickly.
Conclusion
Silver choker necklaces include a variety of lengths and metals, but are most typically sterling or 925 silver, and usually between 33 and 43 centimetres in length, although they can rarely include necklaces as short as 30 centimetres and as long as 46 centimetres. Typically, the length depends on where the buyer wants the necklace to sit, the diameter of the wearer's neck, and of course, how tight the wearer can stand the necklace. Generally, for comfort purposes, the tighter the choker necklace, the wider it should be in order to spread pressure over the neck instead of 'choking' the wearer.
Silver choker necklaces can be purchased in many jewellery stores and online stores including online jewellery shops, eBay, and any store catering to used jewellery buyers. While not all stores sell chokers of every length, eBay has a wide selection of silver choker necklaces, both used and new, so buyers are likely to find a necklace in the right size for them. Things to keep in mind when purchasing a silver choker necklace include the buyer's budget, the length of the necklace, and of course the preference of the wearer.