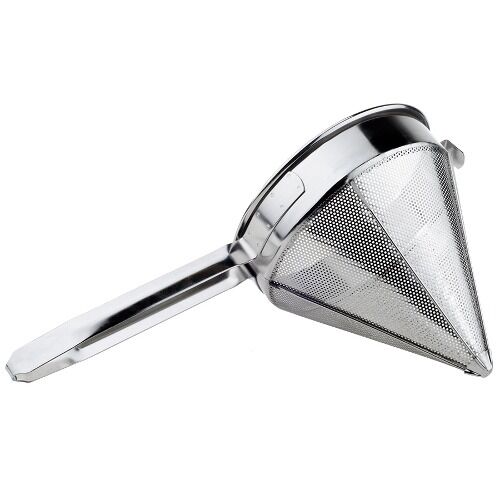 There is a huge variety of strainers of various designs and made of different materials to be found in kitchenware shops. They are items that are used on a daily basis in most homes. They simplify the job of draining and rinsing many different kinds of foods, but are most commonly used for draining the hot water from rice and pasta poured straight from the saucepan. Some strainers are ergonomically designed for ease of use. The inclusion of a stout handle means that the implement can be held with one hand while the contents of a hot pan are poured into it. Most of the larger strainers are designed so that they can be placed into a sink, remaining stable while in use. Some colanders are designed to fold away when not in use for convenient and easy storage. As with most products these days the range of design concepts for the simple strainer is very diverse. Strainers made with different materials and in a wide range of colours can be found to fit in with any kitchen decor.
About Strainers
Strainer is a general term that encompasses the humble tea strainer through many and varied designs to the largest version, the kitchen colander. Some of the smaller types have a very fine mesh when compared with that of their bigger relation, the colander. Human beings have been using strainers or sieves of some form or other to separate solids from liquids, and large particles from smaller ones for thousands of years. Historians think that the word strainer entered the English language before the 12th century and may have originated in the German language. Modern strainers come in a huge range of different sizes, from small tea strainers to wide-rimmed food strainers. Some are collapsible, others rigid. Large food strainers that might be used to drain vegetables, such as potatoes, often have a handle on opposite sides of the rim for ease of lifting. Potatoes soak up a lot of water when they are boiled and can be surprisingly heavy, so hot pans containing them have to be handled with care; a handle on each side facilitates this. All strainers share one common feature. They are formed into a concave (or occasionally conical) shape and have a mesh that is pierced with holes. Today they're available in a riot of different colours and sizes, and come in a raft of different materials. Before looking to buy a strainer of any kind, it is worth reviewing the different types that are readily available.
Types of Strainer
Strainers are manufactured from a variety of materials. The most commonly seen types are detailed below.
Strainers made from Silicone
The larger silicone strainers are often collapsible, so they are especially suitable for people with limited cupboard space in their kitchens as they can simply be stored flat in a drawer. Available in a flamboyant range of colours, silicone is a heat resistant and tough material that's easy to clean and very hygienic. It will happily withstand boiling temperatures, so it can be used just as effectively as a stainless steel strainer to filter tea leaves, or, with larger versions, drain spaghetti or boiled vegetables. Because it is a poor conductor of heat, it's safe to grip even with boiling water running through it, and will not scald the hands or fingers.
Strainers of Stainless Steel and Metal
Stainless steel and metal strainers are more numerous in the kitchenware shops than those made from any other material, with stainless steel models being way out in front. They are hard wearing, exceptionally hygienic and easy to clean - and they never rust. On the larger end of the scale, some stainless steel strainers are collapsible and can be folded flat, making them much less bulky to store in a cupboard. Tea strainers made of stainless steel can have a rather snazzy, stylish modern appearance, or be fashioned in a more conventional and traditional way. They come with a single handle or have one on each side of the bowl. The mesh tea strainer infusers are now very popular as a tea bag can be inserted into the round device and steeped in a cup or mug of hot water for as long as desired. The infuser is then lifted out when the strength of the brew is just right, with the minimum of mess being caused.
Strainers made of Plastic
Plastic strainers perhaps fall under the heading cheap and cheerful. They are exceptionally inexpensive, very lightweight and often have especially fine meshes to really filter out small particles effectively. However, they tend to have a shorter life than stainless steel and silicon strainers and, although they can safely withstand boiling water, they also melt if they come into contact with very high temperatures – never accidently let them touch a hot pot or leave them on the hob just after turning one of the rings off.
Strainers made of Enamel
Usually available in a delightful array of different colours, most enamel strainers are colanders, ideal for draining boiled vegetables or spaghetti. Aesthetically pleasing to look at, some even have holes arranged into decorative patterns. But look closely before choosing: while undoubtedly pretty, some are not particularly practical, having too few holes to permit efficient drainage. The greater the number of holes (in the base especially), the better the enamel strainer. Other strainers can be found that are made out of materials such as melamine, these are typically available in pleasing shapes and riotous colours and can look rather trendy. Please be aware that melamine kitchenware should never be put into a microwave or stove because it degrades at very high temperatures.
Find Strainers on eBay
Finding the perfect strainer for the kitchen is easy thanks to eBay's advanced search capabilities, which allow customers to survey the field and then narrow down to find the specific product to meet their requirements. Start by selecting the All Categories tab beside the search box on the homepage, scroll down the dropdown menu and find Home Furniture & DIY. Then click Search. Look down the vertical column on the left of the new page titled Categories and select Cookware, Dining & Bar, then Food Preparation & Tools on the next page. Scan the left-hand list again and choose Serving & Server Strainers. The complete eBay range will then appear. Under Type, select Colander, Sieve and Not Specified, leaving out Salad Spinners if they're not required To narrow the search further, take a look at the list of product criteria on the left, select the relevant headings (e.g., Type, Main Colour, Material, Price Range, Brand) and tick the appropriate boxes beneath. Because there is such a diverse range of products that come under the heading of strainer on eBay, it makes sense to do a little product research before making a purchase. eBay's efficient search tools will make this exceedingly easy, helping to look through the products, quickly excluding types that don't really meet with the requirements or preferences. Once the product page is on screen, customers will notice a vertical list on the left. Under each of the headings are a series of tick boxes specifying particular features of the product. Simply tick the ones that meet requirements and leave the others unchecked. Product descriptions on eBay are of necessity very brief as the site features millions of different items every day. But if wanting to know more about the strainer that has been identified, it is not necessary to purchase it. Direct any queries to the seller by clicking on the Ask a Question link on the product page.
Conclusion
Using eBay to find a strainer to suit the needs of any home-based cook or a professional chef is very easy to achieve with the site's advanced search technology. eBay's search tools will locate the right strainer meeting the needs with just a few clicks of the mouse. And thanks to eBay's automated bidding technology, it is not necessary to pay over the allotted budget during auctions. For lower priced items, the convenience of the Buy it Now feature is very appealing, as a product can be selected and purchased with just a single visit to the site.