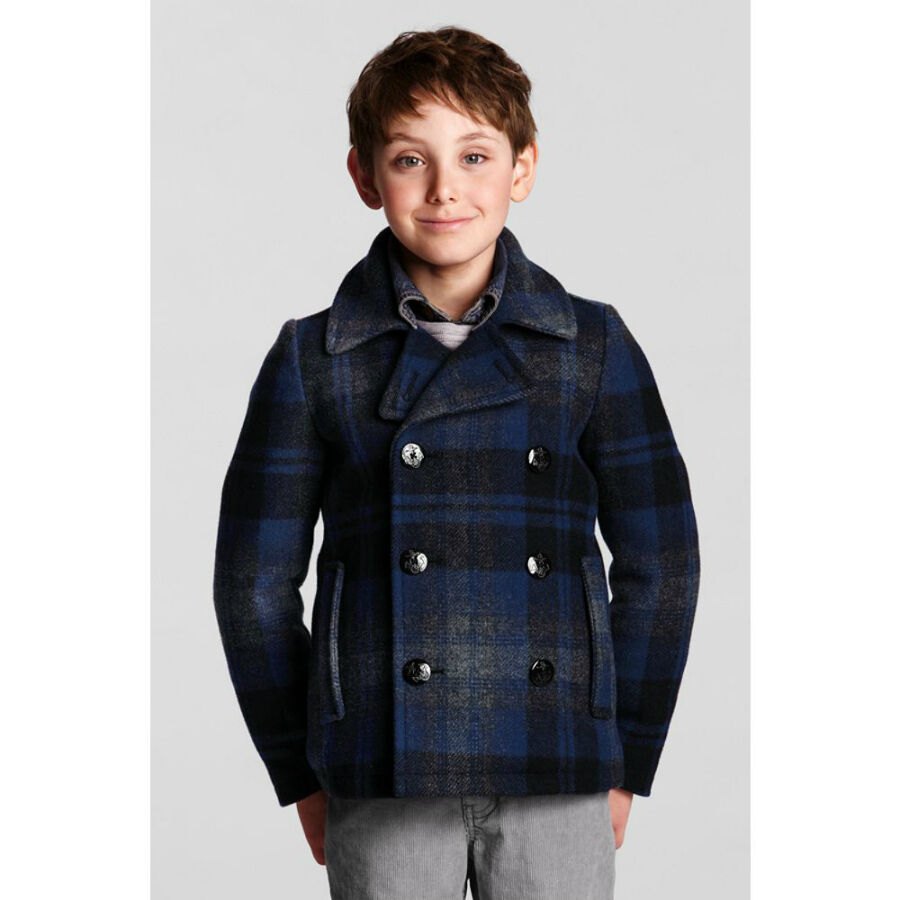 It does not matter what age boys are, they just keep growing, and this means that when they put away their winter coats in spring, the coats may be too small for them come next winter. Buying a used boy's coat can be an exciting time for any little boy as it is a great way of marking exactly how much he has grown in the last year.
Luckily, every parent of a young boy faces the same need to replace last season's coat with a new one, and this creates a ready supply of gently worn garments. Buying a used coat for a boy is a great way to get a quality coat that is be appreciated by the young chap himself, without doing too much damage to the purse or wallet. It is also a way of getting hold of a desirable designer coat without paying designer prices.
When considering the used boy's coat marketplace, it is useful to have some idea about the various styles of coats and the materials that are ideally suited for this type of garment. It also helps to be aware of how one can locate and purchase a used boys' coat online at eBay.
Types of Used Boy's Coats
As one embarks on a search for used boys' coats, it is worth the time to get a sense of the different types of boy's coats available in the marketplace. The styles of used boys' coats can range from the duffle coat to anoraks.
Duffle coat
A duffle coat is a type of coat that was made popular in the period after World War II. This coat used to be made from a thick woolen fabric that was woven in the town of Duffel in Antwerp, Belgium, from where the coat gets its name. The coat was used by the Royal Navy and, after the war, surplus stock was offered for sale. It was redesigned to have the now familiar leather and string fastenings with wooden or bone toggles in the early 1950s when it became a favourite winter coat for boys and girls alike. Today, when applied to a modern boy's coat, the term duffle coat almost always refers to the styling of the coat and rarely reflects that the coat is made from an all-wool fabric.
Puffer Jacket
Puffer jackets are a type of used boy's coat designed for the coldest periods in winter. The inside of the jacket is filled with fibres or down to trap heat and keep the wearer warm. The filling is sometimes made from synthetic fibres, but, in the better quality coats, it may be made from duck or goose down and feathers. A used boy's coat of this type may also be stitched into panels to ensure the down stays in place, and it is this stitching that creates the characteristic "puffer" look.
Bomber Jacket
A used boy's coat that is a bomber jacket is modelled on a type of garment originally created for pilots. These coats are sometimes referred to as flying jackets. The jackets were styled with elasticated, ribbed cuffs, waist, and collar to ensure a snug fit and had external sleeve pockets that became synonymous with this style of coat. Zipper fastenings, always used in the front and on-sleeve pockets, were often made from brass. Made from 100 percent nylon and usually in either black or olive colour, they have a bright orange lining and are reversible. These jackets became, and remain, popular coats for followers of street culture and kids' fashion. Today, a used boy's coat of this type may well reflect the styling, cut to the high waistline with elastic, ribbed collar, cuffs and hem lines, in different fabrics and colours.
Parka Coats
A parka is a type of boy's coat that keeps boys warm the in cold winter months. A parka is a heavy jacket with a hood that is lined with fur to keep the wearer's face protected from cold winds and freezing temperatures. This type of coat is styled after coats worn by North American Inuit who lined their coats with seal fur. Today, it is much more likely that the fur is fake and just a trim around the hood. Parkas may be lined with down or synthetic fibres for maximum warmth. A used boy's coat that is a parka should be tailored to be a long fitting coat, down to the knees, although some coats that are waist length can be found.
Anoraks
An anorak is another type of coat originally used by North American Inuit. An anorak is a waterproof garment with a hood and a drawstring around the hood that keeps the cold out. Traditionally, an anorak does not have front fastenings; it is worn by pulling it on and off over the head. For modern used boy's coats, the styling of an anorak is somewhat removed from the original Inuit garment. The coat has a zipper front that helps with putting it on. The coat is made from synthetic fabrics that are warm and, more importantly, waterproof.
How to Size a Used Boy's Coat
There are detailed, laid down, standard sizes for boys clothing that have been defined by standards. However, issues associated with vanity sizing mean that sizing schemes may be more subjective. "Suitable for age 3-5" is an example of how the sizes of boy's coats may be described. This means that the buyer should always double-check with the merchant, especially if the boy is a "large for 5" or "small for 4".
Fabrics in Used Boy's Coats
Traditional fabrics associated with coats have always been of a natural type. Woollen fabrics as well as animal hides make heavy duty warm coats but are not particularly "boy friendly". They are often heavy and, in the case of a woollen material, they absorb the wet and take a considerable while to dry out. Synthetic fabrics in used boy's coats can offer a variety of benefits. The more widely used fabrics include those listed below.
Acrylic
Acrylic is warm and non-absorbent which means rain and snow can have little effect on a garment made of this material. It is also a hard wearing material that can easily be manufactured in a variety of colours to create bright used boy's coats.
Nylon
Nylon is an absorbent material that dries out quite slowly, limiting its use in boys' outdoor clothing. However, it is particularly good at repelling rain, and this makes it ideal for a used boy's coat in the British winter.
Polyester
A used boy's coat made from polyester tends to be less warm but very effective at keeping the wearer dry as the material repels water. Even if it does get wet, it dries very quickly as moisture is held on the surface rather than being absorbed into the fabric.
Wool
Naturally, wool is one of the warmest fibres. It also absorbs moisture, which means it is slow to dry out. Although wool is not considered a particularly durable fabric for making coats, one can find listings for used boys' coats made of wool on eBay.
Cotton
A used boy's coat made from cotton is not particularly warm and can readily absorb water and be slow to dry out. It does, however, have the advantage of being a hard wearing coat.
Additional materials such as down can also be used as lining materials in coats. The better performing used boy's jackets are made from a combination of materials or fabrics.
Buying Used Boy's Coats on eBay
You can start searching for a used boy's coat on eBay by typing in the term into the homepage search bar. You may be surprised by the number of listings you see as result of this search, as plenty of mums and dads may be selling last year's models. You may wish to start narrowing your search terms to create a more useful list of coats. If you know the type of coat you are looking for, perhaps a search for "used boys parka" or "used boy's puffer jacket" can help. Using these terms can help narrow your search down considerably. You may choose to filter the results further by entering an age range for the coats. If you have difficulty finding what you are looking for, then use eBay's search suggestions to help narrow the results.
Once you find a coat you are interested in purchasing, it is advisable that you spend some time researching the merchant who is selling the coat. Determining the seller's track record of customer service and finding out what delivery options are offered can go a long way in increasing your confidence before making a purchase on eBay.
Conclusion
Buying a used boy's coat helps mum and dad find a suitable jacket that more than meets the needs of a young boy without breaking the bank. By learning about the different styles of coats as well as the materials used in the coats, a potential buyer can expect to find the right used boys' jacket in the marketplace. An online retailer such as eBay lists many different types of used boy's coats that were used gently and are available at a fraction of the original purchase price. A good rule of thumb for a prospective buyer is to start looking at the listings on eBay early on in the process, just in case he or she cannot find quite the right item on the first visit. With its many user-friendly features, eBay makes it easy for a consumer to buy with confidence. Using the website's information on sellers and return policies can add confidence in the buying process.